WND's Corsi Slobbers All Over Breitbart Film
Topic: WorldNetDaily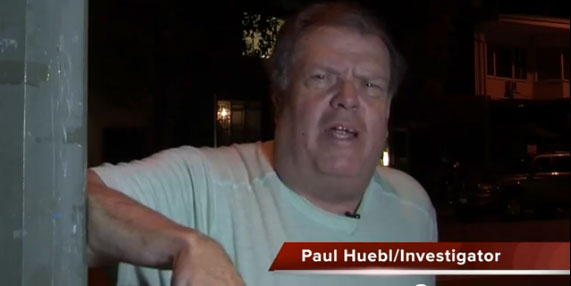 A May 25 WorldNetDaily "news" article by Jerome Corsi is little more than a promotion for the documentary "Hating Breitbart." Corsi gives film producer Andrew Marcus ample opportunity to lionize Andrew Breitbart, even revealing Breitbart's promotional strategy for the film had he lived.
After highlighting "one of the best sequences in the documentary," then rehashed claims that Breitbart may have been the victim of "foul play," as promoted by such sketchy folks as " private investigator Paul Huebl" (pictured right). Corsi does add, "WND was never able to locate other witnesses who reportedly claimed that in the days leading up to his death, Breitbart was particularly paranoid that he was being followed."
Corsi concludes by doing his promotional duty of informing readers where to find the film.
How much did Marcus and the Breitbart folks pay Corsi and WND for this prestigious placement?
Posted by Terry K. at 7:43 PM EDT