Beyond Heathering: MRC's Graham Calls Republican A 'Backstabber' For Criticizing Conservative
Topic: NewsBusters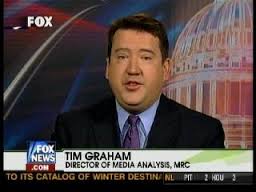 The Media Research Center has long been a proponent of what we call Heathering -- the bullying of Republicans who they deem insufficiently loyal to the right-wing party line.
The Media Research Center's Tim Graham takes Heathering to the next level in a May 24 NewsBusters post, actually calling former Republican National Committee chairman Michael Steele a "backstabber" for daring to criticize far-right Virginia lieutenant governor candidate Rev. E.W. Jackson:
How does Steele sound any different than Rev. Al Sharpton in this quote package? How does Steele reconcile the idea of electing more black Republicans and diversifying the party by dumping on this nominee? At least Jackson was elected.

How does the former Lieutenant Governor of Maryland forget that he was merely selected, and was considered too socially conservative to win black voters in 2002? The Washington Post then found Steele saying he was pro-life and pro-death penalty, unlike his running mate Bob Ehrlich: "It's part of my religious upbringing," Steele said. "I will follow the next governor. I will argue my beliefs when asked."

Apparently, Steele threw out his religious upbringing when he started attending the same cable-news Church of Obama as Rev. Sharpton. The Post is enjoying these quotes too much to point out that Steele's personal election record has two statewide losses and one win.
Needless to say, Graham is careful not to mention the details of Jackson's extreme views, nor does he provide any evidence that Steele ever held those very same views. And lost in Graham's attack on Steele's "personal election record" is the fact that it was under Steele that the GOP did so well in the 2010 midterm elections, while the Republicans under current chairman Reince Priebus did horrible in the 2012 elections -- and, unlike Steele, kept his job.
Posted by Terry K. at 11:22 AM EDT