MRC's Graham Lets Bad Reporting Slide (When It Makes Obama Look Bad)
Topic: Media Research Center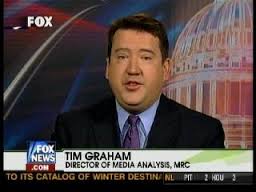 The Media Research Center's Tim Graham demonstrates the flip side of his employer's multimillion-dollar campaign of intimidating reporters into not telling the truth about conservatives when it makes conservatives look bad; It won't call out bad reporting as long as it makes Obama look bad.
Graham uses a May 20 NewsBusters post to mock a Change.org petition criticizing ABC's Jonathan Karl for faulty reporting on the Benghazi talking-points emails. Graham stated that Karl's reporting was merely "inaccurate" without explaining how it was: Karl had claimed he had the actual emails when, in fact, all he had were paraphrased summaries (some of which were inaccurate) from Republican staffers.
Graham went on to snigger: "Joan Walsh at Salon is angry that Karl didn't make some sort of on-air correction on 'This Week' -- as if the networks are good at on-air corrections without a lawsuit pending." Graham wouldn't be so flip about Karl's bad reporting if Obama was a Republican.
Posted by Terry K. at 2:45 PM EDT