WND Still Hiding How Christian Extremists Incited Muslim Violence
Topic: WorldNetDaily
A May 14 unbylined WorldNetDaily article overheatedly states:
A federal judge has issued a startling ruling that suppressing Christian speech is allowed when Muslims threaten violence because they're upset over the message.

The ruling from Judge Patrick J. Duggan in the U.S. District Court for the Eastern District of Michigan granted Wayne County's motion for summary judgment of a lawsuit brought by a team of Christians who were badgered, bullied and targeted with garbage thrown by Muslims who disliked their message at last year's Arab Fest in Dearborn, Mich.

[...]

The violence developed at the 2012 events when Christian evangelists walking on public sidewalks surrounding the event while carrying signs with biblical messages were assaulted with stones, bottles and debris by attendees of the festival.

The signs that brought on the attack included "Know the God of the Bible" and "Trust Jesus."

Several of the Christian demonstrators walked away bruised and bloodied from the attack. Ruben Israel, the leader of the group, pleaded with law enforcement officials to intervene so that the demonstration could continue peacefully.

However, the officer refused and demanded the Christians leave the premises or face arrest for disorderly conduct.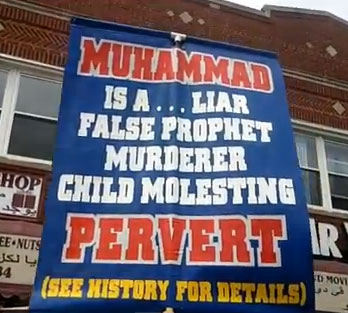 As it has before, WND is leaving out a lot -- namely, the fact that the Christian extremists, led by street preacher Ruben Israel, deliberately provoked the Muslim crowd with offensive signs and shouting.
As we've detailed, WND originally began touting this case last year by featuring a heavily edited video of the incident. In fact, the full video shows that Israel's group was shouting things like "You're a disgusting Muslim. You're on your way to the devil's hand" and "You're a wicked Muslim," and carrying signs in addition to the innocuous ones WND cited that read "Muhammad is a liar, false prophet, murderer, child molesting pervert."
Israel's group was also carrying a severed pig's head on a pole -- as Israel explained to police, that's because Muslims are "petrified" of pigs and so it "keeps them at bay."
WND does concede that the pig's head was "angering the Muslim crowd," but it quotes none of the inciting statements that Israel's Christian extremists shouted at the Muslims.
WND provides only one quote from the summary judgment dismissing the case, but otherwise devotes the vast majority of the article to uncritically forwarding the heavily spun account peddled by Israel's attorneys at the right-wing American Freedom Law Center.
It's not fair, it's not balanced, and it's not even the truth. Sounds like another thing Joseph Farah should repent for at his rogue-infested 9/11 Day of Prayer.
Posted by Terry K. at 9:15 PM EDT