Les Kinsolving Retires From Asking Stupid Questions At White House
Topic: WorldNetDaily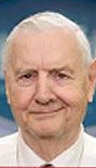 We wondered why we haven't heard any whining for a while about how shabbily any given White House press secretary was treating WorldNetDaily's Les Kinsolving.
Turns out there's a reason for that: Kinsolving has retired from the White House press corps.
Kinsolving revealed his retirement in his March 5 WND column (though it doesn't appear he will be retiring from his other gigs as a WND columnist and Baltimore radio host). But he's whining on his way out that press secretary Jay Carney hadn't called on him since July 26 "despite my being second in seniority to Connie Lawn." He went on to huff that "I have never experienced such oral censorship."
As we've pointed out, Kinsolving has not earned the respect he demands. He's right-wing hack and raging homophobe who whines every time his biased shenanigans get any pushback. His employer, meanwhile, is so amoral that it publishes lies and smears about Obama and his administration and violates journalistic ethics on a depressingly regular basis. Why should the Obama administration take questions from a heavily biased "reporter" who works for an organization that is seeking no less than the personal and political destruction of Barack Obama?
Then, as if to prove the point, Kinsolving spends the rest of his column repeating right-wing talking points about Obama's allegedly prolifigate spending.
Kinsolving's insistence on invoking his seniority shows us he cares more about status than reporting the truth. His employment by WND demonstrates he doesn't care about the truth at all. He will not be missed, except as someone whose bias made him an object of ridicule, and his departure will make room for a real journalist in the White House briefing room.
Posted by Terry K. at 12:55 AM EDT