WND Devotes Issue of Magazine to Bashing College Education
Topic: WorldNetDaily
WorldNetDaily is not big on book-learning, it appears.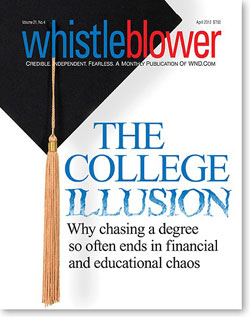 As a March 30 WND article describes, the April issue of WND's Whistleblower magazine has the theme of "The College Illusion," dedicated to denigrating the value of a college education. Why? Because your child might be exposed to non-conservative ideas and the possibility of sex (also, Obama is to blame as well, somehow):
Even as Barack Obama attempts to buy off the youth vote by promising ever more government student loans and promoting college as a virtual civil right for the masses, a new reality is taking hold: For many, college is not the smartest thing to pursue after high school.

Obviously, to go into medicine, law, engineering or similar fields requiring standardized formal training and professional certification, higher education is still a must. But the idea, unquestioned for generations, that college is the ideal destination for all high-school graduates – that even those who have no particular interests or career focus should just go to college anyway, take courses, meet people, enjoy the wild social life, and try to obtain some sort of four-year degree while racking up crushing debt – is increasingly being questioned … and rejected.

[...]

Then there is the jarring reality that the vast majority of professors lean left – many far left. This is no trivial matter, and predictably results in the ongoing indoctrination – some call it brainwashing – of millions of students every year. Indeed, the leftwing, secular-socialist orientation of the modern university has played a gigantic role in the steady transformation of the American mind.

"When young people's values and common sense are hammered and manipulated for four or more years by authority figures bent on propagating a leftist worldview," says Whistleblower Editor David Kupelian, "many students emerge from college profoundly changed – for the worse."

Alongside the far-left politics is an almost surreal level of in-your-face sexual anarchy – often openly and officially celebrated on campus. And the flipside of such a hyper-sexualized and "tolerant" campus culture is an extreme intolerance toward traditional Judeo-Christian moral and religious values and the students that hold them.
Remember, WND is a huge promoter of homeschooling -- it seems to be a requirement to work there -- and Joseph Farah and Co. are not interested in anything that will undo the indoctrination they've performed on their own children. They apparently don't want anyone else's children to get a fully rounded education, either.
Posted by Terry K. at 1:13 PM EDT