Molotov Mitchell Endorses Killing Gays
Topic: WorldNetDaily
We already knew that Molotov Mitchell has issues with the mere existence of homosexuals -- after all, his extremist Christian movement, inspired by the straight-edge punk lifestyle claims to embrace "sexual purity through ... the abolition of homosexuality."
Now, he's endorsing one method of achieving that abolition -- literally, through capital punishment. Mitchell's Dec. 23 WorldNetDaily video is dedicated to defending a proposed draconian anti-gay law in Uganda that would, among other things, make homosexual acts punishable by life in prison at minimum or the death penalty for those caught engaging in it more than once. It even punishes knowledge of homosexual activity with a prison sentence.
But that's cool with ol' Molotov. He complained that pastor Rick Warren finally came out against the law "after a week of merciless taunting from some lesbian chick at MSNBC" (accompanied by an image of Rachel Maddow). Not only is killing gays endorsed by the Bible, Molotov claims, "our founding fathers also made homosexuality a capital offense. Molotov even finds further justification for the law, claiming that in the 1800s, the country "was oppressed by an evil homosexual king, King Mwanga."
Besides, Molotov lectures, "Uganda is a soverign, democratic nation that's free to make its own laws." Despite his admission earlier in the video that the law would make homosexuality a capital offense, Molotov goes on to claim: "They don't want to kill the homosexuals; they just want them to stop practicing homosexual acts." That follows in the footsteps of anti-gay activists who attempt to separate homosexual behavior from homosexual orientation.
Molotov then claims: "If gay Ugandans don't like the law, they are more than free to leave." He doesn't mention that the law would also apply to Ugandans living outside the country, even in countries where homosexuality is legal.
Molotov again insists that "don't think that our founding fathers wouldn't support this legislation all the way." The on-screen text when he says this? "When Character Was King..."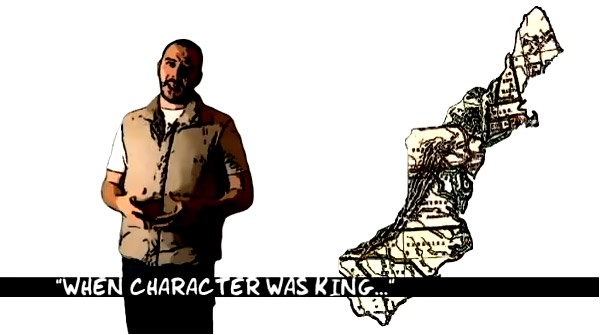 Leave it up to Molotov to equate killing people you don't like with "character."
Most shockingly -- or maybe not -- Molotov concludes by quoting Martin Luther King: "The moral arm of the universe is long, but it bends toward justice." He adds: "Ugandans, stay on the right side of history."
"Abolition of homosexuality," indeed. Molotov must be wetting himself at the prospect.
Posted by Terry K. at 2:04 AM EST
Updated: Wednesday, December 23, 2009 2:11 AM EST