WND Loves Bile-Filled Jackie Mason
Topic: WorldNetDaily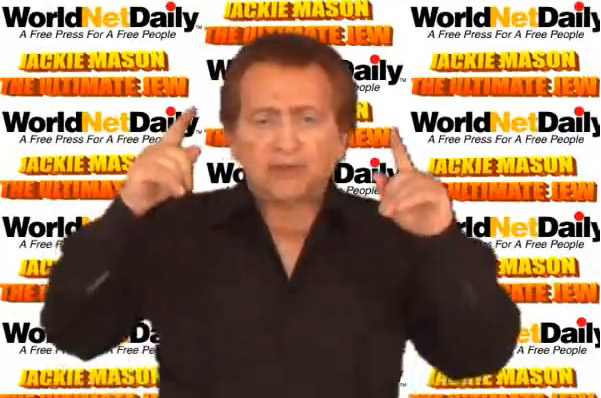 When did Jackie Mason get so hateful?
In a May 28 WorldNetDaily video, Mason says in purporting that he's "just searching for the truth" about Democrats and torture and that "I was never partisan about political issues," Mason expresses just the opposite in a spittle-filled rant:
And Pelosi is now dancing around like a thief who -- whose head can't get on straight. Her head is swimming, her -- all of her tortured looks are falling apart. Every part of her -- one of her creases that she erased 20 times ago are coming back to her, her nose is going into directions you've never seen before. His mouth -- her mouth is squandering, her face is sweating, she's pulling -- blech -- she's falling apart. You see how nasty she looks and how miserable and how furious, and how every kind of expression that you've seen on 300 people in a month in now in her face in a second. The face is falling apart. The torture is all over her face. Whatever we talk about torturing other people, she's the one who's being tortured more than any torturer could have been tortured.

If we tortured anybody in Guantanamo Bay the way she's torturing now and the way she's suffering and sweating and sorts -- smugly -- she looks like a deranged pig in heat who doesn't know which way to turn. Her temperature's flying out of control to such an extent that she can't see straight. She looks like she's gonna pass away from misery. She can't even finish a sentence without looking like she's drained and destroyed just from the questions.

Now this is torture. Why? Because she's a lowlife and a fraud and a liar, and she knows it and she was caught. And I wanna ask you a question: How come not one Democrat is suggesting that maybe she should be tried?

[...]

This is the ultimate hyprosisy of the world, that torturers -- Democrats should be tortured, they should be tortured, and they deserve to be tortured because anybody who wants innocent people to be tortured and sent to jail for whatever they did and can't accept the responsibility for themselves are lowlife, filthy, fraudulental, disgusting [unintelligible] and that's the only thing you can call them. If you disagree with me, let me know because you're probably just as low as them if you could disagree with this.
This isn't the only hateful rant that Mason has engaged in for WND. In a May 14 video falsely claiming that Obama "can't tolerate" a National Day of Prayer gathering at the White House, "which is a tradition that goes back all the way to 1952, in Truman's time" -- in fact, Obama followed presidential tradition in issuing a National Day of Prayer proclamation but not a public event at the White House which, as we've noted, had only occurred under George W. Bush -- Mason went on another tirade:
What is the matter with this man? You ever stop to wonder? Only under communism, only under Stalin, did you ever hear that religion should be silenced. Even in Germany, Hitler, as vicious, violent crazy maniac as he was, tolerated religion in his country. But Barack Obama somehow can't tolerate it.

Do you know he spoke at Georgetown University and at Notre Dame and he demanded that the wall behind him should have no symbols, no religious symbols of any kind? He can't tolerate the sight of it. It sounds unbelieveble. If I didn't tell you about it, you would think that somebody is making it up, it sounds like a fantasy. The president of the United States doesn't want any religious symbols on the walls behind him.

[...]

Do you know that there's J.C., it doesn't even say Jesus Christ, it just says J.C. in Georgetown University behind him on the wall. He even wanted that eliminated. Even his initials of Jesus Christ was too much for him to tolerate. Do you believe the president of the United States is doing this?

Now, you're probably saying to yourself, I'm always attacking Barack Obama, I'm probably making this up. I'm not making this up. Everything I just told you is true. This man does not hear -- can't tolerate the thought of the word of religion in his presence.
Mason is making it up, as he did his opening claim. As we've detailed, there's no evidence that the Obama administration specifically demanded that an "IHS" (not J.C.) symbol be covered, only that university signage and symbols be covered during Obama's visit.
Not only is Mason making stuff up, he's not funny -- the biggest sin anyone calling themselves a comedian can commit.
We've previously noted how Mason (and his partner, Raoul Felder) have smeared Democrats and falsely defended Republicans, as well as WND editor Joseph Farah's vigorous defense of Mason's calling Obama a "schvartze," a historically derogatory insult of black men.
Posted by Terry K. at 1:17 AM EDT
Updated: Monday, June 1, 2009 1:20 AM EDT