MRC's Houck Has A New Man-Crush: Greg Gutfeld
Topic: Media Research Center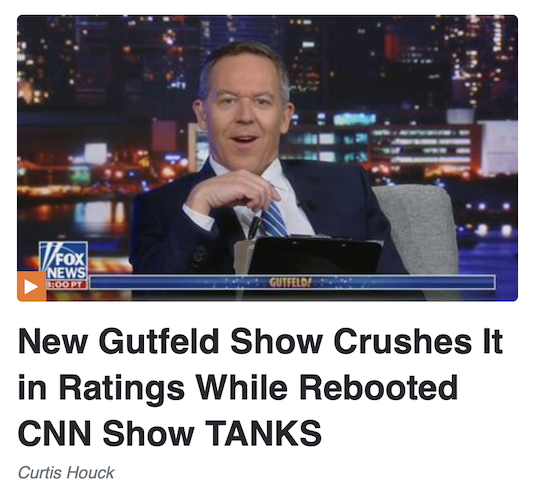 Peter Doocy is not the only Fox News employee Media Research Center writer Curtis Houck has a man-crush on. A Feb. 10 post by Houck is largely a rewritten Fox News press release about Greg Gutfeld was being given his own weeknight show, going on to add that "on perhaps an equally-important note, a Fox press release made clear that Gutfeld would remain a co-host of FNC's hit show at 5:00 p.m. Eastern, The Five." When CNN's Brian Stelter accurately pointed out that, since Gutfeld's right-wing show would bump Shannon Bream's "news" show to a later larter, Fox News was "shifting further to the right," Houck huffed that "The knives came out immediately as ... Stelter took a personal dig at Bream that was roundly derided as demeaning and sexist if the networks were reversed."
When Gutfeld's show actually started in April, Houck gushed over his right-wing rants:
Making his move from to weeknights (after starting on overnights and then weekend evenings), Fox News Channel host Greg Gutfeld kicked off his new eponymous show on Monday with a barnburner of a monologue lampooning his competition on CNN, MSNBC, and the late-night comedy shows and denouncing the left for thriving on "making people hate each other."

Before a studio audience, Gutfeld welcomed in his new audience by saying that he was "as giddy as Kamala Harris explaining kids in cages or Woody Allen hearing about kids in cages" and bidding a special hello to viewers from his former Saturday show and The Five.

He also made sure to make a quip about President Biden:"If you ended up here because you thought your TV was the microwave oven, it's good to see you, Mr. President. Your pizza will be warm in two minutes. And Hunter, he brought the extra cheese."
Gabriel Hays then chimed in, demonstrating that the MRC and conservatives in general can dish it out but can't take it by raging at anyone who refused to be as effusive as Houck about Gutfeld's show and declare the guy a comedy genius:
If you're Stephen Colbert or Jimmy Kimmel, you can spend hours of your late night show bashing Trump and you're hilarious. But if you're a conservative late night host making fun of Dems, they'll call you "nasty and unappealing."

But never forget, Samantha Bee can call Ivanka Trump a "c**t" and she's an industry favorite.

Since Greg Gutfeld took the format for his Saturday evening talk show and repurposed it as a weeknight late night platform to compete with cable network late night shows, the bullies of the other side have been fuming. Hollywood outlet Variety, which carries water for all the trash that comes out of the mouths of political hacks like Colbert, made the most recent scathing attack in their official review of the show.

[...]

Ultimately, these hacks must just be jealous. Early ratings indicate that Gutfeld! is outperforming all but one of the major late night comedy show slots. Except for The Late Show With Stephen Colbert, the Fox News Channel late night program earned higher ratings than Jimmy Kimmel Live!, The Tonight Show With Jimmy Fallon,The Late Late Show with James Corden, Comedy Central's The Daily Show with Trevor Noah, Late Night with Seth Meyers, and TBS' Conan. Keep trying with those negative reviews, guys!
Houck returned to gush some more on April 13: "Kicking off week two of his weekday show on Monday, Fox News Channel host Greg Gutfeld blasted CNN as hellbent on "elevat[ing]...heart rates by making people hate each other" with their latest virtue-signaling charade coming in the form of Brian Stelter, attacking Fox hosts for not posting selfies when getting the coronavirus vaccine."
No mention, of course, of Fox's own right-wing virtue-signaling. Instead, Houck cheered that "Gutfeld had been on a ratings tear, easily topping late-night cable comedy rivals Trevor Noah's Daily Show and Conan O'Brien's TBS program as well as cable competitors Don Lemon on CNN and Brian Williams on MSNBC."
On May 3, Houck exhibited even more of his usual hateful glee that Gutfeld 's show is doing well in the ratings (for a cable TV show, anyway):
On Sunday's Reliable Sources, CNN charlatan Brian Stelter and longtime liberal media defender Bill Carter went to bay for the far-left tilt of network comedy shows while attacking right-leaning comedy as one of radicalization and vindictiveness.

In reality, the ratings have shown otherwise with FNC's Gutfeld! fetching monster ratings that rivaled those on the broadcast networks while, speaking of new shows, CNN's rebooted New Day has been flailing under poor ratings and spending its days treating conservatives like enemies of the people.

[...]

New Day and CNN are busy trying to get their viewers to be at the throats of people outside their political bubble, Gutfeld's alternative has continued to thrive. Before too long, Stelter and friends will be calling for advertiser boycotts out of jealousy. And when it does happen, we'll be there to cover it for you.
Houck and Gutfeld are also trying to get their audience to be at the throats of people outside their political bubble -- but Houck will never concede that truth.
Posted by Terry K. at 11:30 PM EDT