CNS' Biased Reporting Tricks
Prior to its shutdown, CNSNews.com manufactured a lot of "news" by cherry-picking data and taking it out of context to make liberals look bad and its fellow conservatives look good.
By Terry Krepel
Posted 7/17/2023
---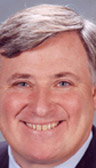 Terry Jeffrey
Before its demise as a full-fledged "news" organization in April, CNSNews.com was all about injecting right-wing bias into its reporting, and a key part of that was to make sure its preferred narrative were advanced -- especially if liberals could be made to look bad in the process. That, however, involved cherry-picking data and taking it out of context to provide the desired political effect, which made it more of a partisan activist than a "news" organization.

Let's look at three main ways CNS did this in the months and years before its shutdown, shall we?
Trick 1: Cherry-picking pockets of high unemployment
CNS editor Terry Jeffrey intoned in a September 2021 article:
Nine of the sixteen U.S. metropolitan statistical areas with the highest August unemployment rates, as ranked this week by the Bureau of Labor Statistics, were in California.

The El Centro metropolitan area, which sits in Imperial County, California, just north of Mexicali, Mexico, led the nation's 389 metropolitan areas in August with an unemployment rate of 19.4 percent, according to BLS.

That compared to a national unemployment rate for August of just 5.3 percent.
Jeffrey seemed to be taking a quick and dirty shot at California -- all he does is recite BLS statistics, and an intern could have done that. He made no effort to investigate why these areas have high unemployment; perhaps his goal was to suggest that Californians are lazy bums. So he wasn't going to tell readers that the El Centro region had a poor economy before the pandemic (and under President Trump). An actual news outlet reported in 2019:
While the United States is enjoying the healthiest job market in half a century, the metropolitan El Centro area has what the U.S. Labor Department says is an unemployment rate of 16.2%, the highest in the nation. By comparison, the rate for the country as a whole is 3.6%.

[...]

Many of the jobs here are agricultural: The Imperial Valley is home to thousands of acres of farms that grow cauliflower, potatoes and spinach and require a large seasonal workforce. Some of the farmworkers live here; many others cross the border from Mexico a few miles away to work every day.

Once they become too old to work in the fields, however, few jobs are available other than retail and fast food.

[...]

"Our economy is not diversified. It's a very narrow economy. It's either farm or government or teaching or low-income, with a few other exceptions," says Sara Griffen, executive director of the Imperial Valley Food Bank.
Jeffrey went on to wrote that "The Yuma metro area, which sits on the Mexican border in southwest Arizona, had the nation's second-highest unemployment rate this August. It was 18.2 percent." Again, Jeffrey couldn't be bothered to explain why, but it turns out that Yuma's economy is much like El Centro's -- impoverished, undiversified, overly dependent on farming, and has been that way for years.
But telling readers that would have required doing actual research and reporting. Jeffrey just wanted to perform stenography for a lazy, partisan shot. It doesn't inspire much confidence in CNS' brand of journalism.
Jeffrey felt the need to cherry-pick Yuma's high unemployment rate again in an Oct. 3 article, with a guest appearance by El Centro:
While the national unemployment rate was 3.8 percent in August, according to the Bureau of Labor Statistics, the Yuma, Arizona metropolitan area not only had the nation's highest unemployment rate of 21.0 percent, it also had the highest year-to-year spike in unemployment.

Yuma sits on the U.S.-Mexico border.

The August 2022 unemployment rate of 21.0 percent in the Yuma metropolitan area was up from 16.6 percent in that metropolitan area in August 2021.

By contrast, the unemployment rate was only 4.0 percent in August in the Tucson metropolitan area, which sits about 70 miles north of the border.

It was only 3.4 percent in the Phoenix-Mesa-Scottsdale metropolitan area and 4.2 percent state-wide in Arizona.

Meanwhile, in the El Centro, California metropolitan area, which also sits on the border, unemployment was 16.2 percent in August 2022, the second highest in the nation after the Yuma metropolitan area. However, the El Centro unemployment rate of 16.2 percent for this August was down from 19.4 percent in August 2021.

The statewide unemployment rate in California was 4.1 percent in August.
As before, Jeffrey censored the reasons why the unemployment rate in Yuma and El Centro are high: seasonal agricultural jobs and little else, the migrants who work those jobs, and lower educational levels.
A Dec. 29 article by Jeffrey took a similar approach:
The surge of migrants seeking to cross the southwest border into the United States is not the only crisis that this country is seeing along that border: It is also the site of the U.S. metropolitan areas that have the highest unemployment rates.

The El Centro, Calif., metropolitan area led the nation with an unemployment rate of 16.7 percent in November, according to data released today by the Bureau of Labor Statistics.

That was 4.9-times greater than the national unemployment rate, which was just 3.4 percent in November.

The city of El Centro sits about 13 miles north of the U.S. Customs and Border Patrol station on the border between Calexico, Calif., and Mexicali, Mexico.

The Yuma, Ariz., metropolitan area had the nation's second highest unemployment rate—16.3 percent—in November. Yuma sits in the southwest corner of Arizona--just north and east of the Mexican border.

"Yuma, AZ, had the largest over-the-year rate increase in November (+5.0 percentage points)," said BLS.
Again, Jeffrey failed to explain that high unemployment in those areas are endemic because those areas offer little more than seasonal agricultural work. Instead, he continued to pile on:
Six of the remaining positions in the Top Ten metro areas with the highest unemployment rates were taken by metro areas situated in California's Central Valley—the state's primary agricultural region.

These include Visalia-Porterville, which ranked third with an unemployment rate of 8.5 percent; Merced, which ranked fourth with an unemployment rate of 7.2 percent; Hanford-Corcoran, which tied for fifth (with Yakima, Washington) with an unemployment rate of 6.9 percent; Bakersfield, which ranked seventh with an unemployment rate of 6.8 percent; Fresno, which ranked eighth with an unemployment rate of 6.6 percent; and Yuba City, which tied for tenth (with Madera, Calif.) with an unemployment rate of 6.3 percent.

The Texas border metro area of McAllen-Edinburg-Mission, Texas rounded out the top 10—coming in ninth with an unemployment rate of 6.4 percent.
Jeffrey is falsely suggesting that illegal immigration is the cause for this unemployment when, in fact, it is clearly seasonal agricultural work combined with a lack of other opportunities in those areas that are the main driver for high unemployment. He then tried to dishonestly rub it in:
By contrast, the metropolitan areas with the nation's lowest unemployment rates in November were far from the southern border. In fact, three of them were in North Dakota, another three were in Minnesota, and yet another was in South Dakota.

The metros with the lowest unemployment rates included: Fargo, North Dakota which ranked first with an unemployment rate of 1.5 percent; Mankato, Minnesota, and Rochester, Minnesota, which tied for second with an unemployment rate of 1.6 percent; Sioux Falls, South Dakota, which placed fourth with an unemployment rate of 1.7 percent.

Bismarck, North Dakota; Columbia, Missouri; Grand Forks, North Dakota and Logan, Utah, all tied for fifth with an unemployment rate of 1.8 percent.

And Billings, Montana; Minneapolis-St. Paul, Minnesota; and Provo-Orem, Utah, all tied for ninth with an unemployment rate of 1.9 percent.
Jeffrey stayed silent on the difference between these and the other areas -- lack of dependence on seasonal agriculture and a more diversified economy. But when the economy is still doing well enough that CNS' usual tricks to downplay good unemployment numbers couldn't be invoked, Jeffrey seemed to be grasping for whatever he can.
Meanwhile, a search through the archives showed that CNS devoted no articles to these pockets of high unemployment when Donald Trump was president. Indeed, its previous hyping of them took place during the Obama administration:
It's clear that Jeffrey and CNS cares only about these pockets of high unemployment when they can be used to attack a Democratic president -- a bias that tracked with CNS' coverage of unemployment numbers (harsh when a Democrat is president, fawning when a Republican is president).
Trick 2: Complaining about expensive DC suburbs
In what was basically close to a yearly ritual, CNSNews.com editor Terry Jeffrey cited census data to attack the Washington, D.C., suburbs as 1) having too many wealthy people who 2) work for the government. An early appearance of this came in a 2014 column:
Those who live in this nation's richest county and those who live in its poorest have an important thing in common: a disproportionate dependence on government.

[...]

The independent City of Falls Church, Va. — which the Census Bureau treats as a county — was the nation's wealthiest. Its median household income was $121,250. Wilcox County, Ala., was the poorest. Its median household income was $22,126.

[...]

In both places, government employed people out of proportion to the national rate of 14.9 percent. In Falls Church, a suburb less than 10 miles south of Washington, D.C., 31.3 percent of the people with jobs worked for government. In Wilcox County, it was 25.4 percent.
Jeffrey's absurd comparison of a suburban city near the seat of government with a poor, rural Alabama county led up to an attack on "government investment in education and social welfare programs" promoted by liberals because Wilcox County is still poor. His solution: "Give every child in Wilcox County — and in every other American jurisdiction — a voucher worth as much as it costs to send a child to public school. Let parents, if they wish, send their children to private and religious schools, where they reinforce, rather than seek to replace, the family."
Just one problem with that: According to Wikipedia, the only private school in majority-black Wilcox County is a "segregation academy" -- that is, a school founded to serve white students after public schools were desegregated. So vouchers are not exactly the solution here.
Jeffrey continued to attack the wealth of the Washington suburbs on a nearly annual basis every time new census data came out, even though he admitted in that 2014 article that he lives near Falls Church (though he didn't admit that his office at the Media Research Center headquarters is also well in the D.C. suburbs as well):
Related articles on ConWebWatch:
Jeffrey did change things up a bit in 2020, writing an article claiming that "Twenty-six of the 27 richest congressional districts in the United States ... are currently represented by Democrats," and that "every one of the nation's seventeen richest congressional districts, when measured by median household income as of 2019, are currently represented by Democrats."

After taking a couple years off, a January 2022 article by Jeffrey added the San Francisco suburbs to his richest-county attack in an apparent swipe at Nancy Pelosi:
The eight richest counties in the United States in 2020, when measured by median household income, were all suburbs of Washington, D.C. and San Francisco, Calif., according to data released by the U.S. Census Bureau.

Five were in the Washington area and three were in the San Francisco area.
While this may all be factually accurate, Jeffrey is cherry-picking data to make a political attack. The irony, though -- which he doesn't disclose -- is that he lived and worked in those self-same suburbs (the headquarters for the Media Research Center is in Reston, Va., just west of D.C.) and, as an MRC executive, presumably was paid well enough that he can afford to live quite comfortably there. Jeffrey took another swipe in his Oct. 5 column, which contained a bonus swipe at the suburbs of San Francisco, where longtime MRC target Nancy Pelosi is based:
If you want to live in one of the wealthiest communities in the United States of America, do not move to Manhattan or Palm Beach, Florida. Move instead to the suburbs or exurbs of San Francisco or Washington, D.C.

The Census Bureau this week released its data on the 2021 median household incomes for areas that have populations of 65,000 or more.

According to this data, taken from the bureau's American Community Survey, the five wealthiest counties in the United States were all situated near the nation's capital or the city by the bay.

Specifically, Loudoun County, Virginia, had the highest median household income ($153,506) of any county in the survey, and Santa Clara County, California, ($141,562) had the second highest.

Fairfax County, Virginia, ranked third with a median household income of $134,115; Howard County, Maryland, ranked fourth with a median household income of $133,267; and San Mateo County, California, ranked fifth with a median household income of $131,796.

But the trend did not stop there.

It turned out that 11 of the 20 richest counties, according to the Census Bureau's data, were located either near Washington, D.C., or near the Golden Gate.

[...]

Nationwide, the median household income in the United States in 2021 was $69,717, according to the Census Bureau.

That means the median household income in the Washington, D.C. exurb of Loudoun was more than twice the median household income nationwide.

In Fairfax County, part of which sits inside the Washington Beltway, the 2021 median household income of $134,115 was 1.9 times as great as the national median of $69,717.
Jeffrey didn't disclose that Reston, where the MRC's HQ is, is located in Fairfax County. Instead, he concluded by huffing, "The bottom line: We are living in a country where big government is even more lucrative than Big Tech."
Jeffrey repeated a similar attack in a Dec. 16 "news" article:
Four of the six richest counties in the United States in 2021—when measured by median household income--were located in the suburbs of Washington, D.C., according to newly released data from the Census Bureau's Small Area Income and Poverty Estimates.

Loudoun County, Va., with a median household income of $153,716, ranked as the nation's richest county in 2021.

Falls Church City, Va., which the Census Bureau counts as a county because it is an independent city, ranked second with a median household income of $142,430.

[...]

Fairfax County, Va., ranked fifth with a median household income of $133,845.
Again, Jeffrey didn't didn't disclose that he and his employer are contributing to the very thing he loves to complain about. And now, with the closure of CNS and the subsequent loss of his job, Jeffrey is free to move away from the Washington suburbs live anywhere he wants -- even to Wilcox County, Ala.
Trick 3: cherry-picking metrics to make Democrats look bad
Another one of CNS' biased reporting tricks was hyping metrics that make Democrats look bad while eliminating relevant context. Jeffrey wrote in a March 2022 article:
New York County, which is the borough of Manhattan, and San Francisco County, which is the City of San Francisco, led the nation with the highest percentages of population decline from April 1, 2020 to July 1, 2021, according to data published today by the Census Bureau.

New York County had a population of 1,694,251 as of April 1, 2020. By July 1, 2021, it had dropped to 1,576,876—a decline of 6.9 percent.

San Francisco County had a population of 873,965 as of April 1, 2020. By July 1, 2021, it had dropped to 815,201—a decline of 6.7 percent.
Jeffrey refused to note that this population decline was driven in no small part to the COVID pandemic, which created opportunities to work remotely and reduce the need for people to live in expensive cities. In order to keep his narrative alive, Jeffrey also had to bury the fact that the county with the third-greatest population percentage loss during that time was Williams County in deep-red North Dakota. That shift was also pandemic-driven, when a crash in oil prices early in the pandemic caused losses of oil drilling jobs in the region.
Craig Bannister did something similar in a Dec. 2 article:
Every one of the 10 cities anchoring a metropolitan area with the most homebuyers looking to relocate, rather than enter, has a Democrat [sic] mayor, results of a new migration study reveal.

A new study of homebuyers by brokerage company Redfin examines the target destinations of prospective homebuyer searches from August through October of this year.

The study ranks metropolitan cities by their net outflow, a measure of how many more homebuyers are looking to leave an area than move into it.

San Francisco, California has the highest net outflow, followed by Los Angeles, California and New York City. Washington, D.C. has the fourth-highest net number of homebuyers looking to flee to another area, while Boston, Massachusetts comes in at number five.

Chicago (IL), Detroit (MI), Denver (CO), Seattle (WA) and Philadelphia (PA) round out the top 10 cities with the highest homebuyer net outflows.
Bannister didn't mention the fact that the Redfin study he referenced specifically cited the ability to work remotely -- not anything to do with the mayor's political party -- as the driving factor behind people moving out of large cities.
Bannister pulled a similar stunt in a Jan. 23 article:
Except for Alaska, every one of the 10 markets where consumers pay the highest prices for a gallon of gas was run by a Democrat in 2022, analysis of AAA data released Tuesday reveals.

At a national average of $3.45, the cost of a gallon of Regular gas on Tuesday was:
Up 2 cents from Monday,
Up 12 cents from a week earlier,
Up 35 cents from a month ago, and
Up 12 cents a year ago.

The highest state is Hawaii, which is an island, so gas prices have always been higher. The second highest state is California, where gas is more expensive to refine because of a state-mandated blend designed to reduce emissions and refineries closing rather than upgrading their facilities. The price factors for those states would remain no matter which party occupied the governor's office -- something Bannister didn't bother to tell his readers.

Editor Terry Jeffrey served up his own contribution to the genre in a March 3 article:
All nine states with the lowest annual average unemployment rates for 2022 had Republican governors during that year, while all ten states with the highest annual average unemployment rates had Democratic governors.

The published the annual average unemployment rates for all fifty states.
What Jeffrey didn't mention: Most of those Republican-led states with the lowest unemployment are mostly either sparsely populated states in flyover areas or tiny states in the Northeast like Vermont and New Hampshire, while the states with the highest unemployment include three of the most populous, Illinois, New York and California.
This was an echo of an Oct. 6 article by intern Lauren Shank that claimed "the national average price of regular unleaded gas was $3.831, with top blue states charging over a dollar more and top red states charging just below the national average, which also omitted context about why gas prices are high in states like California.
The latest from