Nobody Wants to Sell Advertising For WND
Topic: WorldNetDaily
On April 14, WorldNetDaily posted a "news" article that was actually a help-wanted ad:
The James R. Whelan Agency, a fast-growing ad sales agency headquartered in West Palm Beach, Fla., is seeking an inside account executive to sell online and print advertising.

The agency sells advertising for WND.com, the Internet's largest independent news website, as well as its monthly magazine, Whistleblower.

"Our strong subscription and advertising sales growth allows us to continue to develop our West Palm sales team," explains JWA founder James Whelan. "The successful hire will call on national advertisers and their agencies to secure multi-buy advertising schedules. Strong phone skills are a must, and established advertising contacts are a plus."
The story concluded with a phone number to which one could fax a resume.
Nearly three months later, this article-slash-ad is still hanging out at the bottom of the WND front page. Apparently, nobody is so desperate for a job that they will sell advertising for WND.
Then again, it could be the guy they would be working for. On his website, next to a picture of himself shaking hands with Donald Trump, James R. Whelan explains himself (boldface in original):
Hi. I'm Jim Whelan. I'm "The Guy" you see below.

No, I'm not "The Donald." I'm the guy wearing the rawhide cowboy hat and $14,000.00 tuxedo - not to mention my politically incorrect crocodile leather cowboy boots. My entire outfit might even cost more than the threads Mr. Trump is wearing.

By the way, Donald came over and introduced himself to ME after a number of "Who is that?" glances while signing autographs and talking to the tee-vee cameras. HOW on earth did I make that happen? Wouldn't you like to know?

Let me tell you, I am a MAGNET for FREE Publicity that Paris Hilton would envy (i.e. I don't have to doff my duds to get it) - as well as helping my clients get worldwide exposure via wise and prudently selected media placement.

Yes, it's true: The Cowboys at The James R Whelan Agency specialize in getting YOU the best seat at the rodeo - and believe me, dealing with the media is a lot like rasslin' a steer to the ground.
Uh, yeah.
On the photo page of Whelan's website, amid pictures of Whelan hanging with assorted celebrities and foreigners while wearing gaudy Western-style getups even actual Westerners would be embarrassed to be seen in, there's this awesome photo of Whelan with WND's Joseph Farah and "Mit Romney's assistant":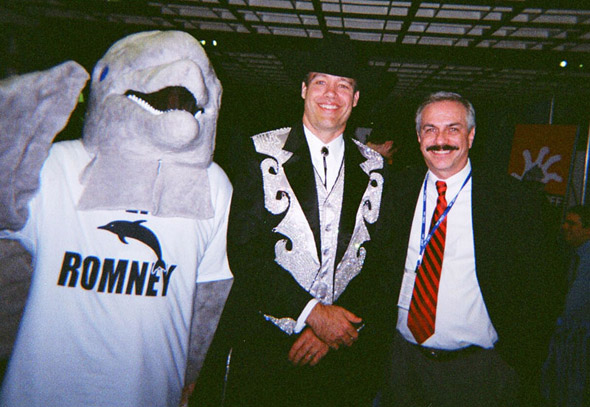 Gee, who wouldn't want to work for these two?
Posted by Terry K. at 12:54 PM EDT