WND Hypes Bogus Numbers Regarding Purported BLM Donations
Topic: WorldNetDaily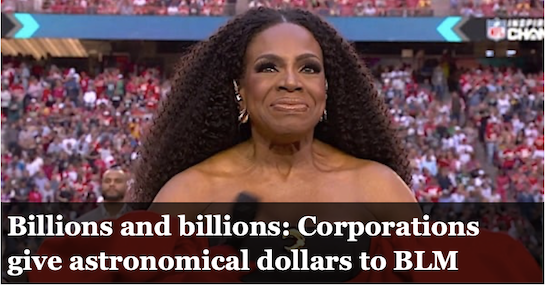 An anonymously written March 15 WorldNetDaily article declared:
Online, Black Lives Matter calls itself a "decentralized political and social movement" that campaigns over racism and racial inequality.

It focuses on "police brutality and racially motivated violence against black people."

However, there are corporate entities within the movement, that exist legally, and have bank accounts, and spend money on their campaigns.

Because a new report from Breitbart reveals that the BLM "movement and related causes received an astonishing $82.9 billion from corporations."

Citing a database assembled by the Claremont Institute, the report said BLM and its "related causes" got $82.9$ billion donated by corporations.

"The Claremont Institute's Center for the American Way of Life explained the necessity of their report in an article published in Newsweek, where the Center asserted that the 2020 BLM movement was about more than just 'rioting and destruction.' The Center explained that 'The BLM pressure campaigns, harassment, and moral blackmail also amounted to possibly the most lucrative shakedown of corporate America in its history.'"

The report noted the sum was "more than the GDP of 46 African countries."

The report described how the evidence shows "several popular corporations from a wide range of different industries supplied the movement with large sums of cash. Walmart, for example, which is based in Arkansas, gave a whopping $100 million in support of BLM and related causes focusing on 'racial equity.' Amazon gave even more, supplying the movement with an astonishing $169.5 million. Silicon Valley Bank gave the movement $73.45 million."
Just one little problem: This isn't true. As FactCheck.org reported, the far-right Claremont Institute dishonestly portrayed anything that helped black people as part of BLM -- such as "a need-based scholarship program, a commitment to lend to and support underserved borrowers, and a program to match employees' charitable donations" -- and Silicon Valley Bank donated no money to BLM itself:
When we reached out to the institute for more details, as we said, we were provided with a statement that said, in part (emphasis theirs), "Claremont's BLM Funding Database tracks contributions and pledges made to the BLM movement and related causes, which we define on our database as organizations and initiatives that advance one or more aspects of BLM's agenda, and which were made in the wake of the BLM riots of 2020."

Even so, it's a stretch to include a needs-based college scholarship fund as a donation to "the BLM movement and related causes." Similarly, including a pledge to increase economic diversity through a program the bank, itself, initiated also suggests that the threshold for what goes into the database is overly broad.

And, importantly, the database shows no contributions from SVB went to BLM.
Claremont's claim that Walmart gave $100 million to BLM is equally fraudulent, as Talking Points Memo's Josh Marshall documented:
Claremont reports that Walmart pledged $100 million to "BLM," $14 million of which has already been granted.

According to the cited document recipients include American Heart Association (AHA), Bernard J. Tyson Impact Fund ($5 million); U.S. Vaccine Adoption Grants; The King Center; and the Association of Black Foundation Executives (ABFE).

Again, for Claremont, it's Black-people adjacent, so that's BLM.
The Daily Beast pointed out even more dishonesty in Claremont's database, noting that if flagged money given by cereal maker Kellogg for mental health treatment in underserved communities was treated as part of BLM: "For Claremont, providing mental wellness services to Black kids is a BLM 'related cause,' which on its own shows how unscrupulous and dishonest the mission behind its database is."
So WND is lying to its readers by claiming, as its headline does, that "billions and billions" have gone to BLM, or that organizations dedicated to helping black people are a direct part of BLM. Indeed, no apparent attempt to update or correct the article has been made since it was published, despite those lies being exposed. But WND doesn't care about facts -- it cares about narrative, and hating BLM is the narrative, not reporting accurately and fairly about it.
Posted by Terry K. at 9:51 PM EDT