WND's Peterson: Thank God For 'Great White Hope' Trump!
Topic: WorldNetDaily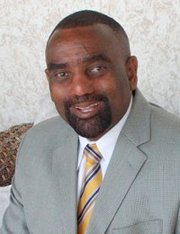 Jesse Lee Peterson is at it again in his Nov. 26 WorldNetDaily column, going way over the top in his effusive praise of Donald Trump, who he once more calls the "great white hope":
Too many people get caught up with material things, and they don't take time to reflect on the difficult times that God has brought them through because of his grace.


As I reflect on the season, I'm thankful for President Trump – the great white hope – who is putting America first. Despite the lies and attacks from the left-wing media, liberal Democrats and Never Trumpers, Trump is enduring his challenges with class and grace. He's a glaring contrast to the Fallen Messiah Barack Obama, who spent eight years exploiting identity politics and dividing the country.

In less than a year, Trump has achieved more meaningful accomplishments than any other administration in recent memory.

He is putting our national security first by moving forward with his promise to build a big, beautiful wall along the U.S.-Mexico border. He is allowing our military to do what it was designed for: to fight and kill bad guys.

Trump is rebuilding our armed forces and dismantling liberal policies piece by piece. He is allowing the generals and commanding officers to lead the troops. As a result, ISIS and other radical Islamists are on the run and are being decimated.

Trump appointed Judge Neil Gorsuch – a true conservative – to the United States Supreme Court. He is also quickly filling federal court vacancies, outdoing Obama and George W. Bush during the first 200 days in office in circuit and district court appointments. These appointments will have a huge impact on our laws and culture for many years to come.

Trump has the economy booming again. He is bringing manufacturing back and making trade fair again. All this has resulted in some 1.7 million jobs being created sine he was elected. That's amazing!
Needless to say, Peterson offers no evidence that Trump has actually done anything to "bring manufacturing jobs back." Indeed, gains in manufacturing jobs under Trump are a continuation of trends that started under President Obama, as are the increases in employment. Peterson is giving Trump credit for something Obama got started.
And it seems Peterson still doesn't know that the original "great white hope" sought to destroy blacks, not help them, so it's actually an insult for Peterson to call Trump that.
Posted by Terry K. at 3:43 PM EST