Mychal Massie Thesaurus Watch
Topic: WorldNetDaily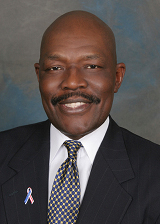 Mychal Massie did some serious plundering of his thesaurus -- as he's wont to do -- for his March 21 WorldNetDaily column, letting loose with this bit of excess verbiage:
Today morally bankrupt calumniators controlled from the shadows by a camarilla of satanic marplots lead America. Diocletian was a more honorable man than those who are viewed as leaders today.
Massie even does a callback to this syllable dump later in the column: "In that I referenced Diocletian, I would be remiss if I omitted the lack of leadership in churches today as being synonymous with those in the church of Pergamum."
The other main feature of a Massie column aside from thesaurus-plundering is Obama derangement, and he delivers on that too: "Viewing Obama as anything other than "leader" in word only is akin to calling Idi Amin or Kim Jong-un generals because they plastered their chests with candy-machine medals."
Massie also claimed that "Obama gave his tacit stamp of approval when his then attorney general, Eric Holder, refused to indict members of the New Black Panther Party for one of the most flagrant acts of voter intimidation in over 40 years." In fact, as we've previously noted, nobody has ever come forward to say they were intimidated by the New Black Panthers standing outside a Philadelphia polling place in 2008, which makes Massie look rather lucricrous for calling it "one of the most flagrant acts of voter intimidation in over 40 years."
We don't recall Massie being similarly outraged over a different group of armed people standing outside a polling place. But then, this was a group of anti-immigration "Minutemen."
Posted by Terry K. at 8:49 AM EDT