Aaron Klein's Co-Author Pushes An Obama Lie
Topic: WorldNetDaily
The new Obama-bashing book by Aaron Klein and Brenda J. Elliott, "Fool Me Twice," comes out today -- it appears to be nothing more than Klein's usual blend of biased speculation, guilt by association and conspiracy theories, just like their last book.
Meanwhile, co-author Elliott is peddling a lie that casts doubt on the veracity of the book. She tweets regarding President Obama, "Disenfranchising US troops is only the start."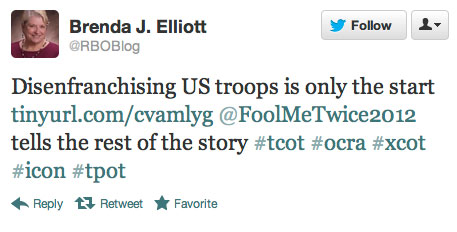 Elliott links to a
video
asserting, "As part of Obama's strategy to steal every vote possible away from Mitt Romney, his minions quietly filed a lawsuit to disenfranchise our military." In fact, the lawsuit has the goal of extending the civilian early-voting deadline in Ohio to that of the military, not reducing the military early-voting window -- the exact opposite of what Elliott is claiming.
The video also claims, "As with all things associated with Obama, it was done in secret." Another falsehood -- the filing of the lawsuit was reported in the media that same day.
In other words, Elliott is lying through her teeth. If she'll lie about something so easily disproven, why should anyone trust what she and Klein write in her book?
Posted by Terry K. at 2:09 PM EDT