AIM Article at Breitbart Site Featured Nazi-Era Anti-Semitic Image
Topic: Accuracy in Media
A Dec. 14 Accuracy in Media article by Logan Churchwell opined on the supposed "increased risk of bias" in the Associated Press' new drive for "distinctiveness." But when the article was reposted at Andrew Breitbart's Big Journalism site, it received an extra feature: Nazi-era anti-Semitic propaganda.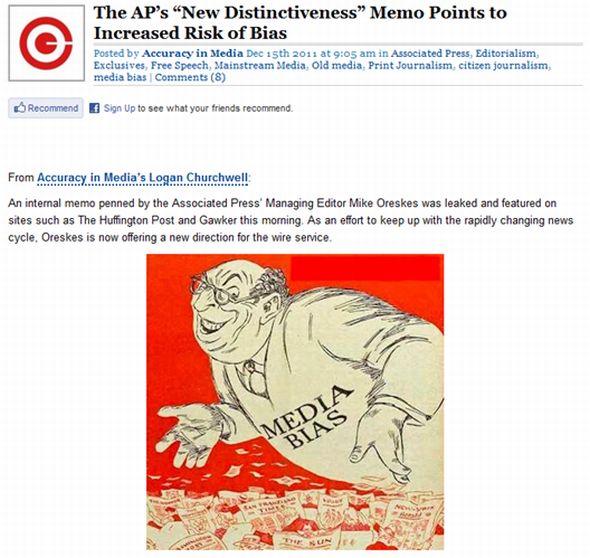 As Media Matters details, the image is based on an anti-Semitic cartoon in a Nazi-era magazine (which explains why the big guy looks more than a little stereotypically Jewish). The image has since been deleted without explanation and replaced with another image.
It's unclear whose fault this is, but the image appears in at least two other Big Journalism posts, according to Media Matters.
UPDATE: Big Journalism is sort of taking responsibility for the image, claiming it was removed after Breitbart editor-in-chief Joel Pollak ("an Orthodox Jew with a degree in Jewish Studies, so he tends to pick up on these things") noticed it. But Media Matters first noted Big Journalism's use of the image back in March.
Posted by Terry K. at 2:15 PM EST
Updated: Friday, December 16, 2011 3:39 PM EST