CNS Obsesses Over End of Sodomy (And Bestiality) Ban in Military
Topic: CNSNews.com
Befitting the Media Research Center's anti-gay agenda, MRC "news" division CNSNews.com has chosen to obsess over a defense funding bill that, among one of its many provisions, removes the article of the Uniform Code of Military Justice that bans sodomy in the military.
But since removal of the sodomy article also references bestality, CNS has targeted its freakout over that.
"Senate Approves Bill that Legalizes Sodomy and Bestiality in U.S. Military," blared a Dec. 1 CNS article by Pete Winn. Winn quotes anti-gay activist Tony Perkins baselessly speculating that removal of the bestiality provision "may have been intentional."
To drive home the point, CNS promoted Winn's article on the top of its front page with the implicit statement: If you repeal the bestiality ban, this cadet will do something unspeakable to this horse.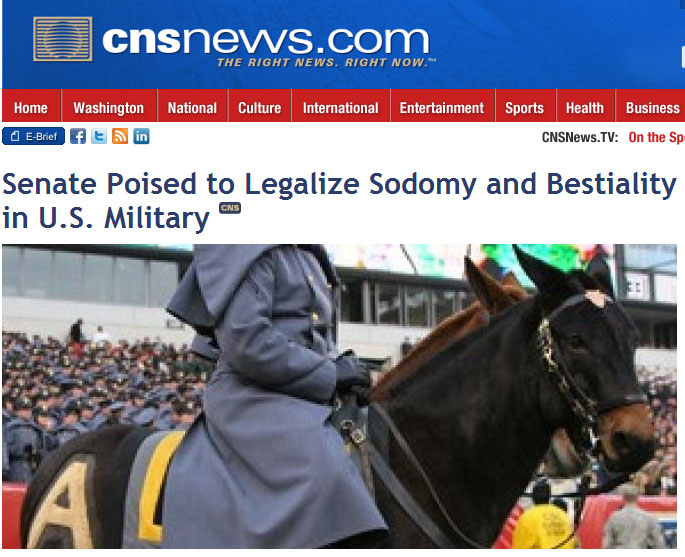 Winn followed up with a Dec. 4 article complaining that "Not a single member of the Senate spoke out last week against a provision in the defense authorization bill that will repeal the military's ban on sodomy and bestiality if the bill becomes law."

Winn went on to define sodomy only as "gay sex," but that's incorrect. As the Servicemembers Legal Defense Network states, the UCMJ's definiton of sodomy also covers oral and anal sex between heterosexual couples. The New York Times reported that efforts to changing the sodomy ban to bring it into line with civilian laws have been in the works since at least 2005.
UPDATE: Here's how CNS is depicting Winn's Dec. 4 on its front page: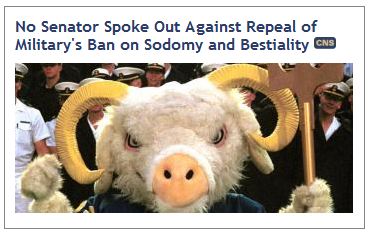 That would be
Bill the Goat
, the Navy's mascot. As far as we know, the UCMJ doesn't address furries.
Posted by Terry K. at 12:38 AM EST
Updated: Tuesday, December 6, 2011 8:48 AM EST