Newsmax Denounces Obama Spending $750 Million On Re-Election -- As Newsmax Demonstrates Why He Must
Topic: Newsmax
Newsmax's Christopher Ruddy wrote a tsk-tsking Oct. 26 column complaining about the money President Obama is expected to spend on his re-election:
New York magazine's John Heilemann, co-author (with Mark Halperin) of "Game Change: Obama and the Clintons, McCain and Palin, and the Race of a Lifetime," an inside account of the 2008 presidential campaign, says Obama's strategy is for a "demolition job" against the Republican nominee.

"He and his campaign [will] spend $750 million to make whichever Republican he's running against unacceptable to the American people, the same way that George W. Bush did to John Kerry," Heilemann recently said on Chris Matthews' MSNBC show, "Hardball."

"That's a lot of money. And whoever they get is going to have real flaws. It's possible they can accomplish that, but it's going to be a demolition job." Heilemann has predicted an "onslaught of negative advertising" against the Republican candidate, nothing less than a smear effort, in my book.

How depressing that Obama's re-election has come to this, from a man who sought to present himself as a great uniter and healer of our nation.

[...]

With the election fast approaching, Obama seems to be desperate and employing a $750 million wrecking ball to demolish the Republican opponent next year will confirm it.
Ruddy doesn't mention one reason why Obama will be spending that kind of money: He and his Richard Mellon Scaife-funded Newsmax will be running its own wrecking ball against the president, trying to demolish his chances for re-election. Ruddy is simply complaining that his own anti-Obama propaganda will be countered by Obama campaign spending.
Just a few days after Ruddy's column appeared, the organization he heads sent out the following message to its email list: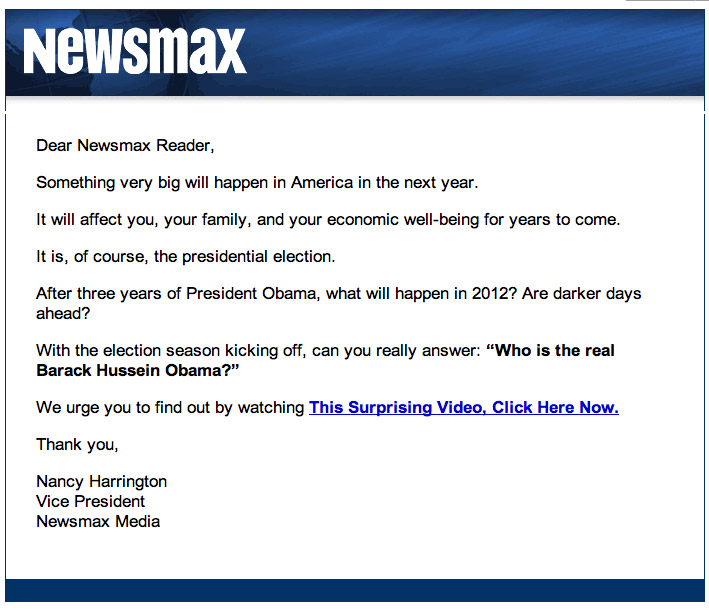 If you're including Obama's middle name, you are most certainly aiming to demolish.
The link in the email leads to a lengthy video read by Newsmax's Ashley Martella, attacking Obama's "lack of leadership" and asserting that "you need to ask yourself, can you trust President Obama?" This turns into a solicitation for Newsmax magazine, in which you are promised four "special reports" on Obama featuring "new secret information you've never heard before" -- but it later becomes clear that Martella is talking about four back issues of the magazine.
That in turn links to a solicitation for those "special reports," including the usual throw-in of three free issues of the magazine that you must actively cancel when the free issues end to avoid being charged $39.95 for a full year's subscription.
And even then, the claims are misleading. For instance, Martella asserts that one of the "special reports" is about Obama's "attempts to quash the tea party revolution." In fact, the copy provided on the solicitation page describing the tea party issue makes no such claim; it's clear that the magazine takes a broader look at the tea party movement and how it "must find a way to translate electoral success into effective governance." The closest it gets is a line stating that one highlight of the report is "The Obama vow that can make the movement grow stronger."
Another report claims to be about "Barack Obama's war on Fox News." Nowhere is it mention that Fox News started it by declaring war on Obama from the day he took office and asserting that was the "voice of opposition."
Make no mistake: Ruddy has earmarked a significant portion of Newsmax's Scaife-bolstered budget to attacking Obama at every turn with the goal of getting him out of office. His complaints about Obama doing similar spending are just crocodile tears.
Posted by Terry K. at 1:26 AM EDT