WND Portrays Clownish Muslim Cleric As a Real Threat
Topic: WorldNetDaily
WorldNetDaily wants you to think Anjem Choudary isn't a clown.
A March 22 WND article by Michael Carl breathlessly repeats Choudary's baseless assertion that "al-Qaida and the Muslim Brotherhood have assets on the ground in Libya and are ready to take control if Moammar Gadhafi is removed from power." Carl pumps up Choudary so you will take his ravings seriously, insisting that he's a "top Muslim cleric" -- again, without any substantiation.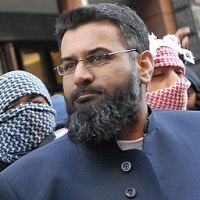 In the real world, Choudary is nothing more than a provocateur -- Salon called him "the Muslim analogue of Terry Jones, the obscure Florida preacher who created an international controversy last year with plans for a 'Burn the Quran Day.' He is a radical with minuscule public support, but one who can, given enough free airtime, do real-world damage." Choudary has appeared on Fox News in the same role that WND is putting him in: a crazy radical Muslim who is supposedly representative of all Muslims.
Still, Carl endeavors to construct a credible image for Choudary by invoking someone else endorsing his claims:
Florida Security Council President Tom Trento agrees.

"He is telling the truth, because North Africa from Cairo going West has deep penetration by the Muslim Brotherhood. We also know that Gadhafi is hated by and hates the Brotherhood and al-Qaida," Trento said.

"We also know that al-Qaida has their heart set on controlling petroleum. Libya is the No. 4 producer. There is no bigger prize in northern Africa than Libya right now," Trento said.

He said Choudary is in a position to know if the Brotherhood or al-Qaida is poised to move if Gadhafi is removed.

"Choudary has deep analytical connections to a variety of organizations. He is the sort of philosophical mind for al-Qaida. He is a confidante of Osama bin Laden," Trento said.

Trento is certain that these connections give Choudary inside information on whether al-Qaida is able to make such a power play if Gadhafi is gone from Libya.
At no point does Carl explain who Trento and the Florida Security Council are, let alone why they should be taken seriously. In fact, it's nothing more than a peration parroting the right-wing anti-Muslim line, even trying to fundraise off anti-Muslim fears.
The Florida Security Council has no demonstrated expertise on Muslim issues, as evidenced by its insistence on taking Choudary seriously; Trento states that he has "degrees in Law Enforcement, Theology and Philosophy."
Carl waits until the 19th paragraph before getting around to quoting anti-Muslim activist Robert Spencer calling Coudary's ravings "a bit fanciful." That Carl so buries the lead demonstrates WND's agenda to make Choudary as credibly scary as possible, even though it knows he's not.
Posted by Terry K. at 1:41 PM EDT
Updated: Wednesday, March 23, 2011 1:42 PM EDT