Bill O'Reilly to Help Promote Latest Newsmax Scheme
Topic: Newsmax
We've previously detailed how Newsmax uses anti-Obama scaremongering (and Dick Morris) to sell its financial schemes. Now Newsmax is apparently cooking up another scheme -- and it has enlisted another Fox News personality to help sell it.

A June 3 email sent to Newsmax's mailing list promotes something called the "Economic Crisis Summit," starring Morris (of course), but also "Premier Guest" Bill O'Reilly: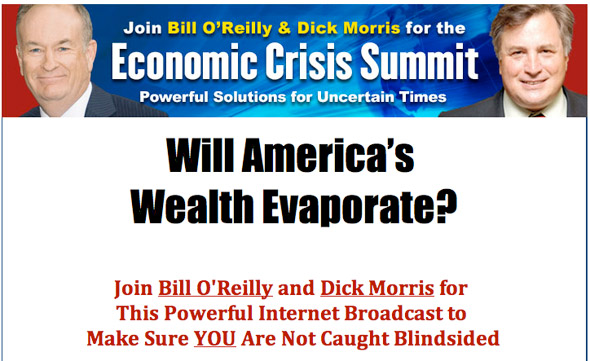 The purpose of the "summit" is described this way:
What is the Economic Crisis Summit?

On June 17, an esteemed panel led by Fox News' Bill O'Reilly and Dick Morris, along with global investor Jim Rogers and Newsmax CEO and Editor in Chief Christopher Ruddy, will convene to discuss inflation, higher taxes, our fragile economy, and real solutions that average Americans can take to ensure their wealth is safeguarded and positioned to prosper in an uncertain future.
Call it a hunch, but we suspect that Newsmax also wants to sell you something during this event.

As is standard practice with these things, Newsmax engages in anti-Obama fearmongering -- much of it misleading or outright false -- to whip up outrage and draw people into the "summit." For instance, there's this passage:
President Obama Will Usher in One of the Most Massive Tax Increases in History on December 31!

This is when the Bush tax cuts expire.

An immediate 10 percent tax increase across the board will strike citizens of all income categories.

He knows the capital gains tax will rise by almost 50 percent and the tax on dividends as much as 250 percent!

His Obamacare plan already calls for more taxes, including a $28,000 tax increase for millions of Americans.

And now Obama is openly talking about a new "value-added tax" which would be tantamount to a national sales tax. It is clear that the mentality of both the Obama White House and the Pelosi-run Democratic Congress is pro-taxes.
Let's take that apart point by point:
Obama will not cause an "immediate 10 percent tax increase across the board." Obama's fiscal 2011 budget would allow the Bush tax cuts to expire only for individuals making more than $200,000 and families making more than $250,000.
Obama is also not allowing Bush tax cuts on dividends and capital gains to expire for most Americans. Obama's proposed budget would raise the top rate on both from 15 percent to 20 percent, again applying only to the highest income brackets. That is not an "almost 50 percent" hike (for capital gains) or an increase of "as much as 250 percent" (for dividends).
Health care reform does not include "a $28,000 tax increase for millions of Americans," and it's unclear from which bodily orifice Newsmax is pulling that number.
Obama "openly talking about a new 'value-added tax' " is pretty much limited to having once called it a "novel" idea.
The anti-Obama activism doesn't stop there. If you sign up for the "summit," you are redirected to a website containing a petition called "America's Ultimatum," which states in part:
We of this petition represent all parties and all people of this country. And we are united. We will not stand silently anymore as years of reckless spending have put at risk our wealth, our retirement savings, and our future. And we will not allow you to hurt the promise we've made to our children and grandchildren -- that they have the right to achieve financial prosperity and claim their piece of the American Dream. We realize that the only way to get the message across to you is in the voting booths. And this petition serves warning. Inaction on your part will not go unnoticed.
We know Morris has an affinity for taking part in such shameless hucksterism and fearmongering. But how did O'Reilly get roped into this? Have Morris' frequent appearances on The O'Reilly Factor rubbed off on him? Or has palling around with Glenn Beck unlocked some sort of latent shameless-huckster gene?
(Cross-posted at Media Matters.)
Posted by Terry K. at 8:35 PM EDT