Newsmax Promo vs. Newsmax Story
Topic: Newsmax
On the morning of Feb. 2, the Newsmax front page carried this promo: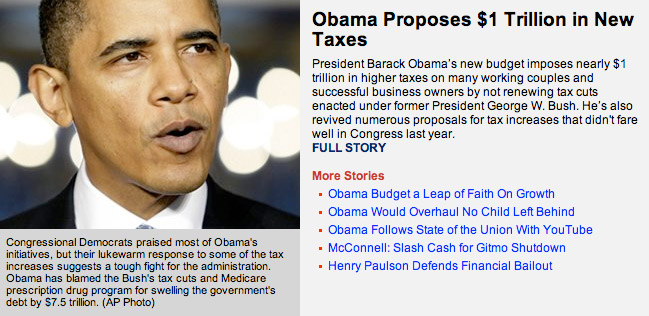 But the Associated Press article to which the promo links doesn't claim that Obama will raise taxes on "working couples" or "successful business owners." Rather, it states that Obama's budget "would also impose nearly $1 trillion in higher taxes on couples making more than $250,000 and individuals making more than $200,000 by not renewing Bush-era tax cuts for them. Obama would extend tax cuts enacted under former President George W. Bush for families and individuals making less."
The article also states that Obama would "increase taxes on U.S. companies with major overseas operations, and plans to increase taxes on oil and gas companies." The budget would also "Change the way profits made by investment fund managers are taxed, raising an additional $24 billion over the next decade." Is Newsmax pretending that multinational conglomerates known for creative ways of evading taxes are nothing more than small businesses?
Posted by Terry K. at 2:14 PM EST
Updated: Tuesday, February 2, 2010 2:36 PM EST