WND's Moore Peddles More Dubious COVID Claims
Topic: WorldNetDaily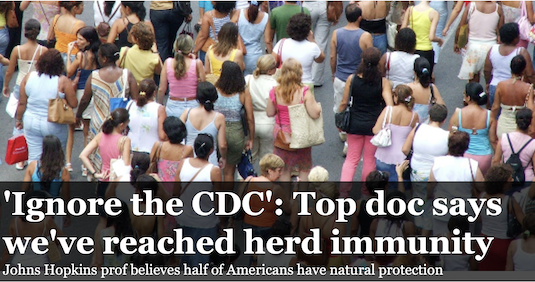 It seems that WorldNetDaily writer Art Moore just can't stop uncritically promoting dubious claims about coronavirus and its vaccines. For instance, he gushed in a May 17 article:
When Greg Abbott announced Texas would lift its mask mandate and other coronavirus restrictions, President Joe Biden chastised the Republican governor for his "Neanderthal thinking."

But just two months later, Abbott has been vindicated, announcing the state had no COVID-related deaths over the previous 24 hours.
Moore didn't mention that the listing of no COVID deaths on May 16 was a blip that was likely a function of that day being a Sunday, when statisticians tend to have the day off. By contrast, statistics show there were 37 deaths reported on May 15 and 34 on May 17. While the 7-day average for deaths has continued to go down, there have still been hundreds of COVID deaths in Texas since May 16.
On May 26, Moore wrote:
Arguing for people who choose not to be vaccinated, a Johns Hopkins professor estimates that nearly half the country has natural immunity due to prior infection that protects them from COVID-19.

Dr. Marty Makary, in an interview Tuesday with "The Vince Coglianese Show" on WMAL in Washington, claimed the United States already has achieved the objective of herd immunity, combining the vaccinated with those who have been infected. He estimates 85% of the population is immune to the novel coronavirus.

"Please, ignore the CDC guidance," he said, calling it the slowest "most reactionary CDC in history."
But Makary is wrong about how many Americans supposedly have immunity from COVID-19. He had claimed in a February Wall Street Journal column that the U.S. would achieve herd immunity based on that "natural immunity" claim, but fact-checkers found the claim wasn't supported by the data.
Moore wrote in a May 31 article: "A citywide initiative in Mexico City to prescribe ivermectin to COVID-19 patients resulted in a plunge in hospitalizations and deaths, two studies found." But Moore cites only one study involving Mexico City, and he omits the facts that the study is based on a database analysis, not clinical study, and it was a preprint that had not been peer-reviewed.
Moore added, "Earlier this month, as WND reported, a significant decrease in cases in India coincided with the national health ministry's promotion of ivermectin and hydroxychloroquine treatments." But as we documented, there was no proven link esdtablished between the use of ivermectin and hydroxychloroquine in India and the decline of cases there.
Moore wrote in a June 10 article:
Yet another study has supported former President Trump's suggestion that the common malaria drug hydroxychloroquine is an effective treatment for COVID-19.

This time, a study on 255 patients by St Barnabas Medical Center in New Jersey found that when used in a high dosage and with zinc, the drug increased survival rates nearly three times for severe cases in which patients were on ventilators.

Establishment media mocked Trump in April 2020 when he said hydroxychloroquine is a "powerful drug on malaria, and there are signs that it works on [the coronavirus], some very strong signs."
But the study does not claim that, and Moore gets the name of the combined drug wrong. In the study, hydroxychloroquine was paired with azithromycin, not zinc, and the combination did not increase survival rates "nearly three times." Depending on how the data is calculated, survival could increase by as much as 198 percent, which is not "nearly three times." Also, the study came from a preprint server, not a medical journal, meaning it has not been peer-reviewed; experts have noted that the study is an observational one, not a clinical one, and experts have questioned the study's design.
Posted by Terry K. at 1:45 AM EDT