An Exhibition of Conservative Paranoia
Exhibit 71: The MRC's Ray Lewis Hypocrisy
When the former NFL star started spouting conservative-friendly platitudes about God and family, the Media Research Center and its "news" division CNS stopped reminding readers about Lewis' involvement in a double-murder case.
By Terry Krepel
Posted 10/9/2018
---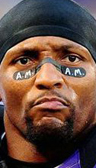 Ray Lewis
Emilie Cochran couldn't stop gushing in her Aug. 6 CNSNews.com article:
In his Pro Football Hall of Fame induction speech, former Baltimore Ravens linebacker Ray Lewis called for putting prayer back in schools and encouraging people to follow God and the Bible.

"For me, my guiding purpose is to carry out God's destiny for my life," said Lewis at the Aug. 4 event. "How do I do that? By not just loving my neighbors as I love myself, but by challenging people to walk with me in teaching our nation how to love each other again."

"One of the greatest gifts my mom ever gave me was the Bible," he said. "The Bible made me who I am today. Ephesians 3:20 says, 'Now unto him who is able to do exceedingly, abundantly above far beyond all you ever ask, think or imagine, according to the power that's working within you.'"

Concluding his remarks, Lewis said, "Walk with me out of here today with the mission in your mind, in your heart. Vow to be a leader in your community. Vow to be a ray of light in the world around you. Together there's nothing we can't do."

In response to school shootings in the United States, Lewis also said, "Can we please put prayer back in schools? Please?"
Meanwhile, over at CNS' sister Media Research Center publication NewsBusters, sports blogger Jay Maxson spent an Aug. 5 post complaining about Randy Moss' Hall of Fame induction speech. Maxson huffed that "just another high-profile forum for political statements, like the Oscars, the Grammys, the ESPYs and other programs used by leftists to promote their controversial views," singling out Moss for wearing "a tie bearing the names of a dozen black men and women killed in altercations with police or citizens. Call it the opening shot of protest for the 2018 NFL season."
Maxson went on to whine: "Media also seem to have amnesia about the pattern of disrespectful behavior that made Moss a controversial figure throughout his football career. In 2002, he bumped a female traffic control agent for half a block, until she fell down, with his SUV. Moss, who had marijuana in his vehicle, was arrested on suspicion of a felony assault charge. Since he's now officially a social justice warrior, none of that needs attention from the media though.
By contrast, Maxson wrote, "Legendary Baltimore linebacker and new Hal [sic] of Famer Ray Lewis took a more positive approach as he invoked the late Dr. Martin Luther King and extolled the audience to look at what unites us, as opposed to the divisive protests marring NFL games (and Hall of Fame ceremonies)." Maxson added an excerpt from Lewis' speech: "Are you living every day to make this world better? Think what we can do if we work together as a country ... teaching our nation to love each other again."
Speaking of amnesia: Both Cochran and Maxson seems to have it about Lewis' pattern of disrespectful behavior that made him a controversial figure throughout his football career -- namely, Lewis' criminal record.
Lewis was charged with two counts of murder in 2000 following a post-Super Bowl party after which members of Lewis' entourage (and Lewis himself, reportedly) got into a fight with members of another group, two of whom were stabbed to death (members of his entourage had purchased knives the previous day). Blood from one of the victims was found in Lewis' limo, Lewis told his limo passengers to keep quiet about what they saw, and the white suit he was wearing that night was never found.
Lewis ultimately agreed to a deal with prosecutors in which he pleaded guilty to a much lesser charge of obstruction of justice, for which he was sentenced to a mere year of probation, in exchange for testifying against two companions (who were ultimately acquitted). The families of both victims sued Lewis and received undisclosed settlements.
But Lewis is all about family and love now, so Cochran, Maxson and the MRC aren't so gauche as to bring up his criminal record from a time when he was less loving -- and Maxson turns Moss into the bad guy for bringing up uncomfortable subjects.
A history of ignoring, deflecting from Lewis' record
This follows a years-long pattern of the MRC largely censoring or deflecting from Lewis' criminal record while championing his current spouting of conservative-friendly rhetoric.
A January 2013 CNS article by Craig Millward touted how, "following a 38-35 double overtime victory over the Denver Broncos in the AFC Divisional playoff on Saturday, Baltimore Ravens Linebacker Ray Lewis said "God is amazing,'" adding that Lewis later "paraphra[sed] Isaiah 54:17, 'No weapon formed shall prosper. No weapon. No Weapon. No Weapon.'"
The next month, after the Ravens won the Super Bowl, Melanie Arter reported how Lewis "quoted Romans 8:31: "When God is for you, who can be against you? … It's simple: when God is for you, who can be against you? It's no greater way as a champ to go out on your last ride with the men that I went out with, with my teammates, and you looked around this stadium and Baltimore, Baltimore, we coming home, baby. We did it!"
An April 2016 blog post by Mark Judge was a transcript of a video Lewis posted on Facebook "condemning black on black violence and passionately calling for positive cultural change."
None of these articles mentioned Lewis' criminal past. The only CNS article we found that did reference it was a September 2014 article by Cory Parks quoting Lewis commenting on "the Ray Rice situation" — weirdly undescribed in the article, it's about an incident in which then-NFL player Rice was caught on video punching his then-fiancee in the face in a casino elevator. Parks was surprisingly straightforward:
Ray Lewis was allegedly involved in a double homicide case. He was at a night club where an altercation erupted between Jason Baker, Richard Lollar and Ray Lewis and his friends Joseph Sweeting and Reginald Oakley. Jason and Richard were found stabbed to death and Lewis and his two friend were charged with murder.

After the spectacle of the court proceedings, many people refer to Ray Lewis as the one who got away with murder. There have me allegations of a cover-up, but things have never came to light to prove it.
Parks added: "I guess we are still waiting for light to shine on the murder of Jason Baker and Richard Lollar but I guess as Ray Lewis said, 'There's somethings you can cover up and there's some things you can't.'"
Over at NewsBusters, things were a little better. Maxson gushed in August 2017 over how Lewis "refuses to kneel at the altar of social justice with [Colin] Kaepernick, Zirin and their kind. He's an African-American who supports President Trump, too." No mention of Lewis' criminal past.
Related articles on ConWebWatch:
Dylan Gwinn lionized Lewis in a September 2015 post noting criticism of Lewis' attacks on the Black Lives Matter movement: "As a player, Ray Lewis was extremely well known for delivering jarring shots that immediately stopped the forward movement of opposing players. As a media member, now he's taking shots at the very core of opposition movements." Gwinn did not Lewis' past but portrayed it as irrelevant: "Of course, one cannot forget that Ray Lewis was once himself charged with murder, though never convicted, so the source of this statement may seem dubious to some. But regardless of the source, the message of Lewis' speech is something that in a normal world would be greeted with praise. Actually, check that, in a normal world Lewis would never have to even say that 'lives matter.'"

Pretty much the only person at the MRC who consistently noted Lewis' violent history was the late NewsBusters blogger Noel Sheppard. He obliquely referenced Lewis' "track record" in a February 2013 post about then-Ravens coach John Harbaugh saying he was scared and "petrified" of Lewis. The next month, Sheppard complained that a 2013 ESPN press release announcing Lewis an an NFL analyst "said nothing about the January 2000 fight that resulted in Lewis being indicted for murder and aggravated assault. In June of that year, he agreed to plea guilty to obstruction of justice in exchange for testifying against his two co-defendants and a sentence of 12 months probation." Sheppard added: "This made him a controversial figure in the NFL. Apparently he's not too controversial for ESPN."

Of course, that was when Lewis' record could be used against him because he was joining the purportedly "liberal media." Nobody at the MRC would dare to mention it now that he's spouting conservative-friendly platitudes.
The latest from