CNS Runs Another AP Headline Through The Bias Machine
Topic: CNSNews.com
CNSNews.com adds yet another entry to its growing list of Associated Press headlines it has rewritten to add right-wing bias.
Here's how the AP headlined an Sept. 20 article on the season debut of "Dancing With the Stars," which includes transgendered Chaz Bono: "New 'Dancing' cast makes its ballroom debut."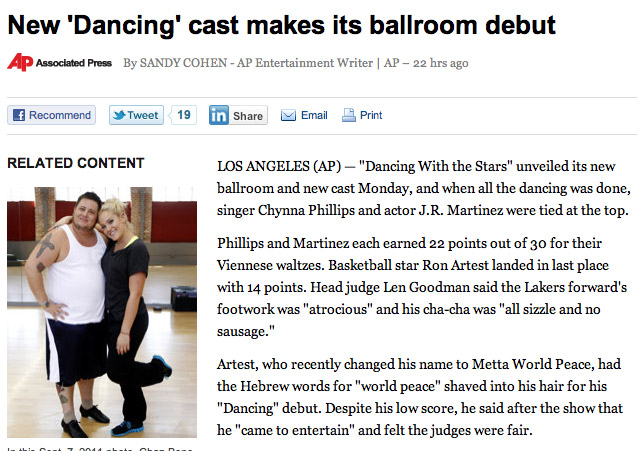 Run that same story through the bias machine at CNS, and it magically has a
new headline
: "'Dancing With the Stars' Rolls Out Its Transgender-Acceptance Season."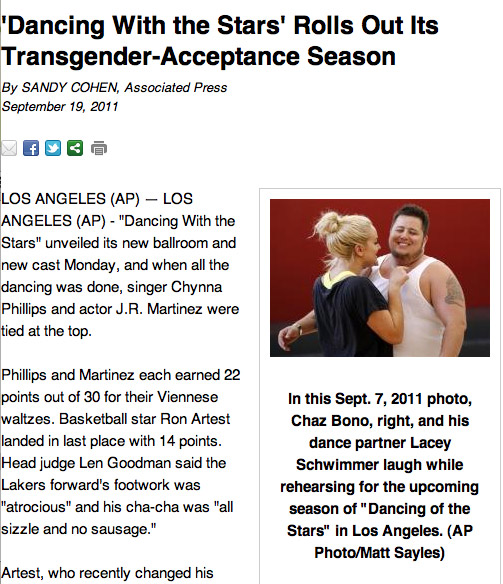 Never mind that the word "transgender" never appears in the article, nor does it discuss the issue of "acceptance." The MRC clearly has an agenda to push, and its marching orders are to freak out over the existence of Bono.
Between the rampant headline-rewriting and its bashing of AP as a "liberal media outlet," one has to wonder why CNS even bothers to pay it money for the privilege of publishing its stories on the CNS website (beyond trying to create the illusion that CNS is a real "news" organization, that is).
Posted by Terry K. at 12:35 AM EDT
Updated: Wednesday, September 21, 2011 12:41 AM EDT