Corsi Dishonestly Crops FactCheck In His Birther Book
Topic: WorldNetDaily
There are lots of problems with Jerome Corsi's WorldNetDaily's published birther book "Where's the Birth Certificate?" One of them is the way Corsi dishonestly edits the works of others to boost his case.
Corsi misleadingly attacks FactCheck.org as a website that "raised questions about McCain's eligibility without raising raising similar questions about Obama," later repeating the point that FactCheck "pursued McCain's eligibility issues but steadfastly defended Obama's." As support for his claim, Corsi includes on page 142 a screenshot of the FactCheck article in question: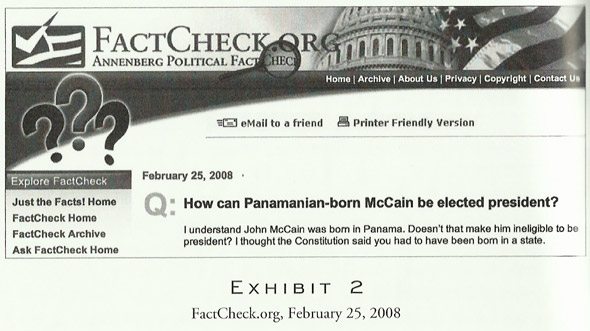 Note that Corsi has included only the "Q" part of the web page. He cropped what the "A" was. Why? Because it undermined the point he was trying to make:
That's right -- FactCheck considered McCain to be a "natural born citizen" in its one and only look at the issue, despite Corsi's suggestion that it repeatedly questioned McCain's citizenship. Corsi also complained that FactCheck had not examined Obama's citizenship at the time it examined McCain's, but Obama was still locked in a presidential primary battle with Hillary Clinton at the time the article came out, while McCain had effectively secured the Republican presidential nomination by that time.
Further, according to WND's archive of birther stories, Corsi's employer did not publish its first story questioning Obama's birth until June 10, 2008 -- more than three months after the FactCheck article on McCain. Corsi's complaint here is a disingenous one.
A "exhibit" selectively edited to skew the facts is no exhibit at all -- it just shows how Corsi is trying to stack the case against Obama.
Posted by Terry K. at 12:29 AM EDT