Newsmax Still Hates Clinton, Loves Republicans
Topic: Newsmax
Remember: Despite all its recent moderation and moves toward the mainstream, Newsmax still hates the Clintons (and all Democrats) and will always give Republicans positive, preferential coverage.
Exhibit 1: a May 11 piece by Joseph F. Connor making numerous guilt-by-association attacks on both Hillary Clinton and Barack Obama:
Obama, through his relationship with Weather Underground member William Ayers and the United Church of Christ, also connects to the FALN and via this intricate web of radicals to groups such as the May 19th Communist Organization (formed from splintered Weather Underground members; named for the May 19 birthdates of both Ho Chi Minh and Malcolm X).

Clinton has direct connections to FALN, the most prolific terrorist group in U.S. history; Weather Underground, the same group connected to Obama; and the Black Panthers, as well as indirect connections to others.
Exhibit 2: the cover of the new issue of Newsmax magazine: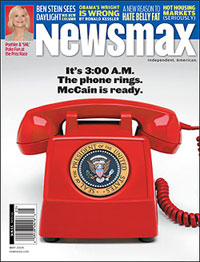 Posted by Terry K. at 10:04 AM EDT
Updated: Tuesday, May 13, 2008 10:19 AM EDT