Failure Cleanup Mode At The MRC
The Media Research Center groused that the media ignored John Durham's latest failed prosecution (which the MRC also ignored), and it again repeated complaints that the House committee looking into the Capitol riot was considered newsworthy.
By Terry Krepel
Posted 3/1/2023
---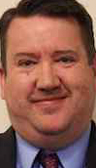 Tim Graham
The Media Research Center spent months last year desperately trying to portray special counsel John Durham as the anti-Mueller who was investigating the investigators and doing Donald Trump's dirty work in trying to blame the 2016 Hillary Clinton campaign for purportedly spying on Trump's campaign. Tim Graham played whataboutism with coverage of the House committee looking into the Capitol riot -- which the MRC repeatedly insisted wasn't real news -- in an Oct. 13 post:
ABC, CBS, NBC, PBS, and NPR are all expected to air live coverage of the last hearing of the Pelosi-picked panel investigating the January 6 riot. This is the ninth hearing (two of them in prime time) that these networks have provided hours of free publicity to Pelosi and the Democrats, who are using today's hearing to raise funds in the midterms.

Meanwhile, special counsel John Durham is trying Igor Danchenko in federal court, which none of these networks has covered on air this week. To illustrate the lack of network interest, we searched the name "John Durham" in the Nexis search engine from January 20, 2021 through October 12, 2022.

ABC: One story by Pierre Thomas.

CBS: Two anchor briefs.

NBC: Two stories and one brief mention in a February 21 story on the Merrick Garland confirmation.

PBS NewsHour: Two stories and one anchor brief.

NPR: Four stories and one brief mention in its story on the Merrick Garland confirmation.

Contrast that pittance to 18 or more hours of live January 6 Committee television each.
Funny how Graham didn't mention Fox News at all -- presumably because it doing so would show just how far to the right it is in obsessing even more over Durham than the MRC does. But you know who else has been ignoring Durham in recent months? Graham's employer.
Until this post, NewsBusters hadn't mentioned Durham since June 4, when Clay Waters grumbled that the New York Times accurately pointed out that Durham was trading in right-wing conspiracy theories in the wake of his failed prosecution of Michael Sussmann. Yes, Graham whined about that too, only to serve up even more whataboutism:
When the networks have reported on Durham, it was to characterize him or conservative media coverage as a failure. In February, PBS brought on an award-winning trash-talker. The New York Times wrote that the entire narrative appeared to be mostly wrong or old news, and its conclusions based on a misleading presentation of the facts or outright misinformation." At the same time, NPR's All Things Considered carried the online headline "The John Durham filing that set off conservative media, explained."

In May, ABC's single report focused on Clinton lawyer Michael Sussman being found not guilty of lying to the FBI. Pierre Thomas proclaimed: "It was the first trial of a case brought by the man handpicked by Donald Trump's attorney general to examine the origins of the FBI's investigation into Trump's possible ties to Russia. But tonight, a Washington jury handing special counsel John Durham a stinging defeat, acquitting a lawyer with ties to Hillary Clinton's campaign of charging that he lied to the FBI."

Liberals could consider the Mueller probe a failure, because it failed to find Trump-Russia collusion or lead to Trump being indicted. Rich Noyes of the Media Research Center found that from January 20, 2017 through July 20, 2019, the evening newscasts at ABC, CBS, and NBC alone devoted an astounding 2,634 minutes to the Trump-Russia narrative.
In fact, the Mueller investigation indicted 37 people, including five Trump associates, many of whom struck plea deals or were found guilty in court. Most people would call that prosecution record a success -- and a far more successful one than Durham's.
So you'd think Graham's whining would indicate that the MRC would serve up its own intensive coverage of Danchenko's trial, right? Wrong. Not only did NewsBusters ignore it, so did its "news" division CNSNews.com (which, like its MRC parent, parroted right-wing spin after the Sussmann acquittal). The only coverage CNS provided was an Oct. 12 article by Craig Bannister focusing on one witness' testimony that "the FBI had offered ex-British intelligence agent Christopher Steele a $1 million "incentive" to corroborate the unfounded Steele Dossier allegations against former President Donald Trump." When Danchenko was acquitted just like Sussmann was, CNS reported nothing.
Meanwhile, the site for which Graham serves as executive editor censored Danchenko's acquittal for five days, and it mentioned Durham just one more time since then, in an Oct. 23 item by Waters whining once again that the Times pointed out Durham's record of failure:
New York Times legal reporter Charlie Savage and the paper's official fact-checker Linda Qiu teamed up on Wednesday's front page to cover the acquittal of Igor Danchenko for lying to the FBI in "Russian Analyst for Trump Dossier Acquitted of Lying to the FBI." (Biden apparently makes no statements the paper finds worthy of fact-checking, judging by how many non-fact check bylines Qiu has shared lately.)

For the Times, it was a golden opportunity to again bash special counsel John Durham's investigation into how the FBI pursued the alleged Russia ties of former President Trump.

[...]

The Times enthusiastically pushed special investigator Robert Mueller's investigation into Trump-Russia collusion that resulted in zero charges against any Trump associate for criminal conspiracy. Now it is reveling in the failure of the Durham inquiry into the very partisan origins of Mueller's investigation.

Legal reporter Savage saw a politicized case at every turn:

[...]

Savage had the audacity to suggest it was the Durham investigation, not the FBI's actual deceit, that had possibly "damaged national security" by pursuing charges and thus discouraging people from speaking up in future.
Unsurprisingly, Waters offered no real evidence to back up those claims, nor did he prove that Durham's probe wasn't politicized.
More whining over 1/6 committee coverage
Meanwhile, when one more pre-election hearing was held last month by the House committee looking into the Capitol riot, the MRC complained about that too. Curtis Houck grumbled in an Oct. 13 post that hearings cut into valuable airtime pushing right-wing narratives about inflation:
On Thursday morning, ABC and CBS showed what matters to them most. They combined to have spent more time on the last hearing of the House Select Committee on January 6 and the latest leaks against former President Trump than Americans struggling to make ends meet amid record-high gas prices, soaring food costs, and surging inflation.

All told (and when you add in NBC), ABC's Good Morning America, CBS Mornings, and NBC's Today spent a total of 12 minutes and 50 seconds on January 6 and the Mar-a-Lago raid and 11 minutes and 50 seconds on inflation.

It should be noted nearly three quarters of the inflation total (eight minutes and 34 seconds) came from NBC's Today, which was the only network to give more time to the state of the economy than January 6 and Trump (three minutes and 49 seconds).

In contrast, ABC and CBS gave far more time to their pet projects than showing any real concern for Americans wondering where their next meal is going to come from.
Houck didn't explain how he invented the claim that the Capitol riot hearings are the "pet projects" of TV networks. Kevin Tober engaged in similar whining later that day:
On Thursday, American consumers awoke to the news that they have been experiencing all along. That inflation continued to soar in September at a rate of 8.2 percent year-over-year and 0.4 percent over the previous month. This despite the Federal Reserve's steady interest rate hikes meant to curb inflation. Yet, the three evening news broadcasts gave that news a back seat to the latest January 6 hearing into the riots at the Capitol.

ABC's World News Tonight was the worst offender on this contrast in coverage. The network led with the news of the January 6 Committee voting to subpoena former President Donald Trump to testify before the committee. ABC devoted eight minutes and six seconds to the news while giving just 45 seconds to the red-hot inflation numbers.
Mark Finkelstein used an Oct. 14 post to complain that people on TV pointed out how the hearings made Republicans look bad:
After the House January 6 committee held its final hearing before the election, Morning Joe wasted no time on Friday's show in trying to translate those hearings into a blatant appeal to vote Democrat in the coming midterms. The election of a Republican majority is a vote for cheating, violence and the end of democracy.

First, looking directly into the camera, Michael Steele, the former Republican National Committee chairman turned member of the disgraced Lincoln Project, beseeched people to make the obvious choice for democracy and vote Democrat:
Finkelstein didn't dispute the accuracy of anything that was said -- he just whined that it was said out loud. Meanwhile, Graham returned to spend his Oct. 14 podcast complaining about the hearings and tried to push the old right-wing narrative that nobody cares about them:
The final pre-election hearing of the Pelosi-picked January 6 Committee was overtly designed as midterm messaging for the Democrats -- including in fundraising emails. The media coverage suggests one party is in favor of democracy, and the other one is a mortal threat to democracy.

On MSNBC, Nicolle Wallace insisted to Rachel Maddow that "democracy issues" were a top midterm issue, but the January 6 hearings themselves aren't breaking through.

Politico just reported that "Overall, less than 2 percent of all broadcast TV spending in House races has gone toward Jan. 6 ads." CNN's Stephen Collinson wrote with great concern that "Voters may care more about the cost of French fries than January 6 panel's compelling evidence."

We discuss the patterns with NewsBusters Managing Editor Curtis Houck, and he breaks down the major themes of this last hearing. It's safe to predict that if Republicans retake on or both houses of Congress in 2023, the networks that have provided all this live coverage will immediately lose interest in covering oversight hearings. They all think Trump scandals are urgent, and Biden scandals are a distraction.
As usual, Graham is confusing his right-wing media bubble with what happens in the real world. He also didn't explain why he apparently believes Trump should never be held accountable for his actions in instigating the Capitol insurrection.
As the committee concluded its business and prepared to issue its final report, the MRC simply couldn't stop the hate. Nicholas Fondacaro whined in a Dec. 19 post:
With the January 6 Committee having held their final hearing on Monday by sending criminal referrals against former President Trump and others to the Department of Justice (DOJ), the liberal broadcast networks swooned for their friends on the committee. ABC and NBC suggested the committee was better at conducting investigations than the DOJ. Meanwhile, CBS was itching to see soon-to-be former Republican Congresswoman and committee vice chair, Liz Cheney (WY) run for president against Trump.

Immediately following the proceedings, ABC chief anchor David Muir opined, "We have just witnessed an extraordinary moment in American history, the January 6 Select Committee with both Democrats and Republicans … Voting unanimously to send a criminal referral to the Department of Justice."

ABC chief Washington correspondent Jon Karl joined him to blow smoke for the committee. According to him, the biased committee conducted the most thorough investigation in American history. "This committee conducted a thorough investigation … one of the most thorough we have seen of any single incident in American history," he proclaimed.
Again, no factual counterpoint was offered -- Fondacaro was simply being paid to whine. Kevin Tober similarly complained with the additional whine that something historic was described as "historic":
On Monday, the hyper partisan January 6 congressional committee recommended criminal charges against former President Donald Trump. Due to this news, the "big three" evening newscasts brought out the confetti and each led with the story while hyping its "historic" nature, with one network going as far as to laughably claim that the committee was "bipartisan."

During ABC's World News Tonight, anchor David Muir hyped how the "January 6 committee making history today for the first time Congress has recommended criminal charges for a former President."

Muir bragged that the committee voted "unanimously to recommend former President Trump be charged by the Justice Department for his actions leading up to and including January 6," and reminded viewers how many seasons the Pelosi circus ran: "The committee's nearly 18-month investigation, ten public hearings, depositions from more than 1,000 witnesses."

Meanwhile on CBS Evening News, anchor Norah O'Donnell began the program by proclaiming it a "historic day on capitol hill," because "for the first time in American history, Congress has referred a former President to the Department of Justice for possible criminal prosecution, recommending four felony charges for his role in trying to overturn the 2020 presidential election."

O'Donnell told viewers that "the statute for one of those charges, insurrection, says someone convicted shall be incapable of holding any office under the United States."

Which of course, is the entire point of the committee.
Tober didn't explain why that was a bad thing.
Related articles on ConWebWatch:
Aiden Moorehouse cheered that "Former Acting FBI Director and current CNN analyst Andrew McCabe took a much more cautious tone than most media pundits, and accidentally hinted at how the blatantly partisan and theatrical presentation the Committee opted for ended up hurting it in the end," adding that "McCabe lent credence to one of the strongest accusations against the conduct of the January 6 Committee: that it was purposefully designed as a theatrical production intended to push a narrative more focused on short-term electoral gains in 2022 than any real long-term accountability." Never mind, of course, that Moorehouse's employer would have criticized the committee whatever it did because its beloved Donald Trump was being investigated.

Graham, meanwhile, was in full whine mode for his Dec. 19 podcast: "Monday's rerun hearing of the House January 6 committee drew the usual supportive wave of live coverage -- and then led the evening newscasts of ABC, CBS, NBC, and PBS. Coming next are the massive 500-page copies of the committee's final report -- The New York Times, The New Yorker, and MSNBC's Ari Melber are all pushing versions of the report. The committee's own official report -- with commentary by Rep. Adam Schiff -- is coming out on the second anniversary of the January 6 riot." Graham followed up in his Dec. 21 column, with an added dose of Hunter Biden derangement:
After the final hearing of the Pelosi-picked House January 6 panel, Time magazine sent out an email to its audience, under the headline "Trump should be prosecuted, Jan. 6 Committee declares in historic criminal referral". To our leftist media elite, everything the Democrats do to promote themselves is "historic."

Is it surprising to anyone that the House Democrats (and Cheney and Kinzinger) want Trump in an orange jumpsuit? Is it "historic" if the referrals are ignored by the Justice Department?

Obviously, the riot itself is historic, in the worst way. But Time and their media pals would never consider the heavy-handed Hunter Biden scandal censorship "historic," as in an ever-more-obvious plot to prevent Donald Trump's re-election. They cannot mentally connect Hunter censorship to January 6, even though that kind of rigging outraged Republican voters of all kinds. You get the sense that journalists get emotional and hyperbolic and imagine that anyone talking about Hunter's laptop is an honorary rioter.
But Graham is serving up an implicit defense of Trump by not criticizing his actions leading up to the riot or during it, in which he spent three hours watching it on TV instead of trying to stop it. No, it's all about the evil Hunter Biden, and Trump is as pure as the driven snow.
The MRC also published a Dec. 29 syndicated column by Cal Thomas complaining that the committee had a "predictable outcome" and insisting that "One can oppose Donald Trump's run for president in 2024, while still questioning the way the House committee conducted itself." But he too failed to dispute any of the evidence the committee uncovered.
The MRC's final shot at trying to besmirch the committee and the witnesses who testified came in a Dec. 21 post by P.J. Gladnick:
One can get an idea of just how weak the summary report released by the January 6 Committee is when even Bloomberg and Axios are throwing shade on the "star witness" of the hearings, Cassidy Hutchinson. Here is Bloomberg's very downbeat view on Tuesday on the credibility of Hutchinson as sadly written by Billy House in "Mystery of Trump's Alleged Outburst on Jan. 6 Unsolved in Report."

[...]

So very weak second hand hearsay sauce from the "star witness" that runs counter to first hand testimony from two witnesses. You don't have to be a legal genius to figure out which account will have much more weight in court. Yet, the J6 Committee is still desperately clinging to the Hutchinson hearsay.

But the panel asserted in the summary of its 17-month investigation that it has "has significant concerns about the credibility" of Ornato's testimony.

Again, corroborated by another witness so good luck of hanging your J6 hopes on the "star witness."
Gladnick is completely glossing over the role of Ornato here. As ConWebWatch documented, Hutchinson's account was relayed to her by Ornato -- but after first immediately vowing to testify before the committee, he and other Secret Service officials lawyered up and clammed up for a while. When Ornato did finally testify, he declared that he couldn't recall saying that. But Gladnick also hid the fact that the Bloomberg article also reported that the committee stated two other witnesses said Ornato told similar stories to them.
Gladnick also cited an Axios article and made a big deal about it stating that other witnesses "don't appear to corroborate the claim of a physical altercation," though he did quote Axios stating that the committee thought Ornato was "particularly unreliable." But he failed to note that Axios also reported that transcripts would be forthcoming to flesh out the report.
Nevertheless, Gladnick worked to portray Hutchinson, not Ornato, as the real liar: 'And, poof, the J6 Committee hopes for their 'star witness' appears to have gone up in smoke when even sympathetic journals such as Bloomberg and Axios see nothing there. ... It was testimony for the ages until soon afterwards when the 'star witness' credibility sank beneath the icy waves."
Meanwhile, the released transcripts showed not only that Ornato's memory of events repeatedly failed him, but also that Hutchinson was being pressured by Trump-linked lawyers she had been supplied to testify to having a similarly faulty memory and they were going to "take care" of her if she did (she eventually found non-Trump-linked legal representation and told the committee the truth).
Neither Gladnick nor anyone else at the MRC has referenced Hutchinson or her transcript since. Looks like we know whose credibility is actually sinking.
The latest from