Public Relations, Not News, At WorldNetDaily
WND teams up with the right-wing Rutherford Institute to tell the story of a supposedly wronged ex-Marine, ignoring inconvenient facts about the case along the way that make the client look bad.
By Terry Krepel
Posted 9/4/2014
---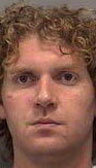 Brandon Raub
WorldNetDaily has worked on behalf of child abusers and stalkers, among other unsavory characters. For the past year, WND has been running to the defense of a former Marine by obscuring the offensive content of the Facebook postings that got him into trouble, as well as other peccadilloes that would make him look bad.

An unbylined May 2013 WND article starts ominously:
It happens in China routinely. It frequently happened in the old Soviet Union. Undoubtedly in North Korea, although generally there's no one around to witness it. But in the United States? It happens here, too, apparently.

A lawsuit has been filed by officials with the Rutherford Institute on behalf of a Marine who was jailed and held for the comments he made on Facebook – comments that expressed a dissatisfaction with the present direction of the U.S. government.

According to officials at Rutherford, the civil rights action names as defendants members of law enforcement and the government who were involved in last year's episode where Marine veteran Brandon Raub, 27, was arrested by a swarm of FBI and Secret Service and forcibly detained in a psychiatric ward for a week.

His crime was posting controversial song lyrics and political views on Facebook, the institute reported.
But the article curiously failed to provide any detail of those "controversial song lyrics." By contrast, a Associated Press article about the case written a year earlier noted that one lyric Raub posted was the line "Sharpen my axe; I'm here to sever heads." That's a line from the obscure Canadian hip-hop group Swollen Members. The rest of the song, "Bring Me Down," also contains lyrics that could be construed as disturbing:
They'll say I'm a killer
I feel I'm as high as I can be
And now they gon' die as high as me
I can't be no realer
Y'all ain't gon' bring me down [3X]
I can't be no realer; y'all ain't gon' bring me down
WND also failed to mention that Raub has expressed truther beliefs on his website -- that the U.S. government was complicit in the 9/11 attacks. According to the AP, one of Raub's Facebook posts pictured the gaping hole in the Pentagon and asked "where's the plane?"
WND selectively quoted from a Raub posting in which he wrote that "The United States was meant to lead the charge against injustice, but through our example not our force. People do not respond to having liberty and freedom forced on them," but made no mention that it's part of a larger rant in which he railed against the Federal Reserve and the income tax and states:
You elected an aristocracy. They are beholden to special interests. They were brainwashed through the Council on Foreign Relations. Your leaders are planning to merge the United States into a one world banking system. They want to put computer chips in you.

These men have evil hearts. They have tricked you into supporting corporate fascism. We gave them the keys to our country. We were not vigilant with our republic.

There is hope. BUT WE MUST TAKE OUR REPUBLIC BACK.
WND's Jerome Corsi performed a similar whitewashing job a couple weeks later, claiming that Raub merely made Facebook comments "expressing dissatisfaction with the present direction of the U.S. government." Corsi makes no effort to tell readers what Raub actually said.
Instead, Corsi tried to extrapolate into a larger, unproven claim by Raub's attorney at the Rutherford Institute that "The NSA is systematically monitoring the Internet posts and telephone conversations of U.S. military returning from Afghanistan."
Given Raub's disturbing postings, it's easy to see why they raised red flags. Instead, WND would rather protect someone who says such things -- and it would continue to do so.
WND devoted an August 2012 article to the case of a former Marine, Brandon Raub, detained for "controversial song lyrics and political views posted on his Facebook page," but it still won't tell readers what Raub wrote that got him into trouble. The unbylined article simply parroted the claims of Raub's attorneys at the Rutherford Institute that Raub's rights were violated. But, again, WND refused to offer details of what Raub wrote.
Bob Unruh -- WND's king of the biased, one-sided article -- eventually took over the Raub story. He wrote in a March 3 article:
You write something on Facebook that someone in the government doesn't like. The result? You're in handcuffs and taken to detention in a mental institution.

No charges, no rights, no freedom.

Not in America, you say?

But that's almost exactly the scenario that is being defended by a federal judge, who now has dismissed a complaint filed over a veteran's treatment.

A federal court dismissed a lawsuit filed by the Rutherford Institute on behalf of Brandon Raub, a decorated Marine. The nonprofit legal group said in a statement Monday that Raub "was arrested by a swarm of FBI, Secret Service agents and local police and forcibly detained in a psychiatric ward for a week because of controversial song lyrics and political views posted on his Facebook page."
Related articles on ConWebWatch:
Unruh's purple prose hides the fact that once again, WND provides only the point of view of Raub's attorneys at the right-wing Rutherford Institute and won't tell its readers what Raub actually wrote on his Facebook page that drew such attention. Unruh is dishonestly reporting this story by claiming what Raub wrote was merely something that "someone in the government doesn't like." Red flags were raised about Raub's writings with good cause.

The writings are so disturbing and so undermine Raub's case, in fact, that Unruh won't tell you what he said.

Unruh did Rutherford's bidding yet again in an

Aug. 26 article in which he highlighted how Rutherford is "asking an appeals court to reinstate his lawsuit for damages." As expected, Unruh presented only the view of Raub's attorneys at Rutherford, playing up how "a psychotherapist hired by the local county said he believed the military man might be a danger – even though the two never had met and never had even talked on the telephone" while vaguely writing of Raub's offending works:
The officers had contacted Raub mostly because of song lyrics he had posted on social media sites expressing distrust of the federal government and calling for the jailing of, for example, former Presidents George H.W. Bush and George W. Bush.
In addition to the usual omission of what Raub actually wrote, Unruh is also silent about the latest spot of trouble Raub has found himself in, which suggests he might not be the saint Unruh and Rutherford portray him to be.
In July, Raub was arrested on charges of indecent liberties with a child and contributing to the delinquency of a minor. Investigators said Raub and his brother, Brently, gave alcohol to two teenage girls. Later, Raub is accused of exposing himself to one of them and attempting to have her touch him inappropriately.
Those charges were dropped the following month after it was ruled that Raub was not in a "custodial or supervisory relationship" at the time one of the teenage girls, age 17, performed oral sex on him. Raub's brother, meanwhile, pleaded no contest to two misdemeanor counts of contributing to the delinquency of the other girl, who was 13, and was sentenced to six months in jail.
A real reporter would have told the full truth about Raub. But we're all too aware that's not what Unruh is. And since WND's purpose in promoting the Raub story is to serve as the public-relations arm of the Rutherford Institute, not to commit an act of journalism, the truth about Brandon Raub must stay off WND's pages.