WorldNetDaily's Time of Tribulation
WND is not taking President Obama's re-election well, and Joseph Farah's anti-Obama rhetoric is getting more apocalyptic.
By Terry Krepel
Posted 12/19/2012
---
Joseph Farah is not taking the election results well.

That's not a surprise, of course. Farah essentially wagered what little credibility his WorldNetDaily has on an obsessive four-year crusade to destroy President Obama through constant attack with everything from birther conspiracies to outright lies. Obama's re-election meant that Farah lost -- and that WND is damaged goods, perhaps irreparably so.

Maybe that's why Farah and WND have been speaking in increasingly apocalyptic terms in the wake of Obama's victory.

Farah's first reaction, in a Nov. 6 column, was that Obama's re-election is nothing short of "God's judgment" against America:
For those of us who fundamentally reject Obama's policies, things are going to get very rough for the next four years. We have allowed our fellow Americans to pronounce judgment on the nation.

That's what Obama represents to me – God's judgment on a people who have turned away from Him and His ways and from everything for which our founders sacrificed their lives, their fortunes and their sacred honor.
Related articles on ConWebWatch:
Farah seems not to have considered that Obama's re-election may be God's judgment against him for the lies and the libel and the smears coming from him and those he employs at WND.

On Nov. 8, Farah called for "a counter-revolution in the culture – to start creating new institutions and restoring some of the old ones, to withdraw from the institutions that are corrupting our culture and degrading our principles and to create their own counter-cultural institutions.

Farah cranked up the bitterness in his Nov. 13 column with an advocacy for secession -- and a claim that people who supported Obama's re-election have "gone awhoring":
America is a big country that is thoroughly permeated with this treasonous, immoral, adulterous lifestyle.

But I am convinced we've got to begin forming new communities of the faithful and declare our separation and independence once again, just as our courageous founders did 236 years ago. Like them, we need to be prepared to defend ourselves, our families, our fortunes and our sacred honor.

Barring a miracle, I don't believe reconciliation with those who have gone awhoring is a possibility. I'm sorry, I just don't have much in common with Barack Obama and Nancy Pelosi and George Soros and Bruce Springsteen (even though we are both from New Jersey) and George Clooney and these other looneys.
Farah took it to another level in his Nov. 18 column, by digging around in the book of Hosea to declare that America is "where ancient Israel was before being destroyed by God" and is in a "full apostasy booggie":
Do you want to know where America is today in historical and biblical terms?

It's where ancient Israel was before being destroyed by God.

In Hosea 8, God speaks to the prophet about the precipice on which Israel stands: "They have set up kings, but not by me: they have made princes, and I knew it not: of their silver and their gold have they made them idols, that they may be cut off."

We are in full apostasy boogie.

We have left our Judeo-Christian roots, values and heritage and are pursuing other gods.

We think we're too sophisticated for accountability to God.

God's laws and judgments are, well, too judgmental for a secular and advanced society like America's.

We know how to do it better.
Which, of course, immediately turns into an excuse for Farah to try and sell something from the WND online store:
This is, in fact, the subject matter of the No. 1 faith film in America this year – "The Isaiah 9:10 Judgment," which I was privileged to produce. Its popularity – 35 weeks as the No. 1 faith film and a top five documentary during most of that time – suggests not all Americans are falling for this retreat from reality. It's a visual retelling of the No. 1 Christian book of 2012, "The Harbinger."
Apparently, if America is about to be destroyed, Farah is going to try and fleece his readers for as much money as he can before the end.
Farah was not the only WND writer to engage in teeth-gnashing and garment-rending over Obama's re-election.
Joel Richardson's Nov. 8 column was headlined "A Christian response to Obama victory," but it quickly degenerates into to some very un-Christian hate-spewing and name-calling:
In the afterglow of Obama's victory, Ayman al-Zawahiri, Ayatollah Khamenei, Vladimir Putin and Chris Matthews, as well as millions of pot-heads, sodomites, pro-aborts and all common moochers, are sharing a collective thrill. The American people by a clear majority have rejected fiscal responsibility, energy independence, national security, border security, traditional family values, and worst of all, standing with the most defenseless and innocent among us. Barack Obama's re-election is a complete political, economic, moral, social and spiritual catastrophe.
Richardson went on to encourage his readers to take the long view and "shift our eyes to the heavenly city, to the country that God is preparing for us," where "the judgment of the many unrighteous, self-serving and corrupt politicians throughout the whole earth" awaits:
For now, my country is governed by a man many of us feel is a truly unrighteous individual, a race-baiter, a divider, a liar, a destroyer. And while I would not suppose to truly know anyone's heart, I do take great comfort in the fact that there is one who knows the hearts of all people and who has promised a day of justice for all of the earth. So while I will continue to stand and fight for this great nation, even believing that there is yet hope for repentance, revival and restoration, as I watch this beautiful country slip away and devolve into something almost unrecognizable, I take great comfort in knowing that a heavenly country lies ahead. I have been promised a kingdom, and it is on this kingdom the eyes of my heart are fixed. And even more than the coming kingdom, my eyes of hope are fixed entirely on the coming King. And for this reason, the present man in office will never have control over my emotions and will do nothing to steal my joy.
If Obama didn't control Richardson's emotions, why did he spend an entire column spewing Obama-hate?
Ellis Washington, meanwhile, went Godwin in his Nov. 9 column, obsessing over the meaning of the "Arbeit Macht Frei" phrase and then inserting Obama into it:
Astonishingly, the Germans got millions of intelligent people to willingly enter concentration camps under the grotesque, perverse, genocidal lie Arbeit Macht Frei.

On a less extreme level than Nazi tyranny and genocide, I wonder ... has America sown the wind by re-electing Barack Obama? If so, then we should collectively get ready to reap the whirlwind in a new age of socialist hell we have brought upon ourselves.
So re-electing Obama is like putting people in concentration camps? Really?
But Washington wasn't done pouting over Obama's re-election:
Like most conservatives and Republicans, the results of Tuesday's election has left me numb and depressed, yet I will soldier on. I can't believe that otherwise intelligent, rational people would knowingly elect a Marxist, socialist Muslim-sympathizer who has purposely ruined America, promised to wreak even more "revenge" upon this country in his second term – and 53 percent of those exit polled blamed George W. Bush for Obama's existential recession. Incredible!

Arbeit Macht Frei.
Other WND columnists joined in the bitterness and hate:
They are mindless. They are ravenous. They are innumerable. They shamble in great hordes, always a mob, moving ever in lock step with those to either side and ahead of them. They cannot be reasoned with. They cannot be bargained with. They hear nothing but their own moans and the screams of their victims. Left to their own devices, they will overwhelm any space they occupy, consuming their own population, ripping apart social and civil convention, until nothing remains but a horde of rotting corpses – idiot creatures who have no idea what they are or how they have come to this pass, decaying imbeciles who cannot comprehend the destruction they have wrought.

They are Democrats.
-- Phil Elmore, Nov. 7
It is morning in Amerika, and the majority of people who voted to re-elect Barack Obama president don't even know it. Everything appears to be normal, but everything has changed. The United States will not be the same.

I have never felt that all was lost after a single election as I do today.
-- Jane Chastain, Nov. 7
So, in addition to my question about why the Duplicitous Despot directed Susan Rice to appear on five major television shows and say that the Benghazi attack was nothing more than a spontaneous demonstration that resulted from a video, I have another question: Why isn't anyone – say, for example, Republican House and Senate members! – talking about criminally indicting Barack Obama? Or, at a minimum, starting impeachment proceedings against America's make-believe president?
-- Robert Ringer, Nov. 7
America has forsaken her first love. She has finally, and fully, given herself over to a licentious Lothario with whom she has increasingly flirted since her youth. He is sin – and, notwithstanding full knowledge of who he is and what he intends, with him she has lain.

America has tasted the poisonous fruits of lust, pride, passion, and envy – sloth, frivolity, iniquity and entitlement. She has tasted of their sweet deception and found it irresistible. She has danced in the streets, intoxicated by the very poison that will be her undoing.

America has rebelled against God. She has shaken her fist at Him and arrogantly cried, "We don't need you. We don't want you. We know better than you. Now go away."

And so He's going away.
-- Matt Barber, Nov. 9
Many times in the history of the world, God has destroyed His people and started anew when they strayed from His word. Just ask Noah what the flood was all about! This time, even with the floods of Hurricane Sandy and the re-election of the President Barack Hussein Obama, God has spared us for the moment. Instead God has sent a dire warning and encouraged We the People to rise up, in His name, to restore His kingdom.
-- Larry Klayman, Nov. 9
The uncomfortable fact of the matter is that post-1965 immigrants are not, and never will be, Americans in the constitutional or revolutionary sense. It doesn't matter if they are Catholic mestizos, Christian Asians or Muslim Arabs. It is not a matter of religion or race, but rather of centuries-old cultural traditions in which a dominant central government is considered a basic fact of life and a potential resource to be exploited, not a dangerous servant best viewed with suspicion and kept under constant restraint. This can be seen in the 2012 exit polls: Asians voted 73 percent for Obama's big government message, Hispanics 71 percent, Muslims 85 percent and blacks 96 percent.

[...]

The 2012 presidential election was not significant because it signaled the end of America. That was already readily apparent eight years ago. But it was significant because it made it clear to everyone how, when and why constitutional America met its end.
-- Vox Day, Nov. 11
As if all the apocalyptic rhetoric wasn't enough, WND made it crystal clear with the December issue of its Whistleblower magazine, with the theme "The American Tribulation." The cover superimposes debris from the 9/11 World Trade Center collapse onto a backdrop of Washington, blaming Obama for ... something: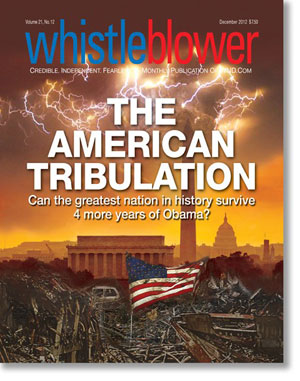 The promotion for the issue is equally apocalyptic:
Unthinkable. A cataclysmic disaster. The end of America as we know it.

That pretty much sums up how millions of Americans regard the re-election of Barack Obama.
Actually, that view is mostly limited to the WND offices after it destroyed its own reputation trying -- and failing -- to destroy Obama.
But WND wasn't done with the scaremongering, complete with repeating a discredited claim about regulations and proclaiming that only people who hate Obama as much as Joseph Farah and David Kupelian do are "right-thinking":
But amidst all of this sound and fury, the big question remains: What do the tens of millions of Americans – those who see Obama's re-election as the national catastrophe it really is – do now? With four more years of the Obama juggernaut, with government still spending amounts of money only physicists can comprehend, with an average of 68 new regulations being imposed on Americans every single day, with devastating economic meltdown imminent and the world daily becoming a far more dangerous place because of the U.S. president's scandalous failure of leadership, what can and should right-thinking people do now?

This difficult question is dealt with forthrightly and comprehensively in the December issue of WND's acclaimed Whistleblower magazine, titled "THE AMERICAN TRIBULATION: Can the greatest nation in history survive 4 more years of Obama?"

"This was a challenging issue to put together," said Whistleblower Editor David Kupelian. "We didn't want to sugar-coat the harsh reality of what has happened, but neither is it cause for good people to fall prey to hopelessness, anger or depression, nor to give up or drop out. Quite the opposite. This issue presents a totally realistic assessment of where we are now, but shows, almost paradoxically, how there is real hope and a definite way forward.

"'THE AMERICAN TRIBULATION' provides real direction and inspiration for readers who desire to preserve the America in which they grew up."
Nah, not so much, unless you count inspiring fear and hatred in its readers as "inspiration."
If there's any tribulation going on, it's happening at WND headquarters. It has to figure out a way to hate Obama for four more years.
The latest from