MRC Teams With Right-Wing Hungarian Group To Promote 'Free Speech,' Fight 'Woke'
Topic: Media Research Center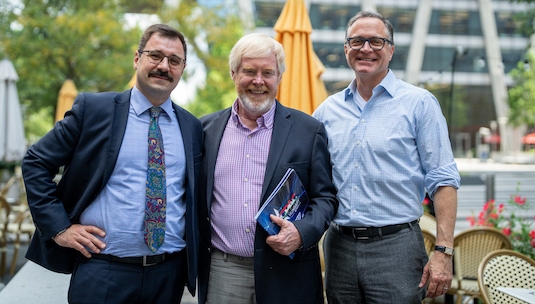 Media Research Center executives Brent Bozell and Dan Schneider recently retweeted a message by Hungary's Center for Fundamental Rights: "#Woke is the #American Left's most dangerous export - we have agreed with the leaders of the Media Research Center (@theMRC), the largest #Conservative media institute in the #US, that we will work together to defend #CommonSense and #FreeSpeech."
The CFR (Alapjogokért Központ in Hungarian) is best known in America for hosting CPAC events in Hungary, where it demonstrated how it really feels about "free speech" by blocking a reporter from covering one event.Those events turn out to be little more than cheerleading events for Hungary's right-wing authoritarian leader, Viktor Orban. The MRC has long been a fan of Orban, cheering his claims to support "free speech" even while he suppresses dissent and criminalizes criticism of himself.
As you might imagine, the CFR is also an Orban cheerleader -- with good reason. While claiming to be a "legal research institute," it's really a propaganda outlet for Orban's government, and it has received numerous grants from the Hungarian government that effectively fund its entire operation.
In other words, the CFR is government propaganda. We thought the MRC hated government propaganda. Of course, the MRC hasn't told any of this to its readers.
(Pictured, from left: Center for Fundamental Rights director general Miklos Szantho, MRC chief Brent Bozell and MRC executive Dan Schneider.)
Posted by Terry K. at 1:04 PM EST
Updated: Thursday, November 16, 2023 1:45 PM EST