MRC Rages At Scientific Study Showing Right-Wing Media To Be Untrustworthy
Topic: Media Research Center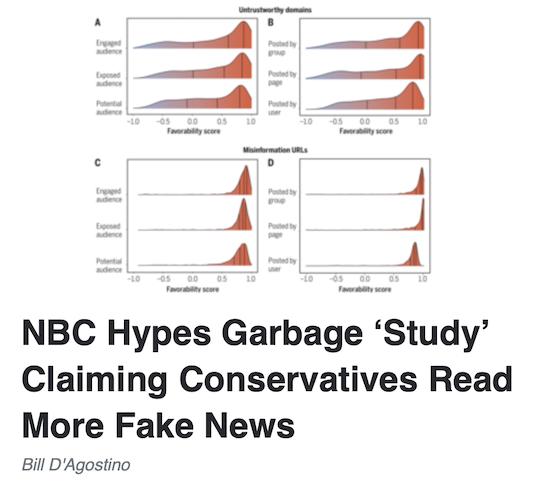 The Media Research Center's Bill D'Agostino grumbled in a July 31 post:
According to NBC News, a "landmark study" by 27 "academic researchers" has concluded that conservatives in America are far more likely than their left-wing counterparts to consume news from untrustworthy sources. We're all supposed to take this immensely seriously, but even a cursory look at the study reveals a host of embarrassing problems with the methodology.
The fact that the first thing D'Agostino did is attack the NBC article for a small error miscounting the number of researchers involved tells you that he will be doing a lot of partisan ranting and not much serious questioning of the study, which he called "garbage" in his headline. Indeed, his attack on the study's definition of untrustworthy sources is all about partisan narratives:
According to the "overview" section, untrustworthy news sources were defined as those which published two or more articles rated "false" by Meta's Third-Party Fact-Checking Program (3PFC) before February 16, 2021:

[...]

In other words, if Meta's fact-checkers disagreed with two articles published on any given news site between January 1, 2020 and February 15, 2021, then the researchers condemned that entire site to the "untrustworthy" bin. So strong was their faith in the 3PFC partners' judgement that they let the validity of their entire dataset hinge upon it.

Meta lists the following organizations as members of its 3PFC program for the U.S.: AFP, Check Your Fact, Factcheck.org, Lead Stories, PolitiFact, Science Feedback, Reuters Fact Check, Televisa Univision, The Associated Press, The Dispatch, and USA TODAY. Of these eleven, only Check Your Fact could be considered reliably right-of-center. One could also make an argument for The Dispatch, though honestly not a very strong one.

It should be obvious just how flimsy this categorization method is. Because only two articles needed to be flagged by any of these organizations in order for an entire news source to be "untrustworthy," even a couple of biased or misinformed fact checkers had the potential to dramatically skew the data. That's a bad sign, considering how preposterous the slant is at some of these fact checking organizations. As NewsBusters has documented extensively, PolitiFact alone is more than stilted enough to wreck the dataset.
D'Agostino is effectively whining that fact-checkers fact-check conservatives, a longtime MRC complaint. He also clearly believes in the right-wing canard that any news source or fact-checker that is not explicitly right-wing is "liberal" or "left-wing" because they do not unquestioningly parrot right-wing narratives the way the MRC does. Also, the Dispatch is indisputably a conservative publication, but D'Agostino is basically insisting that it's not right-wing enough because it criticizes Donald Trump.
D'Agostino then moved to whataboutism:
But the issues run deeper than that. Unfortunately for the authors of this study, fact checkers and the corporate media in 2020 were wedded to quite a few narratives that have since proven to be utterly false.

For example, if you'd asked anyone working at a 3PFC member organization in December of 2020, they'd have told you that lab-originated COVID-19 was a conspiracy theory, cloth masks were effective at preventing coronavirus transmission, and Hunter Biden's laptop was unauthenticated Russian disinformation. A few of them might even suspect that then-President Trump was a puppet of Vladimir Putin.

How many articles discussing these topics did the fact checkers incorrectly flag as false in 2020? And how many of those erroneous flaggings caused researchers to improperly banish entire news sites to the naughty corner? The study did not address these issues, and in fact there is no indication that the researchers even considered them.
As we've noted before, the New York Post -- the right-wing, pro-Trump propaganda outlet that broke the Hunter laptop story -- failed to offer at the time its story was published independent verification of the laptop that would have countered reasonable questions about it being "unauthenticated Russian disinformation" and it being sourced to a such a partisan publication. There also continues to be a lack of direct evidence that the COVID virus was "lab-originated" as D'Agostino insists, and masks do, in fact, slow COVID transmission.
Having effectively proven the study correct by spreading right-wing misinformation, D'Agostino moved on to building a conspiracy theory:
Furthermore, it's impossible to check which news sources were incorrectly labeled, because the study did not name any of the news sites researchers examined. Instead the authors provided a link to a satellite website run by the Inter-university Consortium for Political and Social Research (ICPSR) containing replication code, along with a note which stated: "ICPSR will receive and vet all applications for data access.

A jaded cynic might suspect that this secret list of "untrustworthy" news sources was little more than a directory of every right-leaning website with a Facebook account. Such a jaded cynic might further suspect the authors were afraid to make their secret list public because doing so would give the game away.
D'Agostino concluded by ranting that there's no objective definition of truth and that anyone who studies media misinformation is automatically on "the left":
This study represents the left's latest childish attempt to prove with data that the American right is misinformed, and that therefore some authority must police what information they can access. But the researchers' efforts are undone in an instant by the same fundamental question which every proponent of censoring misinformation inevitably fails to answer: who gets to decide what's true and what's not?

Many academics on the left who claim to study so-called misinformation do it in the hopes of convincing the rest of us that they deserve that power. The reality is that fact checkers funded by the Poynter Institute are no more qualified to be arbiters of the truth than anyone else is, and no amount of politically-motivated research will change that.

So yes, 27 activists are pretending they've proven once and for all that the people who disagree with them politically are a bunch of dupes who read fake news. That tells us next to nothing about America's "news ecosystem," but it does speak volumes about how thoroughly the social sciences have been infested by overt political actors.
A jaded cynic may also suspect that D'Agostino is attacking this study so fiercely because he knows that right-wing media is, in fact, unreliable and must try to smear anyone who points out that inconvenient fact as untrustworthy and partisan (like him). The MRC has used this same tactic in its repeated attacks on website-ratings service NewsGuard. And it's quite rich for D'Agostino to accuse researchers of being "overt political actors" when he gets paid quite well by the MRC to be an overt political actor parroting a defined narrative. Meanwhile, D'Agostino and the MRC never discuss the one thing that would keep right-wing media from being dismissed as low-quality: improving the quality of right-wing media. Remember, the MRC killed its "news" division CNSNews.com rather than try to improve it, slapping the nameplate on a right-wing blog thatfollow even fewer journalistic standards than CNS did.
Desoite his history of partisanship, D'Agostino wants you to believe he's no less qualified to be an "arbiter of the truth" than someone who has academic training in research, and that anyone who does have such training is presumed to be an "activist" on "the left" and an "overt political actor." Who's pushing embarassing garbage now?
Posted by Terry K. at 12:55 PM EDT