MRC Gushes Over Ben Shapiro Using Its Talking Points To Smear NewsGuard
Topic: Media Research Center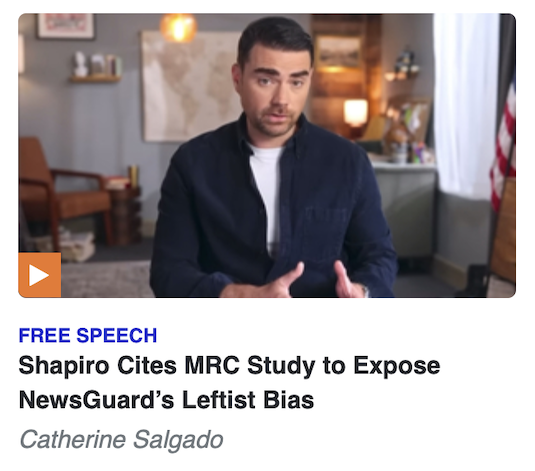 The Media Research Center has been on a NewsGuard-bashing bender for a while now, using increasingly lame "media research" to whine that the website-rating service points out how shoddy right-wing media is. But all this shoddy work got a boost when right-wing columnist Ben Shapiro regurgitated it in his Aug. 2 column:
NewsGuard is an organization that formulates ratings for American media. They rank news sites on a 0-to-100 scale based on nine supposedly apolitical criteria. These criteria are anything but apolitical. They often align with left-wing positions.

[...]

The Media Research Center, a free-speech nonprofit, studied NewsGuards' ratings. The study found glaring examples of bias by NewsGuard.

The Left's BuzzFeed managed a 100 out of 100 perfect score, despite its reporting on the Steele dossier and alleging collusion between former President Donald Trump and Russia.

The study found that The Global Times, a Chinese propaganda government outlet, scored a 39.5 -- that is 27 points higher than the U.S.-based conservative outlet The Federalist. Despite a scandal at USA Today revealing the publication of multiple fabricated sources in their stories and their own fact-checking operation misleading readers on the history of the Democratic Party and the KKK, USA Today maintained the 100 out of 100 rating by NewsGuard.
As we noted when the MRC previously attacked USA Today over the "fabricated soources" scandal, it identified the problem and corrected the situation while explaining to readers what happened. And that fact-check was correcting a false claim that the Democratic Party created the KKK, which even the MRC sorta conceded (while still trying to blame all Democrats for the KKK). Also, Shapiro's description of the MRC as a "free-speech nonprofit" is laughable considering how it works to censor speech that doesn't advance right-wing narratives.
A post later that day by Catherine Salgado gushed over how Shapiro did even more work to boost the MRC's dishonest anti-NewsGuard narrative:
The Daily Wire host Ben Shapiro championed research against leftist ratings firm NewsGuard during a July 29 segment exposing globalist organizations that try to control online narratives and ad money.

Shapiro noted in the first episode of new series "Facts" that there's clear bias when one compares NewsGuard's ratings of right-leaning versus left-leaning outlets. He cited exclusive research from the Media Research Center's MRC Free Speech America, published January 6, 2023. MRC Free Speech America found that the average score for left-leaning outlets was 91/100, versus 66/100 for right-leaning outlets. That's a 25-point difference. This comes over a year after MRC originally exposed NewsGuard's bias, and the ratings firm claimed to have corrected mistakes in downgrading 21 outlets during the COVID-19 pandemic.

[...]

"[NewsGuard] help[s] ensure that ad-buyers and users looking for news can be in safe and suitable places," Shapiro said sarcastically. As MRC Free Speech America exposed, NewsGuard is politically biased, not an objective arbiter.

"The [MRC] study found glaring examples of bias by NewsGuard," Shapiro said. "The left's BuzzFeed managed a 100/100 perfect score, despite its reporting on the Steele Dossier and alleging collusion between Trump and Russia." These stories were not substantiated and ultimately proved false.
As we've pointed out, while BuzzFeed published the Steele dossier, it never vouched for its accuracy, stating that it "includes specific, unverified, and potentially unverifiable allegations" and that it published the full document so that Americans can make up their own minds about allegations about the president-elect that have circulated at the highest levels of the US government."
The MRC and Shapiro teamed up again a couple weeks later when Shapiro's video was briefly demonetized by YouTube for pushing conspiracy theories. Luis Cornelio huffed in an Aug. 11 post:
YouTube is working overtime to punish individuals who dare to expose groups that seek to suppress conservatives.

Ben Shapiro, the editor emeritus of the Daily Wire and popular podcast host, decried YouTube on August 11 for reportedly demonitizing the first episode of his new series called "Facts." Citing an MRC Free Speech America exposé on NewsGuard, the video blasted organizations like NewsGuard for unleashing rating systems aimed at discouraging readers and advertisers from right-leaning outlets. When MRC Free Speech America reached out to YouTube for an explanation the platform admitted no wrong but claimed the video is now monetizable.
It can't possibly be that the MRC's "exposé" is so shoddy that we were able to easily debunk it. The issue was resolved a few days later, so Cornelio cheered in an Aug. 16 post:
MRC Free Speech America successfully confronted YouTube after the platform targeted a bombshell video by Daily Wire Editor Emeritus Ben Shapiro, exposing entities aiming to manipulate Americans.

Shapiro praised MRC Free Speech America on Tuesday for successfully challenging YouTube's demonetization of his video, which led to the platform reversing its arbitrary punishment. Researchers at the Media Research Center confronted the platform over dubious claims that the video, which blasts leftist internet traffic cop NewsGuard, violated YouTube's policies on conspiracy theories.

"Media Research Center pressed YouTube about why monetization was suppressed," Shapiro said. "Apparently, YouTube effectively refused to acknowledge the platform had limited the video in the first place. A YouTube spokesperson said. 'In order for a video to monetize on YouTube, it must comply with our advertiser-friendly guidelines, which are publicly accessible and apply to all creators. Upon review the video in question is currently monetizing.'"
In other words: the MRC's lame and dishonest attacks on NewsGuard continue, albeit with a somewhat larger megaphone.
Posted by Terry K. at 1:27 PM EDT
Updated: Tuesday, September 26, 2023 2:59 PM EDT