MRC Loves Whataboutism Over Trump Indictment -- But Hates When It's Called Out
Topic: Media Research Center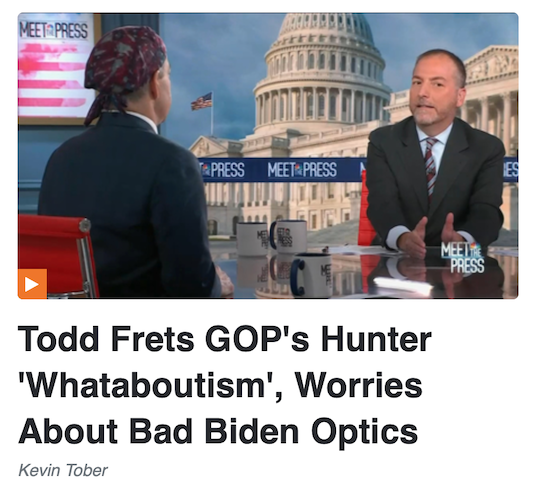 The Media Research Center had been playing whataboutism over Donald Trump's (third) indictment, so it was more than happy when a fellow Republican did the same thing on TV. Kevin Tober got all gushy over it in an Aug. 6 post:
The media demands everyone be as obsessed with Trump as they are, and if we don't comply, leftists like George Stephanopoulos will scold you. More evidence of this came during ABC's This Week when co-anchor Stephanopoulos had North Dakota governor and GOP presidential candidate Doug Burgum on the show to presumably discuss his campaign and instead insisted on haranguing him about the latest indictment of Trump. Burgum didn't take the bait and instead pointed out how Hunter Biden and his endless list of crimes haven't been mentioned on the show. This only set Stephanopoulos off further.

Stephanopoulos again asked Burgum his thoughts on the allegations that Trump forced then-Vice President Mike Pence to not certify the 2020 election. "Was Donald Trump wrong when he pressured Mike Pence not to certify? Was Mike Pence right when he certified?"

Burgum replied in frustration that he had just "listened to 15 minutes of legal debate on this thing and I'm sure you could run it again 7/24. But what I know is that I'm running against Joe Biden and that's what we're going to be talking about."

"Of course, not a mention in the last 15 minutes of, you know, Hunter Biden or the laptop," Burgum observed. "There are people on the ground that are not watching these Sunday programs that are saying, you know, why is the DOJ defending Hunter Biden and why are they attacking President Trump?"

[...]

This forced an irritated Stephanopoulos to interject: "I'm asking you what you think. Do you have an opinion on the fact that President Trump tried to overturn the election as alleged in the indictment this week by special prosecutor Smith?"

Burgum just ignored his demands and explained that President Biden loves this talk about Trump 24/7 "because then we don't have to talk about inflation or Afghanistan or the Russian invasion, the fact we're in a cold war with China. And who else loves it, China loves it when America's divided like this and talking about the past."
But when this right-wing whataboutism gets called out, the MRC is less than pleased. Clay Waters spent a Aug. 6 post complaining about it:
In a dream world, liberal reporters would like to beat Republican candidates with a scandal shovel and pretend there are no Democrat scandals. Bring them up? Then you're guilty of "whataboutism."

New York Times chief White House correspondent Peter Baker penned a Thursday "news analysis" downplaying the corruption accusations against President Biden and his son Hunter, while denigrating Republicans and conservative media for daring to suggest the cases were in any way comparable. The headline: "In the Court of Public Opinion, Trump Relies on a Whataboutism Defense."

Baker led off in full snark mode, playing up Trump's issues and playing down Biden's, like a good Democrat. It doesn't matter whether the indictments or lawsuits will end up victorious. Just Democrats pressing them equals victory.'
Tober did his own whining in another Aug. 6 post:
On NBC's Meet the Press, moderator Chuck Todd openly fretted to Maryland Democrat Congressman Jamie Raskin that the upcoming general election for president will be filled with what he described as "whataboutism" from Republicans pointing to the mountain of crimes by Hunter Biden as a way to distract from the indictments of Donald Trump. Todd worried that the appearance of what Hunter is accused of "is not good." To Todd, it's all about optics, not the actual crimes by both Hunter and Joe Biden.

"We're gonna have a campaign that is gonna be filled with a lot of 'whataboutisms'. We know the Republicans are gonna talk about Hunter Biden here," Todd worried. "And I know that the—a lot of the technical defense of the President with Hunter Biden is well, the President didn't do anything wrong."

Todd then observed that "Michael Kinsley once said: the real scandal in Washington is not what's illegal, it's what's legal." Turning to Raskin, he then asked: "should there be a code of conduct, something for family members here? Because the appearance of what Hunter Biden did is not good."

The partisan anchor chose to ignore all the evidence of actual wrongdoing by the Biden crime family and instead focused on the optics.
Is that like howTober is ignoring all the evidence of actual wrongdoing by the Trump crime family?
Posted by Terry K. at 1:38 PM EDT