WND Touts Malik Obama's Latest Bitter Rants Against Half-Brother Barack
Topic: WorldNetDaily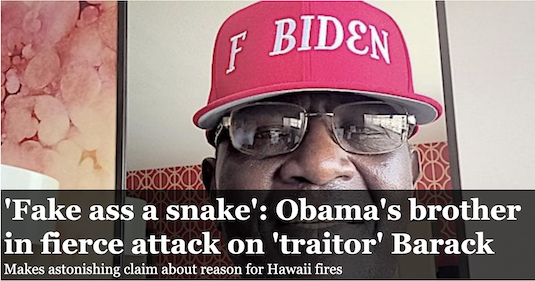 Malik Obama is a bitter attempted grifter who has been angry for years that his half-brother Barack -- with whom he has infrequently interacted -- has done much better than him and won't send some unearned cash his way. He's been lashing out at Barack for years over his failure to be able to right Barack's coattails to fame ... and, of course, WorldNetDaily has lapped it up because they hate Barack Obama even more. WND started out hating Malik, though, out of guilt by association; in 2014, for example, he was attacked for allegedly wearing a Hamas-linked scarf (thought the accusation came from Obama-hater and apparent fabluist Walid Shoebat).
It touted in 2015 how Malik did an interview with discredited charalatan filmmaker Joel Gilbert (though it also noted that Malik "has been accused of collaboration with Sudan's radical Islamic regime, using money raised in his father's and brother's name for personal profit, and partnering with a cult leader."In 2017, it made a big deal out pretending to be a responsible birther by admitting that a purported birth certificate for Barack released by Malik was a "fraudulent document," though it spent two months claming otherwise wen it first surfaced in 2009.
After that, though, it started treating Malik's anti-Barack rants as credible:
In 2019, WND cheered how Malik bashed Barack as a "narcissist" (as if Malik isn't one by running to right-wing media for attention).
The same year, WND also hyped how Malik asked, "Is Michelle Michael?"
It touted in 2020 how Malik endorsed Donbald Trump for president, something he also did in 2016.
(Newsmax has also promoted Malik's rantings as well.)
Meanwhile, Malik was feeling a little desperate attention again by insulting Barack, and WND once again bit. Joe Kovacs dutifully wrote it up in an Aug. 7 article:
Barack Obama's brother is again going public with his assertion the former president is a homosexual.

Sunday night on Twitter, Malik Obama tweeted: "This guy must be gay," referring to Barack's public support for keeping pornographic books in libraries.

Just weeks ago in mid-July, Malik made a similar comment on the same issue his brother was addressing.

Barack had tweeted on July 17: "Today, some of the books that shaped my life – and the lives of so many others – are being challenged by people who disagree with certain ideas or perspectives. And librarians are on the front lines, fighting every day to make the widest possible range of viewpoints, opinions, and ideas available to everyone."

Barack Obama was alluding to graphically explicit books including "Gender Queer," which is replete with pornographic images.
Kovacs offered no evidence that "Gender Queer" is pornography as defined by law. He also didn't mention that Barack has a wife and two children, which most poeple would consider evidence that he isn't gay (and that Michelle is not a man).
As Malik continued to rage, Kovacs gave him another platform in an Aug. 14 article:
In the wake of his recent accusations that Barack Obama is homosexual, Malik Obama, the ex-president's brother, is launching a fresh attack, calling Barack "Fake ass a snake" and a "traitor," also suggesting the recent catastrophic fires on the Hawaiian island of Maui may have been intentionally set to pave the way for a buyout of all property owners.

Sunday evening, Malik tweeted a photo of himself with Barack, noting: "Me and Fake ass a snake (President Barack Obama) when he was a nobody."

He later added, "Before he became a SNOB."

Malik wrote many follow-up comments about Barack, including:

"That guy thinks he's GOD."

"Fake ass a snake is a TRAITOR!"

"Power totally corrupted him. NERO."

Additionally, Malik tweeted a photo of himself sporting a red baseball cap emblazoned with the simple message, "F Biden."

His further disdain for Joe Biden was evinced in his comments such as, "Cast your vote for President Trump!"

[...]

Malik Obama also retweeted online speculation about the devastating fires in Maui, saying: "I [k]new something was up considering the silence of FAKE ass a snake (President Obama)."
Kovacs didn't mention that even people back in Malik's native Kenya have pointed out what a bitter grifter Malik is, with one news outlet noting, "While Africans have the Ubuntu spirit of rising together, that does not mean sitting pretty and waiting for handouts from a successful relative. It also does not allow you to hate and besmirch the character of your successful relatives when they do not send as much resources as you would wish."
Posted by Terry K. at 12:30 AM EDT
Updated: Thursday, September 21, 2023 12:48 AM EDT