MRC Flip-Flops Between Musk-Fluffing, Whining That Right-Wing Hate On Twitter Is Still Monitored
Topic: Media Research Center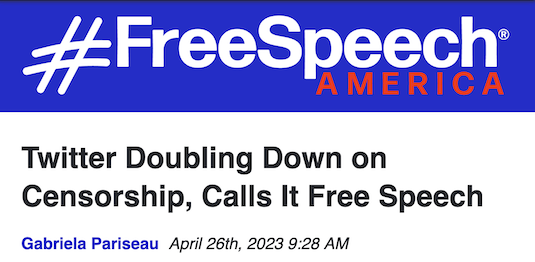 When it wasn't cheering Elon Musk's own-the-libs stunt of arbitrarily relabeling NPR's Twitter feed as "state-affiliated media" (which ended up making things worse when Musk ultimately, and just as arbitrarily, dropped the label for not only NPR but actual state propaganda from other countries), the Media Research Center ontinued to vascillate between Musk stenography and complaining that Musk still hadn't given right-wing hate a sufficiently free space to spread on Twitter. Gabriela Pariseau served up another example of the latter in a March 31 post:
Twitter CEO Elon Musk announced late last night that Twitter's "Algorithm goes open source at noon Pacific Time" (today). But the tweet begged a couple of questions: What does that mean and why is he doing this? MRC Free Speech America asked industry insiders.

Musk released the news just hours after the Media Research Center released a damning study revealing that Twitter censorship has actually increased under Musk's leadership. But the move seems to be more of a distraction from Twitter's ongoing problem with censorship.
As we've noted, that "damning study" is mostly whining that right-wing hate is still monitored and blocked. Also, Pariseau's list of "industry insiders" is highly dubious, given that one is her boss, Dan Schneider. Three are anonymous -- two former Twitter employees and "a high-level employee at a social media company who asked not to be identified," which would seem to run counter to the MRC's regular attacks on anonymous sources. Her final source was Nathan Leamer of something called the Digital First Project, which we can assume that beyond its website's platitudes is nothing more than a right-wing advocacy group given Leamer's previous employment at Republican strategy firm Targeted Victory, whom you might remember is the firm Facebook hired to plant stories in right-wing media -- including, presumably, the MRC -- attacking competitor TikTok. The MRC has never told its readers about this, nor has it disclosed whether it was a beneficiary.
The MRC reverted to its Trump-fluffing norm soon enough. Mark Finkelstein spent an April 21 post whining that a TV host expressed a little schadenfreude over Musk's public failures (which the MRC didn't really talk about otherwise):
Elon Musk has become the liberal media's second-most-hated man, behind only Orange Man Bad. Witness today's opening of Morning Joe, wherein Mika Brzezinski proclaimed "Thursday was a very rough day for Elon Musk," gloated over Musk's SpaceX Starship exploding shortly after liftoff yesterday.

To our knowledge, after countless hours of suffering through Morning Joe, Mika has never been equally enthused about a North Korean rocket going kaput! Then again, Kim Jong-un is merely a nuclear-armed dictator and enemy of America. Whereas Musk occasionally makes life a bit uncomfortable for liberals!

Brzezinski also exulted over Musk's Twitter travails, with his plan to eliminate free blue checks running into opposition, and Tesla's share price having dropped. We can report the Twitter accounts of @Morning_Joe, @JoeNBC, and @MorningMika now reflect they haven't paid for their Twitter Blue check.

[...]

Warning sent to any entrepreneur who dares to cross the liberal/ESG line: the MSM will revel in any misfortune that might befall you!
Finkelstein is being utterly hypocritical, given how his employer repeatedly takes pleasure in the misfortune of its sworn enemies.
Luis Cornelio baselessly tried to claim victory in an April 24 post by cheering a Twitter policy change that will allow right-wingers to maliciously misgender transgender people:

Elon Musk's Twitter halted part of its hateful conduct policy that has explicitly been used to censor those who oppose transgender ideology on the platform.

On April 18, Twitter removed parts of the policy that prohibited the "deadnaming" and "misgendering" of transgender individuals, marking a partial victory for free speech.

The policy change, which was not publicly announced, came after MRC Free Speech America tracked hundreds of censorship cases of individuals who cited the scientific fact that there are two genders. A March MRC study revealed that Twitter censorship is shockingly on the rise after his takeover.

[...]

The platform implemented similar anti-speech policies to muzzle individuals who affirmed the existence of two genders or pointed out the biological differences. In December 2021, MRC Free Speech America tracked 100 examples of Big Tech censoring content that stated the scientific-based statement that there are two genders. Big Tech companies, and particularly Twitter under its previous regime, identified such content as so-called "hateful conduct." Meta and YouTube labeled similar content as "hate speech." LinkedIn, in contrast, used "bullying" and "harassment."
Cornelio didn't explain what purpose it serves for right-wing activists to deliberately misgender transgender people. His post also weirdly contained the MRC's "Anti-Americanism" tag, as if malicious misgendering is some sort of American virtue.
Pariseau was back to fretting that Musk wasn't kowtowing enough to her fellow right-wing haters in an April 26 post:
While Twitter is still throttling content, the platform will now notify users when it limits an account's reach. It was the least the platform could do.

"Freedom of Speech, not reach," Twitter Safety euphemized in a Monday tweet announcing that the platform rolled out its new visibility filter labels. A Twitter Safety blog post last week explained that the platform would soon "add publicly visible labels to Tweets identified as potentially violating our policies letting you know we've limited their visibility."

Twitter Safety attempted to justify its "freedom of speech, not reach" stance in its blog post. "Twitter users have the right to express their opinions and ideas without fear of censorship," Twitter Safety wrote. "We also believe it is our responsibility to keep users on our platform safe from content violating our Rules."

Twitter Safety attempted to justify its "freedom of speech, not reach" stance in its blog post. "Twitter users have the right to express their opinions and ideas without fear of censorship," Twitter Safety wrote. "We also believe it is our responsibility to keep users on our platform safe from content violating our Rules."

While the new policy marks a victory for transparency, MRC Free Speech America Vice President Dan Schneider warned that policing speech is not Twitter's responsibility. "Our skepticism of Twitter becoming a haven for free speech has just been justified," he said. "It's not Twitter's responsibility to limit speech. That should be left up to individual users who can decide what they like and dislike. Censoring or throttling speech is what authoritarians do. It should never take place in a free society."
Yes, those repeated paragraphs exist in the original.
Of course, Schneider and Pariseau very much want speech censored or throttled -- as long as it's speech they disagree with. They, however, don't believe they should be subject to any rules even though those platforms don't belong to them.
Posted by Terry K. at 4:26 PM EDT
Updated: Sunday, June 11, 2023 6:47 PM EDT