MRC's Jean-Pierre-Bashing, Doocy-Fluffing Watch: Doocy Defense Edition
Topic: Media Research Center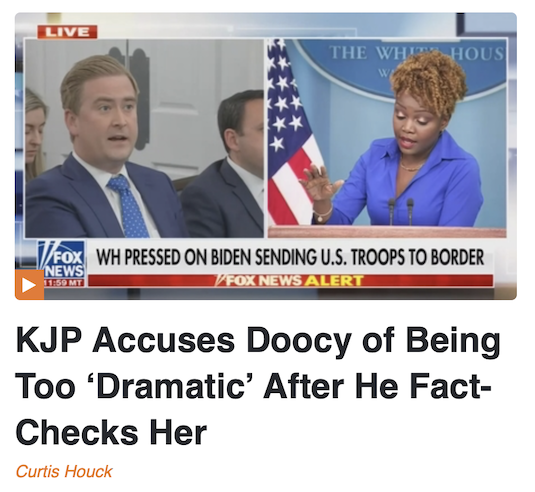 White House press secretary Karine Jean-Pierre stood up to the biased questioning of Fox News' Peter Doocy, and the Media Research Center's Curtis Houck -- an enthusiastic Doocy-fluffer -- spent his writeup of the May 2 press briefing freaking out over his man-crush being besmirched and framing it instead as Jean-Pierre being "triggered":
The Fox News Channel's Peter Doocy triggered ever-inept White House Press Secretary Karine Jean-Pierre Tuesday for the basic crime of fact-checking her after she falsely claimed during Monday's briefing that illegal immigration had plummeted 90 percent since Joe Biden became President. While other White House reporters chose to ask process questions about the banking system, the border, and the debt limit, Doocy came to correct the record on a bold-faced lie.

As he usually does, Doocy started with a short, simple question: "If the border is secure, as the administration has said, then why would we need to send 1,500 active-duty U.S. troops down there?"

[...]

Doocy shifted to her comments from Monday: "You said yesterday that, when it comes to illegal migration, you've seen it come down by more than 90 percent. Where did that number come from?"

Doocy started to explain that Customs and Border Protection (CBP) has told Fox the number for this fiscal year so far has been up 136,000 people, but Jean-Pierre tried to shout him down and keep the facts from coming to light by saying she would "answer" him.

Jean-Pierre came out of left field by trying to rattle Doocy's cage by twice telling him to have "the dramatics...come down just a little bit."

Doocy was incredulous and attempted to ask what was "dramatic about asking a question"(and seeing as how he wasn't channeling Jim Acosta).

Jean-Pierre's answer made little sense as she insisted she was referring "the parolee program" the Biden regime had "put in place...to deal with certain countries on — on ways that we can limit illegal migration" and "the data has shown us, that is gone down by more than 90 percent."
Kevin Tober took the hate baton for his writeup of the May 8 briefing, again maliciously smearing Jean-Pierre as an "incompetent diversity hire":
At Monday's White House press briefing, the incompetent diversity hire press secretary Karine Jean-Pierre took fire from all sides over President Biden's ineffectiveness to push his agenda through Congress and his lack of focus on the issues that matter to the American people. First out of the gate was CBS News Radio's Steve Portnoy who chastised KJP over Biden's lack of engagement in the left's war on the Second Amendment in light of a recent shooting in Texas.

"The President's position is known, but can you describe his engagement on this crisis today? What's he doing about it today?," Portnoy asked. "Because many Americans, they're certainly happy to hear that he's engaged on airline prices and airline compensation, but what about this issue that many Americans agree with you is a crisis?"

"The President has signed more than a dozen executive actions to deal with this issue, more than any other President," KJP responded. "This is a President that has worked on this issue as a Senator, as Vice President, and as President. He has done everything that he can, using the tools that are in front of him, to deal with this issue," she proclaimed.
Houck returned to write up the May 9 briefing, in which he put the spotlight on a Doocy colleague for dutifully spouting Republican talking points:
In an otherwise pedestrian questioning Tuesday of White House Press Secretary Karine Jean-Pierre on the looming debt battle, Fox's Jacqui Heinrich actually made something out of the gathering by grilling her on her rhetoric smearing 260 members of the House and Senate as domestic extremists and threats to the country for either supporting or voting spending cuts tied to raising the debt ceiling.

Heinrich's first question had serious bite: "43 Republican senators signed onto a letter opposing raising the debt ceiling without budget reforms, and 217 members in the House voted for that bill to raise the debt limit with cuts to spending. Does the White House consider all of those members to be dangerous, MAGA Republican extremists?"

Jean-Pierre replied that many members of Congress are, indeed, dangers to the country, arguing House Republicans have "voted for cuts that's going to hurt American families...22 percent cuts to veterans, healthcare, schools, that's what they voted for."

Heinrich recognized the divisive tact against tens of millions of Americans.

[...]

Jean-Pierre doubled down, accusing Republicans of "cut[ting]...programs that are incredibly important for the American family."

Heinrich interjected with a fact-check: "Their bill would raise the debt limit. They passed a bill to raise the debt limit."

The ever-inept press secretary displayed her lack of a grasp of basic English:

They've connect — I hear you, but they are connecting passing — whatever — this debt limit, to cuts — 22 percent cuts to veterans, to seniors — that's what they are threatening — cuts to our schools. That's what the — that's what is connecting — that's what their budget plan is.

Heinrich responded with even more fact-checking: "The bill doesn't have any appropriations in it, actually and the — the Speaker has, you know, ruled out a number of those things including defense, veterans benefits, senior entitlement programs."

She then concluded with this outstanding query: "I mean, you have Mitt Romney saying there's got to be a conversation here. Is he a MAGA Republican extremist?"
Houck concluded by gushing over yet another Fox reporter: "The Fox Business Network's Edward Lawrence followed immediately after and asked whether Biden even possess the ability to travel outside his silo."
Remember, Houck cares only that right-wing talking points were advanced and Jean-Pierre was made to look bad -- not that anything important happened.
Posted by Terry K. at 7:18 PM EDT
Updated: Saturday, June 3, 2023 11:53 PM EDT