Newsmax Columnists Freaked Out Over Trump Indictment Too
Topic: Newsmax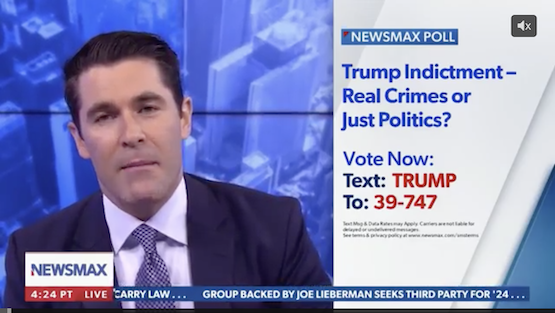 Just as Newsmax freaked out about Donald Trump's indictment, its columnists did too. Larry Bell treated Trump as a victim in his April 6 column:
Apart from — and in addition to — torching America's foundational fair justice and democratic electoral systems, the transparently political prosecutorial persecutions of Donald Trump by Manhattan District Attorney Alvin Bragg have inflamed to an inferno, one destined to backfire on the perpetrating arsonists.

The obvious agenda has been to keep Trump's unabashedly unfettered persona in the compliant media forefront to distract and deflect public attention away from a previously unthinkable siege of domestic and foreign Democratic Party-Socialist policy disasters.

[...]

First, don't imagine for a moment that the current sham Manhattan court case which George Washington law professor Jonathan Turley describes as a "legal slurpee" — satisfying for liberals but there's nothing there — will possibly lead to a disqualifying felony conviction.

Despite all the brouhaha regarding 34 "felony charges" in Bragg's grand jury indictment, there are exactly zero that would even warrant legitimate misdemeanor beefs in part due to long-expired statutes of limitations.
Bell's column carried a laughabledisclaimer stating that "The following article has been authored by a non-lawyer, and does not constitute a legal opinion; nor does it consitute an endorsement for any candidate, or political party, by Newsmax" -- as if Newsmax hasn't made clear it's completely in the tank for Trump.
Josh Hammer served up a ridiculous historical comparision in an April 7 column:
The Roman historian Suetonius described Julius Caesar as timid and noncommittal as he initially approached the Rubicon River — a shallow and narrow waterway that, at the time, demarcated the boundary between Cisalpine Gaul and Italy proper — in January 49 B.C.E.

In fact, the historian ultimately attributed Caesar's decision to cross the waterway, precipitating a four-year civil war and ultimate Caesarian dictatorship, to the supernatural. Prior to crossing, again according to Suetonius, Caesar uttered the now-infamous phrase: "The die has been cast."

While we cannot know for certain whether New York County, New York District Attorney Alvin Bragg's catastrophic decision to successfully indict and arraign a former president of the United States was partially attributable to an intervening apparition, we can reasonably conclude that the actions of this past week have cast a most woeful die for the trajectory of our decadent, declining republic.

The 34-count formal indictment of former President Donald Trump, laughably meritless on the legal merits and scandalously imprudent on the broader political judgment, represents a genie that cannot, and will not, ever be returned to its bottle.

Much ink has already been spilled on the glaring legal deficiencies in Bragg's case, which ought to be evident to any competent first-year law student and which had led Bragg's predecessor Cyrus Vance Jr., U.S. prosecutors and — in the not-so-distant past — Bragg himself to eschew prosecution.
Neither Bell nor Hammer can't actually know anything about the merits of Trump's indictment, given that all of the evidence has not yet been revealed.
Michael Reagan whined about the indictment in his April 11 column:
Additional proof that you can kill two birds with one stone. Or in this instance, one indictment can accomplish two political goals. Pipsqueak District Attorney Alvin Bragg and his comical indictment of Donald Trump is a big crowd pleaser among rabid leftwing voters.

Bragg "The Man Who Indicted Trump" will never have to pay for a drink again.

Or buy his own dinner, although in the long run that could be a real problem for him.

For feverish leftists this lame indictment is so much better than some stodgy Senate impeachment trial because it has fingerprints and the potential for more zany jurors.

[...]

Trump energizes the Trump base.

Then he polarizes every last member of the Democratic Party and he alienates independents and swing voters. The GOP's path to presidential victory is razor thin at best.

With Trump as the nominee, it vanishes.

Trump deserves our sympathy. He's not been treated fairly.

Yes, the indictment is an outrage. But the best response for the country we love is not to give Trump the nomination because the left is picking on him.

That is exactly what they fervently want us to do.

The response that will hurt the left the most is to pick a nominee that has the best chance of beating Biden and the rest of the country wreckers that stock his administration.

The 2024 election may be our last chance.
Don't throw it away.
Bell Returned to attack the indictment again in his April 14 column -- though, again, he cannot possibly know all the evidence behind it:
Never underestimate a targeted victim's ability to fight back.

Although Manhattan District Attorney Alvin Bragg's contrived charges against Donald Trump proves you can indict one, Democrats are the ones most likely to suffer acute indigestion served up by 2024 voters hungry for change from a two-tier Orwellian animal farm justice system.

Recent surveys indicate that a large segment of the population recognizes the case as being full of unsavory and otherwise thoroughly distasteful political malarkey.
Bell then played whataboutism by referencing various alleged scandals involving Democrats that were hyped by right-wing media -- though, oddly enough, in part to insist that voters don't care about such things. Still, Newsmax slapped a disclaimer on his column laughably insisting that "The following article does not constitute support for any political candidate and/or political party, on the part of Newsmax."
Posted by Terry K. at 12:57 PM EDT