How Is The MRC Fearmongering About Soros Now?
Topic: Media Research Center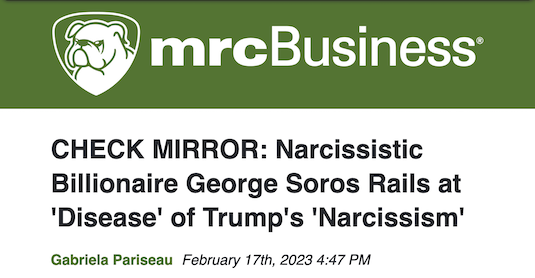 When the Media Research Center wasn't busy trying to tie George Soros to the district attorney prosecuting Donald Trump for financial crimes (and loudly denying it was leaning into anti-Semitic tropes by doing so), the Media Research Center was attacking Soros in all the usual ways. Here's what the MRC has done in the field of Soros-bashing since the beginning of the year, when we last checked in:
We've already noted how the MRC has lashed out at a Soros-funded group for accurately pointing out how Elon Musk is pushing Twitter rightward, and how it tried to scapegoat a Soros-linked prosecutor for dropping a charge against a man who later perpetrated a massacre even though the charge dropped was carrying a concealed weapon without a permit, something right-wing gun-lovers like the MRC endorse (shades of what it would later do to Bragg).
It wouldn't be the MRC if there wasn't at least one wacky attack on Soros, and Gabriela Pariseau oblliged in a Feb. 17 post accusing Soros of hypocrisy for pointing out Donald Trump's narcissism:
Leftist billionaire George Soros railed against former President Donald Trump and called him a narcissist. Yes, America's most notorious self-absorbed billionaire is whining about "narcissism."

Soros delivered a climate alarmist speech at the Technical University of Munich where he took time to lambast Trump as "a deeply flawed character, a confidence fixer whose narcissism grew into a disease." Soros admitted that his "hope for 2024" is that the Republican vote would be split between DeSantis and Trump as a third party presidential candidate resulting in an overhaul of the Republican Party. "That would lead to a Democratic landslide and force the Republican party to reform itself. But perhaps I may be just a little bit biased." More than a little biased indeed. This is the same Soros who once claimed he saw himself as "some kind of god," made it his goal to "become the conscience of the world," and told The New York Times in 2019 that he was working to "bend" the "arc of history" in the "right direction." Soros is "narcissism" personified.

MRC Business previously reported in its recent three-part series on Soros that the conceited billionaire even admitted that he "always harbored" an "exaggerated view" of his "self-importance," in his magnum opus The Alchemy of Finance (1995).

Soros is certainly vying to be the "conscience of the world," and he's bought himself influential access to nearly every sphere of the political scene imaginable.
Note that Pariseau did not dispute anything Soros said about Trump -- she simply attacked Soros for saying it. She also seemed not to realize that Soros admitting to his narcissism shows he has a more healthy and realistic view of himself than Trump, who is far too narcissistic to ever admit such a thing. Pariseau instead endeavored to find more alleged Soros crimes:
In Soros' latest speech, he targeted Trump's encouragement that states pass stronger election integrity legislation and accused the former president of trying to "ensure that his party will remain in power indefinitely." His disdain for election integrity is unsurprising considering Soros was part of a $59 million effort to boost the dubious practice of mass mail-in voting prior to the 2020 election. He later coordinated with fellow leftist billionaire and eBay founder Pierre Omidyar to weaponize millions in cash through the leftist group Way-to-Win 's donor collaborative, Valiente Fund, in a campaign to recruit Latino voters "for victory in the November [2022] midterms."
In fact, "election integrity" is little more than a right-wing narrative to make voting more restrictive in an claimed attempt to stop purpored election fraud that really doesn't exist -- indeed, Trump has been pushing that narrative to advance his false claims that the 2020 presidential eleciton was "stolen" from him.And calling mail-in voting "dubious" is also a right-wing narrative (also lacking factual justification) with a goal of restricting the practice because more Democrats than Republicans make use of it. Finally, get-out-the-vote efforts are not against the law, they're not evil, and Republicans do the same thing.
Pariseu concluded by huffing: "Soros is in no position to be complaining about 'narcissism.'" If she can't or won't admit Trump's narcissism, she's in no position to criticize Soros.
Posted by Terry K. at 1:50 AM EDT