MRC Helped Crowder Play The Victim -- But Buried His Victimization Of His Estranged Wife
Topic: Media Research Center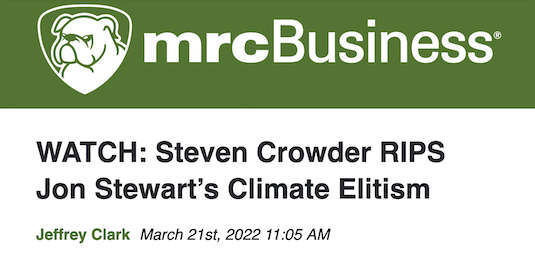 Right-wing podcaster Steven Crowder has long been a key beneficiary of its right-wing victimization narrative, portraying any attempt by tech platfgorms to hold him accountable for his extremism as "censorship." But he also says enough conservatively correct things to keep benefiting. For instance, a March 2022 post by Jeffrey Clark cheered how Crowder criticized Jon Stewart for having money and for using fancy book-learnin' words when talking about climate change:
Political commentator Steven Crowder tore former Daily Show host and multimillionaire Jon Stewart apart for preaching environmental progress but downplaying the cost — the livelihoods of working people.

Crowder recently blasted an episode from The Problem with Jon Stewart on the March 16 edition of his show Louder with Crowder. In a roundtable conversation, Stewart's senior episode producer Reniqua Allen-Lamphere said that there was a need for a "just transition" for coal miners and other blue collar workers who are losing their jobs to the climate change lobby. Stewart responded during his woke new show "The Human Cost of Climate Change," that "[p]rogress is never fair. And almost never just." Then he gave the kicker, asking: "How can we give the soft landings to the inevitable destruction that is ancillary to our progress?" Crowder cut the clip and snapped back, "And there it is. Your jobs, your livelihoods, are "ancillary" to 'our progress.'" He continued, "Is there any more elitist phrase that you've ever heard on a program?" Stewart has an estimated net worth of $120 million, according to Celebrity Net Worth.

[...]

Crowder also dissected the elitist worldview underpinning Stewart's comments by exposing his tone deaf usage of the word "ancillary." "What's under ancillary?" He continued: "The cost of gas, the cost of all energy, the cost to heat your homes, your jobs, right, if you're working in any kind of an energy sector that isn't renewable."

[...]

"So right now, we have a bunch of privileged, wealthy people game-planning the entire economy under the guise of climate justice while considering your livelihood and everything therein to be 'ancillary.'"

"You don't need a conspiracy," Crowder said. "That's the great reset."
The MRC also touted Crowder's comments on various other subjects, and it invoked the victim narrative again by complaining that Crowder was among several purportedly "pro-free speech" people and groups (read: right-wing extremists) banned from TikTok.
An April 27 post by Tierin-Rose Mandelburg, however, surprisingly tiptoed toward criticism of Crowdder by suggesting that Crowder's nasty mockery of a Down syndrome-themed Barbie doll may have gone a teensy bit over the line:
Conservative talk show host Steven Crowder sorta poked fun at the move and joked about Mattel making a doll with Sickle-Cell and added that the doll didn't look "that downsy" and that the slogan could be "[Barbie] now with more retard." I think Crowder's intent was trying to make fun of how Mattel always tries to be inclusive (even and especially about woke crap) but his delivery proved to be insensitive.
Mandelburg's complaint that Crowder was being a tad "insensitive" -- while touting "spicy takes" about the doll by her fellow right-wingers -- was hollow given her own rant that Barbie dolls "regularly show their support for the gays, lesbos and whatever else is part of the alphabet mafia."
Unfortunately for Mandelburg, her tepid critique of Crowder came out the same day that a video surfaced showing Crowder hurling vicious verbal abuse toward his estranged wife, even threatening to "fuck her up." This was followed by Crowder issuing threats against her on his podcast and reports (by the right-wing New York Post, no less) that working for Crowder is not a terribly pleasant experience.
The MRC issued no statement critiicizing Crowder's behavior, of course. The only allusion to it that can be found at the MRC was a May 2 post touting an appearance by MRC executive Tim Graham on Newsmax talking about the firing of Tucker Carlson and leaks about his behavior at the network, with Graham declaring that the leaked Carlson statements don't show that he's a "terrible person," adding, "It's not exactly a 'Steven Crowder with his wife' video." Host Eric Bolling chuckled, declaring that Graham's remark "made me laugh." Ironic, given that Bolling was fired from Fox News over allegations of sexual harassment.
Posted by Terry K. at 1:49 PM EDT