Priest-Turned-Right-Wing Activist's Final CNS Column Was Weirdly Appropriate
Topic: CNSNews.com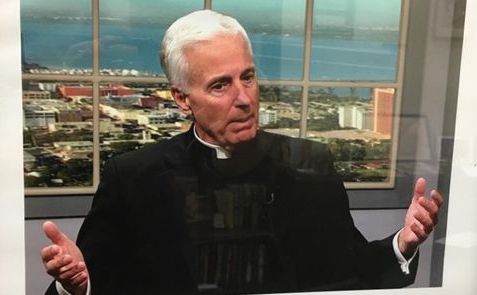 Rev. Michael Orsi -- the Catholic priest who thinks he's a right-wing pundit -- continued to have a space to ply his trade at CNSNews.com until it was shut down last month. He served up a laundry list of right-wing talking points in his March 14 column:
There are many signs of malaise in our country at present. For instance, in the post-COVID period, some 2 million people still haven't returned to active employment. Many have chosen to drift along on what remains of the compensation provided during the pandemic lockdowns and business closings.

Others get by on "gig jobs," temporary assignments, or parttime, short-term projects, interspersed with government assistance.

Another sign of malaise is the large number of young men in the Generation Z-to Millennial age range who have decided not to pursue marriage. Many (according to some surveys, as high as 60 percent) have even given up dating, choosing instead to spend their time in online gaming and viewing Internet pornography.

Young women, for their part, admit to being lonely, depressed, often angry. A corresponding 60 percent of them are given to contemplating suicide. Their lives too are spent mainly in the online world, where they're subjected to messages and images that create doubt about their self-worth and make them feel they just don't (and can never) measure up to unrealistic standards of female perfection.

This leaves them vulnerable to creeps who prowl the Internet in search of confused girls to exploit, often financially, sometimes physically.

These are signs of a society devoid of ambition and teetering on the brink of hopelessness.

Add to all that a pervasive and growing distrust of government and the leadership class, a sense that the stabilizing elements of our society are somehow slipping away, that we're being manipulated, and important facts about political, economic, and social conditions are withheld from us.

The banking crisis that's unfolded in the last few days is a good illustration. Surely, this hasn't come out of nowhere. Why is it such a surprise? Where were the knowledgeable analysts who should have been raising red flags? How were the banks allowed to go so far into dangerous financial territory?

Another example is the lack of clarity about Ukraine. We can't get a clear picture of what's happening. We know that thousands of Ukrainians are being killed, along with thousands of Russians. But what progress has our huge investment in arms and support gained? Is this war winnable? Is it just?

Such uncertainties add to our malaise.
Orsi served up CNS-approved transphobia in his March 22 column:
We face an even greater danger when our focus becomes so narrow that we not only downplay negative factors but actually deny what's real. This becomes a kind of blindness — a distinctly spiritual blindness — one that's rampant in society today.

That blindness drew attention during the recent International Women's Day, when First Lady Jill Biden bestowed the State Department's annual International Women of Courage Awards. According to State's website, "a group of twelve extraordinary women from around the world" were honored for their work in building "a brighter future for all."

In particular, award recipient Alba Rueda was described as someone who had shown bravery while being "kicked out of classrooms, barred from sitting for exams, refused job opportunities, subjected to violence, and rejected by her family" for efforts to "end violence and discrimination against the LGBTQ-plus community in Argentina."

The award raised eyebrows because Alba Rueda is a "transgender woman." Which is to say: a man.

[...]

Defying all reality — not to mention Genesis 1:27 ("male and female He created them") — a person who was born male, but who believes he's a woman, received an award intended for females who demonstrate womanly courage. And the citation was validated by no less than the wife of the President.

Surely such a denial of God's creation is spiritual blindness.
Orsi threw in a reference to "transgender ideology" for good measure -- as if being transgender is like being a Catholic.
Orsi's final CNS column on April 19 -- the day before CNS was abruptly shut down -- was perhaps an unintentional bit of foreshadowing, focusing as it did on how a deceased body should be treated: "It should be buried in a grave that has been properly prepared and protected from disturbance (a practice known technically as inhumation). Or else it should be cremated, the ashes then interred in a permanent enclosure, often referred to as a columbarium." Ironically, the Media Research Center's treatment of CNS -- shutting it down abruptly, apparently firing nearly everyone who was involved in it and not even announcing why it was shut down, even though it was about to mark its 25th anniversary and the fired employees had worked for CNS through much of that time -- shows it inexplicably wants the website to be buried deep in an unmarked grave.
Orsi, presumably, would not approve.
Posted by Terry K. at 1:29 AM EDT
Updated: Thursday, May 25, 2023 12:27 PM EDT