Dick Morris Serves Up Faulty Anti-Biden Prognistications For Newsmax
Topic: Newsmax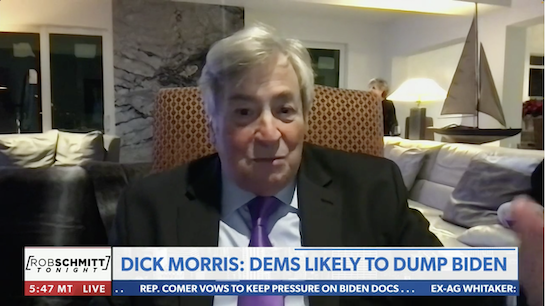 It wouldn't be Dick Morris if he wasn't peddling dubious things that later turn out not to be true because he's selling a book or has to say stuff -- take, to name just one example, his repeated insistence that Republicans would crush the Democrats in the midterm elections (which didn't exactly work out that wah). So let's go back a bit to a Jan. 23 Newsmax article featuring Morris' latest prognostication:
Dick Morris, a political strategist, best-selling author, TV host, and former adviser to presidents Bill Clinton and Donald Trump, believes Ronald Klain's impending exodus as White House chief of staff likely signals that President Joe Biden won't seek reelection in 2024.

Klain "was Biden's everything. [Klain] was Biden's campaign manager when he ran for president. He was Biden's chief of staff as vice president. He's Biden's chief of staff now ... and [Klain] wouldn't be leaving [soon], if he was confident about Biden sticking around," Morris told Newsmax Monday afternoon, while appearing on "American Agenda" with host Bob Sellers.

[...]

There are other factors that might dissuade Biden from pursuing the White House again next year, aside from Klain's February exit (reportedly after the State of the Union speech). Morris said it's a combination of the documents saga, and Trump "surging" in a recent poll that his him holding a sizable lead (6 percentage points) over Biden — if they squared off in a hypothetical general election 22 months from now.

If Biden's job-approval numbers continually hover around 36%, "he ain't running," said Morris, host of Newsmax's "Dick Morris Democracy."
Of course, Biden announced his bid for re-election this week, making this yet another failed Morris prediction.
Morris loves to tell right-wingers what they want to hear about Biden. Indeed, he did that one week earlier:
Dick Morris said Monday on Newsmax that it is "evident to everybody," even among Democratic strategists, that President Joe Biden is "very flawed politically."

Joining "Rob Schmitt Tonight," Morris argued that the current political moment for Biden mirrors former President Lyndon B. Johnson's persistent unpopularity that eventually led him to duck out of the 1968 election.

Biden's "disapproval rating has been so high. He's been underwater for the last two years, almost since he took office. And they all know that the emperor has no clothes, but everybody says he has clothes because they don't want to be embarrassed," Morris stated.
That came in the midst of the Biden classified document frenzy Newsmax and other right-wing outlets were on about. And Morris invoked that too: "With the Biden documents, the bad news is that he might have committed a security breach. The best interpretation is that he's senile and forgot where he had them. Neither one is very good to run for president."
Morris, of course, served up Biden-bashing prognostication about that in a Jan. 25 article:
Political author Dick Morris believes the slow trickle of news about President Joe Biden having classified documents in his possession will be the end of his reelection campaign.

"I think it's very possible that Biden drops out of this race. I think when it fully metastasizes and the details about Hunter [comes out] — it may end Biden's candidacy," Morris told "American Agenda."
It was around that time that classified documents were found in the possession of former Vice President Mike Pence, causing Newsmax to drop the story.
Morris continued to crank out the Biden attacks to pander to the Newsmax audience:
Morris will apparently tout any Democratic candidate who might be running against Biden on the Democratic side no matter how fringe, as he did in a April 22 article in which he embraced the anti-vaxxer rantings of Robert Kennedy Jr.:
Robert F. Kennedy Jr., who earlier this month announced his candidacy for the 2024 Democrat presidential nomination, is a "serious threat" to President Joe Biden, whose advisers are "forcing him into the ring" with an expected campaign announcement next week, political adviser and bestselling author Dick Morris said on Newsmax Saturday.

Kennedy's appeal is "nonpolitical," Morris said on Newsmax's "Saturday Report."

"He's running, if anything, to the right of Biden, against all of this spending legislation."

Kennedy, an environmental attorney, gained nationwide attention with his opposition to mandatory COVID vaccinations, particularly with children, said Morris.

"He cites the amazing fact that one out of every 1,000 vaccinations results in a serious adverse consequence [with] adults and an even higher number for children," said Morris.
He also seems willing to abandon the premise of his most recent book -- that Hillary Clinton will push Biden out of the way and run for president in 2024 -- if a different and slightly more plausible person can be substituted, which he did for a Feb. 13 article:
President Joe Biden would be "toast" in his 2024 reelection bid if former first lady Michelle Obama decides to run, according to presidential adviser Dick Morris on Newsmax.

"The question is will Michelle Obama run? Because if she does, Biden can't run," Morris told Monday's "American Agenda." "He's totally dependent on the Obama machine. She would monopolize the African American vote. [Democrats] just [rearranged] the primaries so that the Black vote is decisive by putting South Carolina first.

"And I believe that if Michelle runs, Biden is toast."

[...]

"She has the Obama machine behind her, [that] I think, essentially controls the Democratic Party," he said. "This is a question of the puppet turning on the puppeteer."
Never mind, of course, that Michelle Obama has expressed absolutely no interest in running for president or in politics in general. Then again, as we've seen, Morris is not one to let facts get in the way of his talking point of the day.
Posted by Terry K. at 6:49 PM EDT
Updated: Wednesday, April 26, 2023 7:50 PM EDT