With Reports That Nashville Shooter May Be Transgender, MRC Finds A Distraction From Guns
Topic: Media Research Center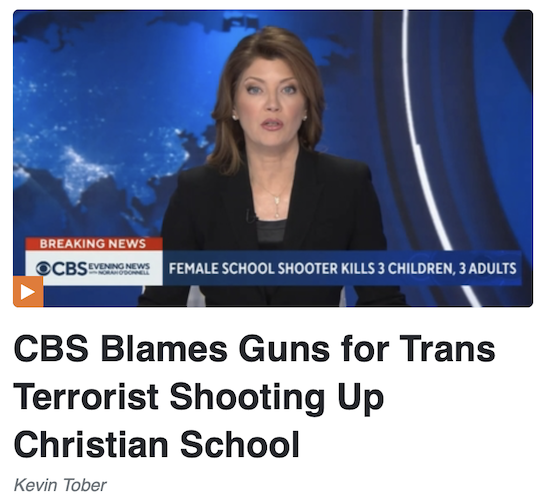 The Media Research Center's initial reaction to the March 27 gun massacre at a private school in Nashville was a familiar one: complaining that people were criticizing guns. Curtis Houck complained that reporters "flaunt[ed] their liberal views"in a White House press briefing after the shooting, with "NBC's Kelly O'Donnell channeled Rahm Emanuel by ghoulishly speculating the reports of the shooter being a woman could represent a 'breakthrough' against those backward Americans stuck in their 'gun culture.'" That was followed by a post from Nicholas Fondacaro ranting that a Tennessee congressman got called out for expressing sympathy over the massacre despite he and his family posing with guns in a recent Christmas card photo.
But then the real news (as far as the MRC was concerned) surfact: the shooter was allegedly transgender. And, of course, the transphobes at the MRC totally ran with that. Typical was a rage-filled post by Kevin Tober:
On Monday, a transgender activist shot up a Christian school in Nashville Tennessee, killing three nine-year-old children and three teachers in an apparent hate crime against Christians. While all three networks mentioned a hate-filled transgender monster shot and killed six innocent Christians, the mentions were brief and CBS Evening News anchor Norah O'Donnell opened her program with a lecture on "gun violence."

"Tonight, a targeted attack in Tennessee. A scene that has become all too common in America: A mass shooting. This time at a private Christian grade school in Nashville," O'Donnell reported. She could've mentioned that once again a radical trans activist carried out a mass shooting, but she - like most leftists - was far more comfortable blaming guns.

"We just learned more about the six victims, the three children all 9 years old. The three adults in their 60s. One of them, Katherine Koonce, was the head of the school. The other adults, a substitute teacher, and a custodian," O'Donnell noted.

O'Donnell's only mention of the evil person who murdered six people was a brief mention of the suspect's identity. She never mentions that the shooter was a mentally ill woman who pretended to be a man. She left that detail up to correspondent Janet Shamlian.
Tober offered no evidence the shooter was a "radical trans activist" or was "mentally ill" simply by allegedly being transgender.
Houck returned to whine about speculation that the shooter might have been motivated by right-wing anti-transgender laws like those recently passed in Tennessee:
Anchoring an ABC News Special Report early Monday evening on the deadly school shooting at Covenant School in Nashville, Tennessee, senior national correspondent Terry Moran offered up one of the worst takes yet on the massacre by seeming to tie the transgender suspect's premeditated attack on this Presbyterian school to Tennessee Republicans fighting back against gender mutilation and protecting children from graphic sexual content.

Moran offered this ghoulish insinuation after a press conference from Nashville officials in which they confirmed reporting and speculation of the gunman's identity, their perceived gender identity, and how she left behind a manifesto and drawings of the school to chart the attack.
Speculating about motive does not equal approval of the motive, Curt.
Tober returned for more nastiness -- this time directed at President Biden -- while again calling the shooter "radical" without evidence:
Hours after a radical transgender activist shot and killed six people at a Christian school in Nashville, Tennessee, President Joe Biden's first public comments on Monday were not about the heartbreaking mass shooting, they were a bizarre rambling rant about how much he loves ice cream, and how "good-looking" four of the kids in the audience were.

Imagine if former President Trump acted like this after a mass shooting. Creepy and thoroughly inappropriate comments like the ones Biden made would be aired and condemned on the nightly newscasts if Trump uttered them. Yet, sadly they were nowhere to be found on the big three evening newscasts of ABC's World News Tonight, CBS Evening News, and NBC Nightly News.
Tober seems to have forgotten that President George W. Bush was reading a children's book to first-graders in Florida at the time of the 9/11 terrorist attacks in 2001.
Alex Christy complained that another Tennessee politician's gun-laden Christmas card was called out. More whining about criticism of right-wing gun culture followed:
Christy groused in a related matter that late-night host Stephen Colbert mocked how right-wingers insisted that securing school doors was more important than gun regulation, huffing that Colbert was "apparently unaware of how doors work."
The MRC continued its transgender obsession as well:
Tim Graham had a fit in a March 31 post:
Alexandra Steigrad at the New York Post reported Thursday that CBS News ordered its staffers to avoid "any mention" of Tennessee school shooter Audrey Hale's identification as transgender. CBS has weirdly asserted that they haven't "confirmed" what the police said. It's interesting that in this case, their failure to accept official sources lines up with the GLAAD crowd.

Pay no attention to the shooter's identity, said the hardliners in identity politics!

[...]

For a "news" network to tell their reporters to dismiss all mention of transgenderism as irrelevant to this story is to say some facts, in this case, are too inflammatory or damaging to a cause or a "community" to mention. Politics is trumping facts.
By contrast, Graham was silent when Fox News ordered its staff to censor revelations about the channel made in filings in Dominion's defamation lawsuit against it, and definitely no lecturing about how it was refusing to report facts that were "too inflammatory or damaging."
Posted by Terry K. at 10:01 PM EDT
Updated: Monday, April 24, 2023 10:14 PM EDT