CNS Jim Jordan & Mark Levin Stenography Watch
Topic: CNSNews.com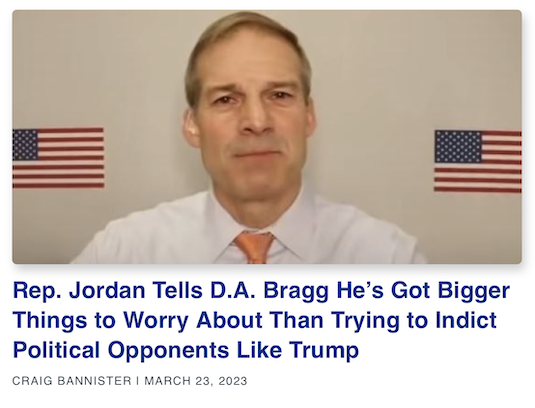 Let's see how CNSNews.com did in serving up stenography for its favorite non-Ted Cruz right-wingers, shall we? Here's what CNS did on behalf of Republican Rep. Jim Jordan in the first three months of 2023:
That's just seven articles, a little off the pace of previous years. And, of course, none of them mention his alleged failure to do anything about a doctor who had been accused of sexual abuse by wrestlers on a college team where Jordan was a coach. CNS also gave Jordan promotion in a Jan. 6 article quoting GOP Rep. Matt Gaetz touting Jordan as a "trusted" conservative who would make a good House speaker.
Another CNS fave, right-wing radio host Mark Levin, did a little better:
That's eight articles, which is also off the pace of previous years. And, yes, CNS wants you to think that Levin's wife running in a benefit race is "news."
Posted by Terry K. at 1:45 AM EDT
Updated: Thursday, April 20, 2023 11:03 AM EDT