CNS Columnists Blame Biden, Not Railroad, For Ohio Derailment
Topic: CNSNews.com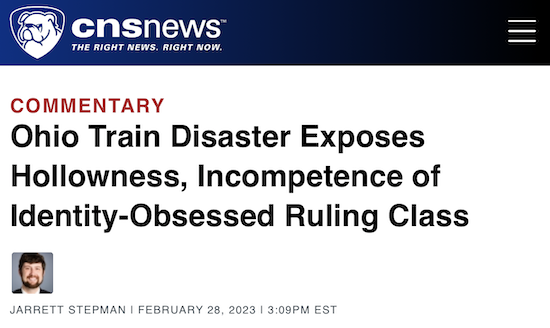 In addition to its biased coverage of February's Ohio train derailment, CNSNews.com served up even more biased commentary that similarly tried to exploit the disaster to score political points. The Heritage Foundation's Jack Spencer wrote in a Feb. 22 commentary:
Under the best of situations, we would all be well off to be skeptical of Washington bureaucrats telling us that we need not worry about the massive burning chemical plume of toxins rising above our neighborhoods, but these are not normal times.

We are faced with an administration that tells us the sky is falling every day. They tell us that we are going to drown in rising seas and that nearly every storm is because of our insistence on burning gas and oil.

Instinctively, we know that this is hyperbole at best and a lie at worst.

[...]

What is happening in Ohio is unacceptable. How our leaders are responding is unacceptable. And the environment of mistrust they've created is unacceptable.

Unfortunately, it's also all so predictable.
Spencer made no mention of the railroad that caused the derailment and whose responsibility it is to make things right.Nor did he explain why it's the government's sole responsibility to respond when conservatives like him have spent decades sowing mistrust of government.
Armstrong Williams similarly used a Feb. 23 column to blame everyone but the railroad and engage in gratuitous bashing of Biden-bashing:
A catastrophic train derailment has unleashed toxic fumes and pollutants into the air and water of East Palestine, Ohio, leaving the town's inhabitants reeling with uncertainty about their future. The once-thriving community now stands in a state of disarray, with residents left wondering whether they will face long-term health consequences and whether their town will ever be the same again.

Despite the severity of the situation, weeks after the disaster, President Joe Biden has failed to visit. To make matters worse, he decided to instead visit Ukraine. This move has only served to exacerbate the sense of betrayal felt by the people of East Palestine. With this move, he has turned the concept of "America first" on its head, treating Americans last, and leaving many Americans feeling as if they are last in line for his attention and concern.

The people of East Palestine are not political pawns to be ignored or overlooked. They are hardworking citizens who deserve compassion, empathy and a strong leader who will take their concerns seriously. Rural America has been hit hard in recent years, and East Palestine is no different. It is time for our elected officials to prioritize the needs of all Americans, regardless of their location or background, and work toward creating a brighter future for everyone.

[...]

As the 2024 presidential election approaches, Biden's actions risk conveying the impression that he is out of touch with and unsympathetic toward struggling Americans.

This perception could alienate swing voters who are already discontented with the direction of the country. The people of East Palestine are in urgent need of assistance, and it is the responsibility of the federal government to collaborate with state and local authorities to provide not only the necessary support and relief to alleviate the current crisis but also a sign of empathy and care by our elected officials to show that they care more about them than they do about their votes.

He too failed to mention the railroad that caused the derailment.
Heritage's Jarrett Stepman spent his Feb. 28 column doing more bashing of Biden (and the "woke ruling class," whatever that is) while also defending Donald Trump:
The massive train derailment near East Palestine, Ohio, created one of the worst ecological disasters on U.S. soil in decades. On top of that, it exposed the looming, pervasive incompetence and callousness of the woke ruling class.

[...]

One would think all this would elicit some kind of response from President Joe Biden and his fellow Democrats, who are always so concerned by various environmental causes.

But this disaster elicited crickets. Biden didn't show up in East Palestine, nor did his administration or the media seem to pay much attention.

Eventually, the president showed up. Well, the former president, Donald Trump.

It was an excellent example of Trump's reaching out to the Forgotten Man—in this case, literally forgotten—and showing that not only did he feel their pain, but also could remind them when times were good and fun. This was Trump at his best.

Only after Trump arrived on the scene in Ohio did the Biden administration finally respond to the emergency in a public way. Biden was, of course, too busy to show up himself since he was going to Ukraine to meet with President Volodymyr Zelenskyy. Priorities.

Instead, his administration sent an ambassador. In stepped hapless Transportation Secretary Pete Buttigeig [sic].
Stepman did at least make a passing reference to the Norfolk Southern Railroad, but not its responsibility for the disaster and the cleanup.
Posted by Terry K. at 12:35 AM EDT