Despite No Actual Indictment, Newsmax Cranked Out Dozens Of Outrage Articles Anyway
Topic: Newsmax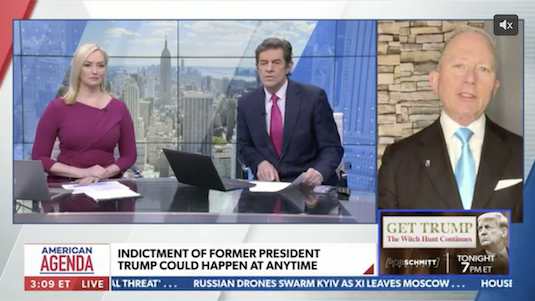 Newsmax didn't complain when Donald Trump's March 18 declaration that he would be arrested the following Tuesday didn't match reality -- after all, it squeezed 38 articles out of it. In order to keep the outrage going, Newsmax had to move the goalposts, publishing an article on March 21 -- the day of Trump's original delcared arrest -- that Trump "is likely to be indicted Wednesday, with his surrender and arraignment coming next week." And, yes, the manufactured outrage and the attacks on DA Alvin Bragg from its retinue of pro-Trump talking heads (and Trump himself) kept going on March 22:
That's 15 more outrage articles. By contrast, Newsmax published a single wire article noting that "A federal appeals court on Wednesday directed a lawyer for Donald Trump to turn over to prosecutors documents in the investigation into the former president's retention of classified documents at his Florida estate." Then, beause another prediction had failed: it was goalpost-moving time in the form of an article by Eric Mack trying tomove the goalposts:
Manhattan District Attorney Alvin Bragg's grand jury hearing evidence about former President Donald Trump's alleged involvement with a hush-money payment to a porn star will not meet Wednesday, according to multiple reports.

"It could be anything from an illness to a logistical scheduling issue to someone basically, you know, gave [Bragg] a little tap on the head there and said, 'Are you sure you want to do this? Are you seeing the reaction out there?'" Trump attorney Joe Tacopina told Newsmax's "John Bachman Now" shortly after the news broke.

Tacopina told host Bianca de la Garza that warnings for Bragg's overreach might be coming "not from the partisan right but from all sides of the aisle" on "how horrific this would be."
That was followed the next day by another goalpost-moving article by Mack:
In a surprise move, the New York grand jury probing former President Donald Trump's case has suspended its activities this week and will reconvene next week.

Multiple press sources, including ABC News, say the grand jury will meet Thursday on another case it is reviewing and is expected to resume the Trump case on Monday.

New York District Attorney Alvin Bragg is also reportedly seeking to bring one additional witness before the grand jury next week.

Harvard law professor and author Alan Dershowitz told Newsmax on Wednesday that Bragg is likely having "second thoughts" about his criminal case against Trump, and that could be the reason he gave the grand jury off time this week.
Needless to say, the lack of credible knowledge of an imminent indictment or arrest of Trump wasn't going to keep Newsmax from keeping up the fearmongering on March 23:
There was also a column by pro-Trump pollister John McLaughlin claiming that "According to our new poll, the only real crime Donald Trump has committed is being the frontrunner to beat President Biden, and the voters know it." The outrage continued on March 24:
That's an additional 17 articles over those two days. There was also a wire article on Trump attorney Evan Cochran appearing "in court Friday after being ordered to answer questions before a grand jury investigating the possible mishandling of classified documents at the former president's Florida estate."
And that's not all. More soon.
Posted by Terry K. at 8:42 PM EDT