CNS Follows MRC Parent In Trying To Exploit Ohio Train Derailment For Partisan Gain
Topic: CNSNews.com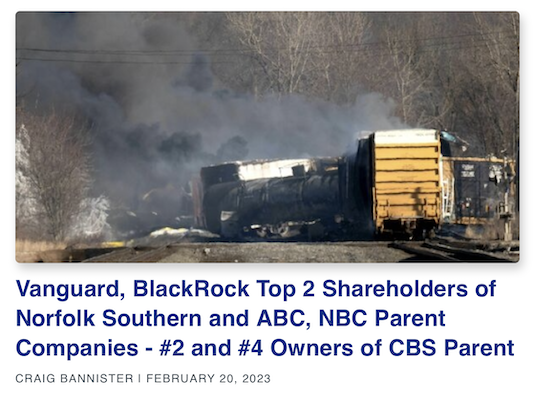 CNSNews.com is little more than the biased Media Research Center in an inverted-pyriamid format -- so much for editorial independence -- so it's no surprise that CNS parroted its MRC parent in trying to exploit the chemical-leaking train derailment in Ohio for partisn purposes. Like the MRC, CNS ignored the derailment for 11 days after it happened on Feb. 3; its first article was a piece by Melanie Arter quoting White House press secretary Karine Jean-Pierre on how the Environmental Protection Agency is reacting to the derailment. That was followed the next day by another article from Arter quoting EPA administrator Michael Regan.
Then it was time to play politics, which Craig Bannister did in a Feb. 16 article:
On Thursday morning, a train carrying hazardous materials derailed in Michigan, a day after Senators Marco Rubio (R-Fla.) and J.D. Vance (R-Ohio) wrote to Transportation Secretary Pete Buttigieg demanding an explanation of what caused a train derailment in Ohio, which released hazardous materials, causing citizens to evacuate.

Local Detroit station WXYZ reports that at least six trains cars derailed in the Van Buren Township – one of which contained hazardous cargo. The EPA has, reportedly, dispatched a team to assess and address any potential threat.

On Wednesday, Senators Rubio and Vance sent a letter to U.S. Transportation Secretary Pete Buttigieg, questioning whether adequate staffing could have prevented the East Palestine, Ohio derailment's environmental catastrophe.

At issue is the rail company's use of a cost-cutting practice called "precision-scheduled railroading" (PSR), which employs fewer workers to move more freight, the senators write:
After that came a Feb. 17 article by Arter featuring an appearance by Regan on Fox News, as well as another emphasizing Ohio Gov. Mike DeWine saying the disaster did not qualify for FEMA assistance; DeWine went on to explain why, but that didn't make it sinto the headline.
Bannister then devoted a Feb. 20 article to corporate whoredom, repeating MRC co-worker Joseph Vazquez's conspiracy theory that the TV networks reduced coverage of the derailment because the hedge funds that own part of them also own part of Norfolk Southern Railroad and publicizing the disaster would hurt ESG investing:
Vanguard and BlackRock, giant asset management firms known for their commitment to investing in liberal Environmental, Social and Governance (ESG) causes, aren't just the top two shareholders of Norfolk Southern, whose train derailment created an environmental disaster, they're also among the top shareholders of the parent companies of the broadcast networks that have abandoned coverage of the ongoing toxic threat.

Last Tuesday NewsBusters reported that, while reports of health problems feared to be associated with the train derailment in East Palestine, Ohio have continued, broadcast network news coverage has all but vanished:

[...]

As NewsBusters noted on Thursday, the Vanguard and BlackRock ties to the train disaster reflects poorly on their ESG credentials, while also raising a question about their connection to the broadcast media who have lost interest in covering the ongoing concerns about the derailment:
Bannister did not disclose that NewsBusters, like CNS, is a division of the MRC. Or did he explain why, if the derailment story is so important, why both CNS and the MRC ignored the story for 11 days.
For a Feb. 21 article, Arter did stenography for a former Trump official:
Former Director of National Intelligence (DNI) John Ratcliffe criticized President Biden for visiting Ukraine on President's Day instead of visiting East Palestine, Ohio, where residents are dealing with the aftermath of a train derailment that resulted in hazardous chemicals being released into the environment.

"Even if you look at how badly the Biden administration has mismanaged Ukraine up to this point and a war that many of us believe a strong president could have avoided. We believe that it was Biden's weakness in Afghanistan that prompted Putin to move on Ukraine in the first place," Ratcliffe told Fox News' "Hannity" on Monday.
Arter failed to tell her readers that no Trump official visited the site of a train derailment during his administration.
Susan Jones spent a Feb. 22 article trying to blame Transportation Secretary Pete Buttigieg for the disaster by not showing up there in a sufficiently speedy manner:
It's been 19 days since dozens of Norfolk Southern freight cars, some of them filled with toxic chemicals, derailed near East Palestine, Ohio, but Transportation Secretary Pete Buttigieg has not yet visited the devastated town.

Neither has President Joe Biden. But former President Donald Trump will be there today.

"I am planning to go," Buttigieg told MSNBC's Ali Velshi on Tuesday, amid criticism that he has ignored a crisis that falls under his jurisdiction.

"And when I'm on the ground, it's going to be about action. It's not going to be about show or politics," he said.

The spill itself and the toxic smoke have left anxious residents in despair, many complaining of health problems they blame on the chemical contamination -- and many asking, "Where's Pete?"
Like Arter, Jones failked to disclose that no Trump official visited the scene of a train derailment.Jones' attack is also in line withJones trying to blame Buttigieg for holiday flight delays that were, in fact, caused by the airlines.
Bannister gushed over Trump's politically motivated trip to Ohio in a Feb. 22 article:
On Wednesday, former President Donald Trump visited East Palestine, Ohio, where a train derailment unleashed toxic materials on residents earlier this month, to meet with members of the community and local officials.

Trump is reportedly donating thousands of gallons of cleaning supplies and 13 pallets of water, each of which holds the equivalent of a couple of thousands of water bottles, to the ravaged community. Meanwhile, the Biden Administration has been facing heavy criticism for its delayed, inadequate response to the February 3 tragedy.
Bannister followed that with an article the next day gushing over how "Twitter users were quick to post video clips of scenes from Trump's exploits, as he bought Big Macs for local emergency responders, provided clean water and cleaning supplies to the town, and interacted with citizens, sharing his concern for their plight and appreciation of their support."
When Buttigieg did visit East Palestine, Jones whined about that too in a Feb. 23 article -- and quoted Trump before quoting Buttigieg:
Three weeks after a train derailment left East Palestine, Ohio contaminated with toxic chemicals, Transportation Secretary Pete Buttigieg finally arrived there this morning, to hear from officials on the ground -- and maybe to hear from the furious and frightened residents.

His visit comes one day after former President Donald Trump went to East Palestine to commiserate with the town's people.

"In too many cases, your goodness and perseverance were met with indifference and betrayal," Trump said, referring to the Biden administration's slow response to the disaster.

"Happy to discuss timing of our Ohio visit," Buttigieg tweeted on Wednesday. "[B]ut starting to think some in Washington want that to be the main focus so that there aren't too many questions about rail safety regulation, who is for and who is against. We will hold the line on railroad safety and accountability."

Sen. J.D. Vance (R-Ohio) said the response of Buttigieg and the entire Biden administration has been "a day late and a dollar short."
Another article that day by Jones noted the preliminary cause of the derailment, though she didn't go as far as her MRC co-workers to explicitly state that the cause purportedly absolves the Trump admimnistration from all blame for advocating deregulation of the train industry. An article by Arter that day complained that Biden will not visit the scene of the derailment while again censoring the fact that no Tump official ever went to one.
Bannister then served up his third article praising Trump's visit to East Palestine:
During their separate visits to East Palestine, Ohio this week, Transportation Secretary Pete Buttigieg and former President Donald Trump had much different messages for the citizens of the community being ravaged by a toxic train derailment.

Buttigieg told the community that he's now ready to "move on" to policymaking, where he'll leverage the tragedy to impose new regulations.

Trump told the community that he won't forget about them and that – if the Biden Administration doesn't attend to their needs – he'll come back to do help do it himself.
Bannister uncritically repeated Trump's false statement that "Biden and FEMA said they would not send federal aid to East Palestine, under any circumstances. They're not going to send aid, and I thought that was a strange statement." In fact, as we noted when Bannister's employer made the same claim, the East Palestine derailment falls outside federally mandated FEMA guidelines for disaster aid because it was caused by a private company that is obligated to help people it hurt, not by natural forces, and there was no property damage.
Posted by Terry K. at 1:39 PM EDT