MRC Keeps On Fluffing Musk, Touting Dubious 'Twitter Files'
Topic: Media Research Center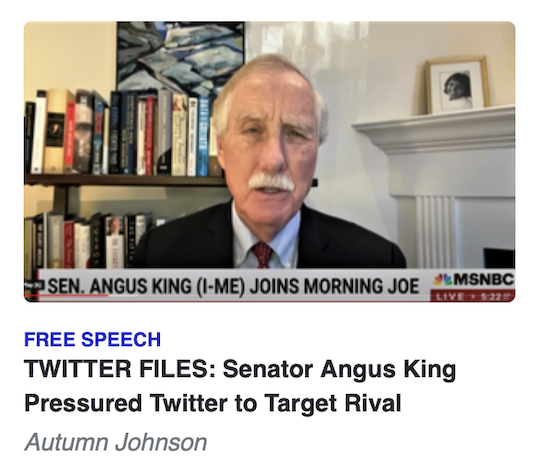 Elon Musk had a pretty rough February -- it was revealed that not only did he fire a Twitter engineer because his tweets weren't getting engagement (which he reportedly demanded after his Super Bowl tweet got fewer views than President Biden's), he order those engineers to create a method to give his tweets maximum visibility whether Twitter users subscribe to his feed or not (all of which he laughably denied). Twitter succumbed to the demands of Indian Prime Minister Narendra Modi and censored a documentary film critical of him (about which Musk pleaded ignorance). Musk also defended "Dilbert" cartoonist Scott Adams after he went on a racist rant (which he later deleted), and ads from large mainstream companies are appearing next to tweets from Holocaust deniers.
But you didn't read about any of this at the Media Research Center because it remains a group of Musk fanboys and his PR operation. A Feb. 10 post by Catherine Salgado cheerily touted a far-right congresswoman naming a bill based on the selectively released "Twitter files" after Musk:
Congresswoman Lauren Boebert (R-CO) issued a press release on Thursday announcing that she introduced the Exposing Lewd Outlays for Social Networking Companies Act, or the ELON Act, to audit Big Tech's collusion with the government to censor Americans. The ELON Act also puts a year's moratorium on FBI payments to tech companies.

[...]

The congresswoman quoted Elon Musk who tweeted that, "Government paid Twitter millions of dollars to censor info from the public."
Renata Kiss quoting Musk-fluffing from others in a Feb. 14 post:
Renowned podcast host Joe Rogan and Twitter Files journalist Matt Taibbi hashed out Elon Musk's quirky business strategy at Twitter that ticked off many on the left.

On Monday, podcast host Joe Rogan released a conversation with guest Twitter Files journalist Matt Taibbi where they discussed "eccentric billionaire" Twitter owner Elon Musk's leadership style and the platform's sudden turn towards free speech despite media backlash. Rogan said Elon Musk "truly believes that censored social media is a threat to democracy." He added, "I believe it too."

The pair discussed the radical transparency Musk has brought to the platform through the Twitter files.
Kiss added that "Joe Rogan has been adamant about the liberal media's silence over The Twitter Files, which he equated with a Watergate level scandal on a previous episode" -- which, of course, the MRC previously hyped.
The next day, Kiss cheered Musk's recitation of right-wing talking points:
Elon Musk says Big Tech oligarchs in San Francisco shouldn't impose their values on the world for the sake of the future of our civilization.

On Wednesday, Elon Musk warned against Silicon Valley elitism at the World Government Summit in Dubai. He referred to the rampant censorship under Twitter's previous leadership and said it was important "for the future of civilization to try to correct that thumb on the scale," and to "have Twitter more accurately reflect ... the people of earth."

Musk highlighted the stark contrast between "the rest of the world" and the "niche ideology" of Twitter headquarters and its progressive San Francisco neighborhoods.

"That's the general idea to reflect the values of the people as opposed to imposing the values of essentially San Francisco and Berkeley–which are somewhat of a niche ideology as compared to the rest of the world."
Needless to say, none of these posts mentioned Musk's own elitism in demanding that everyone see his tweets whether they want to or not.Meanwhile, Autumn Johnson had a new "Twitter files" drop to uncritically promote in a Feb. 20 post:
The latest drop of Twitter Files shows that a United States senator's campaign director pressured the company to target his political opponents.

Independent journalist Matt Taibbi posted a thread of tweets illustrating how government officials intentionally targeted constituents and political rivals as "Russian-controlled." Taibbi's reporting revealed that Sen. Angus King's (I-ME) campaign director and Mark Lenzi, a State Department official, each separately pressured Twitter to censor certain accounts on the platform.

A 2018 email from a Twitter official indicated that King's campaign director flagged< approximately 354 "suspicious" accounts to Twitter. Some of the accounts appear to have included supporters of his opponent at the time, Maine Republican State Sen. Eric Brakey.
But as Talking Points Memo's Josh Marshall pointed out, King flagged both conservative and liberal accounts that were considered suspicious -- but Taibbi wrote only about the conservative ones. Taibbi effectively confirmed his laziness in a later tweet. Johnson never updated her post to note the whole story -- she seems mot to understand that if all Taibbi is doing is serving as a servile stenographer for Musk, he's not an "independent journalist."
Instead, the Musk-fluffing continued in a post the same day by Joseph Vazquez:
It appears the liberal media doomsaying over how Twitter owner Elon Musk was supposedly going to make the company implode by cutting the old regime's censorship-obsessed workforce in half was nothing but noise. And even a Washington Postcolumnist had to eat crow.

Post columnist Megan McArdle was blunt in her Feb. 19 op-ed: "How Elon Musk fired Twitter staff and broke nothing." She admitted right off the bat that she was "incredulous" when "Musk said he was going to cut up to 75 percent of Twitter's workforce last year."

McArdle noted that she initially viewed Musk's workforce overhaul as "over the top," "so obviously irrational" and she pointed to an October 2022 column where she lambasted Musk's method as nonsensical.

"Layoffs of that magnitude mean critical operations running at half strength," she said at the time. But now, in retrospect, it seems McArdle has had a change in perspective. "[S]ure, in the end he only laid off half the staff, but … half the staff! Yet the site is still running," she said.
But it turns out that Vazquez's serving of crow to McArdle was a bit premature: Twitter suffered a severe outage a couple weeks later, which was described as "the second Twitter glitch in less than a week and the third in under a month."
A Feb. 22 post by Salgado complained that others engage in the same type of activism against Musk that the MRC does against "liberal media":
Leftist billionaire and eBay founder Pierre Omidyar is bankrolling a sketchy "dark-money group" that is pushing a corporate boycott campaign against Twitter owner Elon Musk.

The Omidyar Network gave Accountable Tech $509,500 between 2021 and 2022, according to Omidyar Network records. The Washington Free Beacon, who also reported on the funding, said Omidyar also gave $2 million more to other groups attacking and writing pieces slamming Musk for his takeover of Twitter.

One leftist Omidyar-funded group, Free Press, claimed in a statement Musk's pro-free speech Twitter plans would make it a "free-for-all of hate and harassment."

Accountable Tech and other Omidyar-funded groups have issued demands for investigations into Musk and campaigns aiming to pressure corporations into boycotting Twitter. An Omidyar Network spokeswoman reportedly verified the funding to Free Beacon but claimed the network did not direct the boycott campaign.
Salgado did not disclose which shadowy right-wing billionaires pay her to defend Musk.
Posted by Terry K. at 10:36 PM EDT
Updated: Monday, March 20, 2023 8:10 PM EDT