MRC Dishonestly Insists Anti-Abortion Activists Are Not Targeting Contraception
Topic: Media Research Center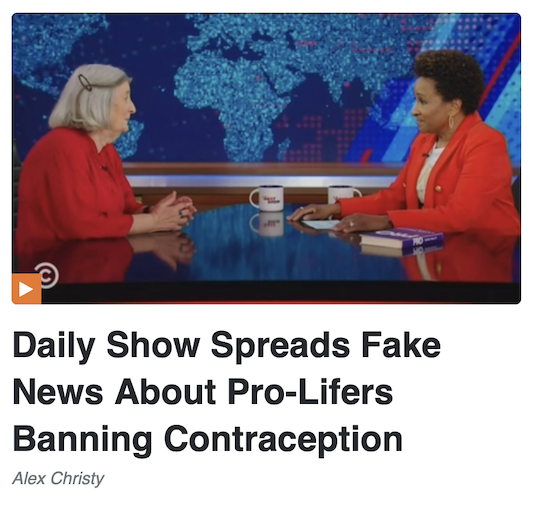 The Media Research Center keeps trying to argue, all evidence to the contrary, that anti-abortion activists are not planning to target contraception now that Roe v. Wade has been overturned. Alex Christy wrote in a Jan. 25 post:
Temp host Wanda Sykes invited The Nation's Katha Pollitt on to Comedy Central's Tuesday edition of The Daily Show to lament the terminology of pro-lifers, declaring there to be "no such thing as an abortion doctor" and allow Pollitt to spread some debunked talking points about what pro-lifers really seek to achieve.

On the terminology front, Sykes declared, "Now in the terminology that they use, it's like scare tactics, like, you know, like, partial-birth abortion, and abortion doctors. Like, no one goes to college and go, you know, 'what you going to be' 'I'm going to be a cardiologist,' 'what you doing?' 'I don't know; I think I'm going to work with feet.' 'What about you?' 'Abortion! That's all I'm doing. Just abortions.' There is no such thing as an abortion doctor."

Even if one accepts Sykes's premise that there is no such thing as an abortion doctor, abortions are still preformed—that's why Pollitt was on the show—and so to call that a scare tactic is simply wrong.

[...]

Shifting gears, Sykes wondered, "I am glad you said that, to hear that young women are active and they're voting because we need them, because, you know, the House Majority Leader, Steve Scalise, said that Roe's reversal and this is a quote, he said 'only the first phase in the battle. Now the next phase begins.' Like, what is that next phase? What, you know, what do you think that means?"

The obviously correct answer is that while Roe's downfall was a necessary first step, the movement is now needs to turn to legislating. For Pollitt, however, the answer was birth control, "I think it means contraception. Going after contraception. That, you know, there are right-to-lifers that believe that the birth control pill is what they call a chemical abortion. They think that the morning-after pill is what you take to prevent a pregnancy, is actually an abortion."

That is completely false. Even Planned Parenthood felt the need to counter all the fear-mongering on the morning-after pill. Fact-checkers at outlets nobody would consider pro-life have also debunked this talking point.
Christy is being dishonest. The articles he cites as evidence that anti-abortion activists are not targeting the morning-after pill refer specifically to false claims the pill had been outlawed in Tennessee and Missouri. In fact, anti-abortion activists do believe the morning after pill causes an abortion, which makes them a target -- indeed, a proposed bill in Texas would effectively outlaw them.
Five days after Christy's post went live, his co-worker and anti-abortion extremist Tierin-Rose Mandelburg went on a tirade against the morning-after pill being available in vending machines at George Washington University, ranting that "Not only does the pill placement reemphasize how devalued the life of a child is at GW, but the vending machines serve as a signal to 1. have unprotected sex and deal with none of the consequences and 2. that you need these pills in order to succeed." Does this sound like a person who does not want to outlaw this form of contraception (or all contraeption)?
Christy went on to deceive some more:
Pollitt did not let a little fake news get in the way of a good narrative, "They think the IUD is an abortion, it's like, it's in there, it's performing abortions every day. They have their own facts and I think that we are already seeing that contraception, which should be part of -- if you are against abortion, you should be in favor of contraception, because that will prevent— but we are already seeing moves to make contraception harder to get."
Pollitt is correct. Anti-abortion activists do argue that IUDs are an abortifacient, and Hobby Lobby argued that point in a Supreme Court case designed to get it out of having to cover contraception for its employees.
The only person whose talking points have been debunked here is Christy.
Posted by Terry K. at 1:41 PM EDT