Newsmax DirecTV Victimhood Watch
Topic: Newsmax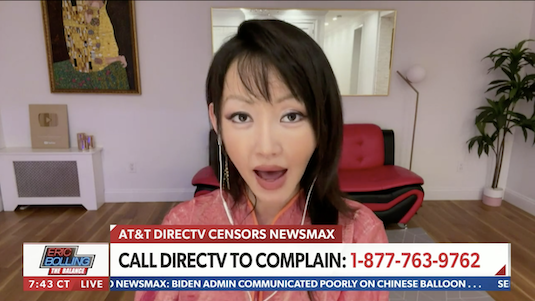 Newsmax is not going to stop playing victim over getting dropped by Newsmax, though the pace of self-victimization slowed a bit:
With these 14 articles, Newsmax has published at least 205 "news" articles attacking DirecTV for dropping it in the four weeks since it happened on Jan. 25.
Newsmax's columnists similarly whined as well. Steve Levy complained in a Feb. 17 column:
But the best way the left believes it can defeat evil in the world is to shut down the few remaining safe spaces for open thought — one being Newsmax. So they pressured the corporate board rooms they now control to do their dirty work.

And spare me the nuance that this isn't a First Amendment issue because DirecTV's owner AT&T is a private company. While this isn't a constitutional issue, the company's actions are without question anathema to free expression as espoused by the aforementioned founders of western civilization.

Today's liberals supporting Newsmax's canceling would be well served to look back at one of the most significant Supreme Court cases in America's history: National Socialist Party of America v. Village of Skokie (1977).

Younger progressives may be surprised to learn that it was the ultra-liberal ACLU which led the fight< to allow a group of neo-Nazis to obtain a permit to march down Main Street.

They were wise enough to know that acquiescing to the banning of a group, even as vile as the neo-Nazis, could one day lead to the quelching of their own speech.

So today's liberals shouldn't support Newsmax because they agree with its programming. They should support Newsmax because to do otherwise may one day make their own freedom of expression less viable.
You know, maybe portraying Newsmax as akin to persecuted neo-Nazis isn't the best analogy he could have used.
Jerry Newcombe similarly complained in a column the same day:
Free speech and a free press. It's American as apple pie — or so it used to be.

In 1875, President Ulysses S. Grant, declared: "Let us all labor to add all needful guarantees for the security of free thought, free speech, a free press."

But today the left seems to have free speech in America by the throat. We see this in the recent example of corporate giant AT&T cutting off the conservative network Newsmax from satellite distribution through DirecTV, about which I commented recently. This appears to the tip of the iceberg.
Both Newcombe and Levy failed to mention the fact that DirecTV replaced Newsmax with a different right-wing channel, The First, meaning that no viewpoint discrimination is going on here, or that Newsmax is readily available on streaming, meaning that its speech has not been abridged.
Posted by Terry K. at 3:31 PM EST