Horowitz Returns From 2020 Prognostication Failure With New Newsmax-Published Book
Topic: Newsmax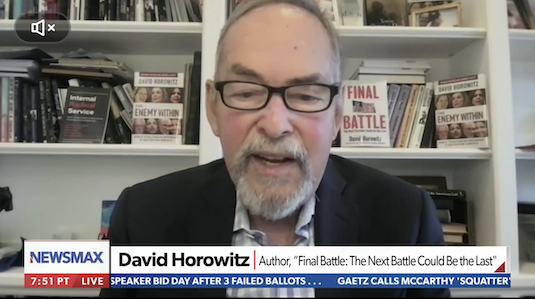 Far-right activist David Horowitz's last Newsmax-published book, "Blitz: Trump Will Smash The Left And Win" -- which was relentlessly flogged by Newsmax before the 2020 election -- was a prognostication failure of Dick Morrisian proportions (not that it kept Newsmax from promoting it after Trump's loss, of course). Undaunted by that failure, Horowitz has a new Newsmax-published book out, the apocalptically titiled "Final Battle: The Next Election could Be The Last," and like his previous book, it's filled with anti-liberal narratives and propaganda. And, of course, Horowitz has been flogging the thing all over Newsmax. A Jan. 4 promotional article by Sandy Fitzgerald helped Horowitz out the premise:
New York Times bestselling author David Horowitz has released a new book, "Final Battle: The Next Election Could Be the Last," and he tells Newsmax that the book details how the United States is facing a crisis that is the "direct result of the Democrats' decision to declare all-out war on Republicans."

"Five days after [Donald] Trump's election, they held a meeting with Nancy Pelosi to form what they called a resistance," Horowitz said on "National Report." "They never accepted Trump as a legitimate president. They are free with their slanders and lies about him. This is so antithetical to what democracy needs to function."

He used the example of Jan. 6, telling Newsmax that the first response from Democrats was to call the protests an "armed insurrection."

"This is before they knew anything," he said. "There was no investigation. There were no real facts, and then immediately it was revealed that no arms were confiscated, so they just dropped the armed and called it an insurrection, which is treason. How can you have an insurrection if you don't have arms?"
Horowitz is being dishonest here -- one does not have to have a gun to be armed. Indeed, the Secret Service seized knives, pepper spray, tasers and body armor from Trump supporters before the then-president's speech that preceded the riot. Also, Fitzgerald failed to disclose that her employer published Horowitz's book.
A Jan. 6 article hyped a interview Horowitz did with falafel enthusiast Bill O'Reilly in which he spouted more anti-liberal hate in declaring that Democrats "hate America." HEre too Fitzgerald refused to disclose her conflict of interest.
The softball interviews continued over the next couple of weeks:
After that last article, on Jan. 17, Newsmax has oddly not promoted the book since -- let alone disclose that it published the book.
Posted by Terry K. at 5:41 PM EST